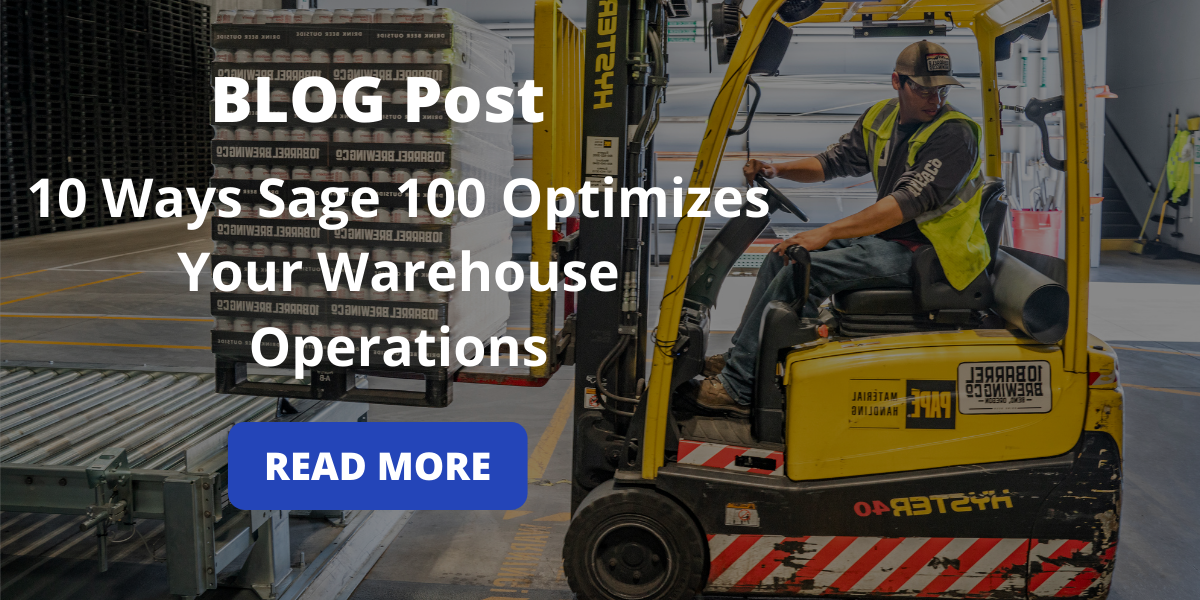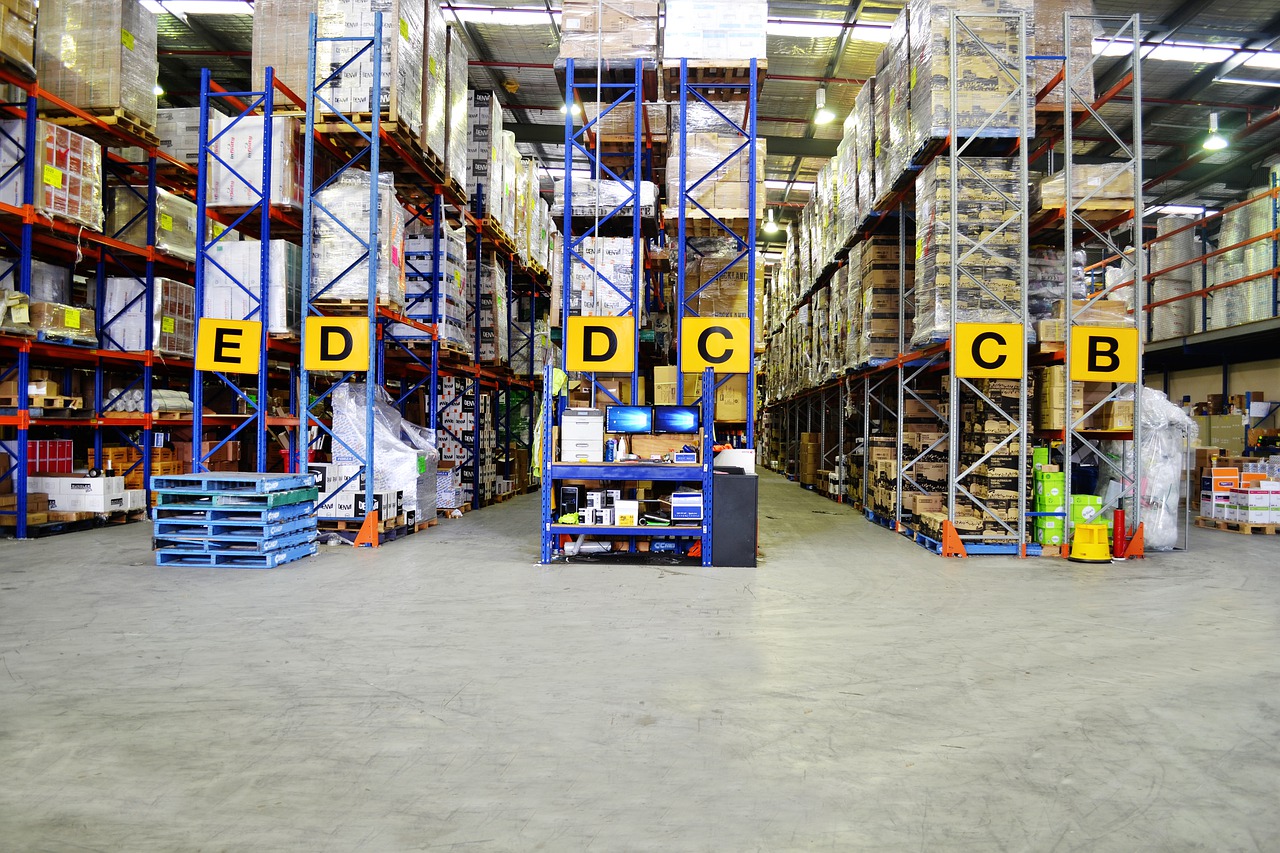 Sage 100 (and 100cloud) helps manufacturers and distributors boost productivity with technology that optimizes your warehouse operations from receiving to shipping. Deploying this connected ERP for supply chain and inventory management will allow you to capture visibility throughout your processes and leverage this insight to streamline your activities. Armed with real-time, comprehensive knowledge of your business's current practices and their level of efficiency, you will be best positioned to maximize your ROI on end product.
Sage has released dedicated bundles for manufacturing and distribution that significantly extend the capabilities of Sage 100cloud for supply chain management. With a healthy roadmap of planned upgrades through at least fiscal year (FY) 2022, Sage software users will be able to take advantage of many updated inventory control and traceability features for years to come. Leveraging the connected toolset of this ERP will give you access to end-to-end visibility at every stage and enable you to identify where your procedures can be improved for better value return.
Here are 10 ways Sage 100 optimizes warehouse operations:
1.     Keeps You Updated on Regulatory Compliance
The true value of digital transformation is in automation and either consolidating or completely removing tasks that traditionally required manual activity. The right ERP will help you streamline regulatory compliance, and Sage 100cloud does this by keeping documentation and features updated for critical obligations. Whether it is for changes to payroll and tax reporting, data privacy and security controls, or supply chain traceability for your industry, your Sage software will enable you to stay on top of these requirements.
2.     Enables Item Tracking by Lot & Serial Number
Sage ERP solutions come equipped with advanced traceback features, and the modern version of Sage 100 provides many updates for tracking items organized by lot and serial numbers. The 2020 release saw increased expiration date visibility added to this functionality, including introducing automated calculation and notification for use-by, sell-by and return dates for labeling. Additional upgrades expand item usage traceability through lots, letting you quickly pull up this data within transaction reporting.
3.     Increases Visibility & Traceback for Materials
Sage 100cloud's tracing and organization capabilities extend as far back as the resource level, letting you seamlessly manage and traceback components included in the Bill of Materials. This information is included within lot tracking menus that let you chart raw materials from usage all the way back to sourcing origin, letting you build out the entire product lifecycle. Acting on this data provides electronic audit trails for authentication and compliance, as well as lets you carefully review historical and current trends for replenishment and forecasting.
While material tracking is a critical regulatory need for batch processing, resource sourcing is a necessity for many discrete manufacturers as well. This is one of many reasons why Specialty Silicone Processing (SSP), a high-quality plastics manufacturer, decided to upgrade their Sage 100 deployment with the help of SWK Technologies. After a comprehensive Business Process Review (BPR), SWK was able to aid SSP in deploying a streamlined solution that leveraged automation for better materials visibility throughout their shop and warehouse floors, among other benefits.
Discover what other gains SSP made with Sage 100cloud and SWK's BPR by reading their Success Story here.
4.     Integrates with Microsoft 365 & Other Tools
There is a robust marketplace for Sage 100 integrations that extend the functionality of your ERP into multiple key areas beyond core accounting functions. These include native options for migrate data between your solution and several of the applications featured in the Microsoft 365 suite, such as Excel. There are many other software add-ons besides that can integrate with your Sage software, and with help from a top partner like SWK, you can build a comprehensive manufacturing and distribution stack that returns the best ROI on your technology.
5.     Automates Inventory Management
Modern tools deliver unprecedented opportunities to streamline your warehouse operations, and Sage 100cloud gives you the access to the technology and data to take full advantage of this automation. With the bundled solution, you can leverage several native features, add-on modules and third-party integrations that allow you to optimize inventory management strategy in real-time. These applications enable you to build an integrated workflow that can connect up to customer-facing channels, accelerating your processes and cutting down order time to same-day if required.
Combining inventory management with modern retail channels allows you to leverage the benefits of digitization and automation, as Gorlitz Sewer & Drain, Inc. did with SWK's help. As an equipment manufacturer in business for over 30 years, the company had experienced huge changes within their micro-vertical that saw ecommerce orders explode over a short time. By choosing the right integrations, they were able to build out their Sage 100cloud stack to optimize warehouse operations while streamlining omnichannel service.
To learn more about how Gorlitz developed their inventory control around their Sage system, read their Success Story here.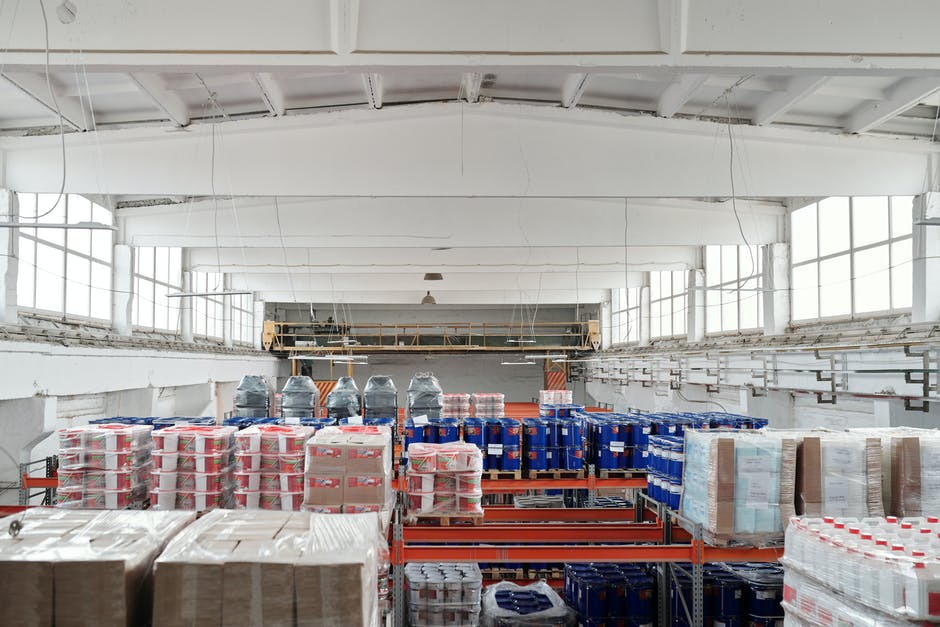 6.     Streamlines Scheduling & Planning with Reduced Costs & Errors
Your distribution workflows benefit best from digital transformation in not only in saving time on manual tasks, but also from cutting down on expenses, waste and entry errors. Sage 100 helps you improve data accuracy as well as visibility, giving you the full view of your processes and how they objectively impact your value return. Adding flexibility with real-time reporting, work ticket adjustments, labor tracking and more warehouse floor data flows, your ERP will empower you to plan better to get the most out of your investments.
7.     Optimizes Warehouse Management & Storage
Keeping your inventory control operations connected to your supply chain through Sage 100 allows you to maximize the value of your distribution activities. With comprehensive visibility going through your warehouse into shipping processes, you can optimize packing and storage to move the greatest volume of product for the space on hand. Additionally, with integrations for multi-bin tracking, you can keep your stock organized and always in view while improving service speeds.
8.     Digitally Transforms Accounting & Payment Management
As an ERP, Sage 100cloud delivers core accounting functionality that outpaces smaller desktop applications like QuickBooks and Sage 50, and connects these features with manufacturing and distribution data. With this combined stack, you can deploy electronic payment automation that streamlines transactions, better reconciles human error, and keeps digital audit trails for all records. The latest version of Sage 100 also includes updates for encryption to protect your internal and customer data, fulfilling security and compliance requirements.
9.     Enables Remote Work
COVID-19 has illustrated the benefits of digital network infrastructures, and Sage 100cloud offers multiple options for enabling remote connectivity for your ERP. This includes deploying hybrid environments with your on-premise resources, or hosting your software through a cloud service provider (CSP) such as SWK Technologies. Through SWK's solution you can also cybersecurity and IT support that leverages our deep experience with Sage 100's particular technology needs.
This type of deployment allows you to simultaneously manage multiple warehouse and inventory needs from anywhere, any time. This what SWK customer Icon Foods, a natural additive manufacturer, decided when they implemented Secure Cloud Hosting for their hybrid Sage environment. Taking advantage of SWK's consulting expertise to maximize the use of their network resources, they developed a foundation to capture real-time visibility as they planned for expansion from their Oregon base to the Eastern US.
Read Icon Food's Success Story here to discover what other benefits they gained from hosting Sage 100 in the secure cloud.
10.  Continuous Upgrades for Manufacturing & Distribution
Sage Group has laid out extensive plans for continuous upgrades for Sage 100's manufacturing and inventory management features, signaling a renewed development focus for the solution's vertical capabilities. Users will persistently receive new enhancements that boost their supply chain visibility and enable increased insight into material requirements, production, and warehouse operations delivered at real-time speeds. You will be able to grow your distribution – and your business – alongside the expansion of Sage 100cloud for manufacturers and distributors.
Optimize Your Warehouse Operations Now with Sage 100
Sage 100 offers many solutions for the pain points that inevitably arise in managing warehouse operations, with multiple features that enable real-time lot and serial traceability. Equipped with this technology, your business will be able to significantly improve your inventory control strategies and capture the best value from your distribution.
Download our whitepaper below to discover four more ways to maximize your warehouse efficiency using the functionality of Sage 100cloud.