Distribution Operations for Sage Intacct

Unlocking Efficiency and Insights
Distribution and Manufacturing Operations for Sage Intacct offers powerful capabilities tailored to streamline and refine intricate procedures inherent in both the manufacturing and distribution of goods. This integrated platform presents an array of comprehensive tools and functionalities meticulously crafted to elevate effectiveness, transparency, and command throughout the entirety of the supply chain.
Furthermore, Distribution and Manufacturing Operations for Sage Intacct seamlessly facilitate transfers of general ledger entries, accounts payable and receivable records, along with journal and bill transactions, ensuring a smooth and harmonious financial management experience.
Designed with Distributors in Mind
In the dynamic landscape of modern business, distribution operations play a pivotal role in ensuring products seamlessly reach their intended destinations. Distributors are facing challenges including:
Meeting customers' specific expectations
Inability to easily scale
Poor visibility into inventory control
Labor issues
System performance limitations
One name that stands out in the realm of distribution management is Sage – a company known for its innovative solutions that streamline and optimize distribution processes.
Distribution Operations for Sage Intacct encompasses a suite of software solutions and tools designed to enhance various aspects of the distribution process. From inventory management and order fulfillment to supply chain visibility and analytics, Sage equips businesses with the capabilities needed to operate efficiently, make informed decisions, and meet customer demands. As the distribution landscape continues to evolve, embracing Sage's innovative approach can position your business for sustained success in the modern marketplace.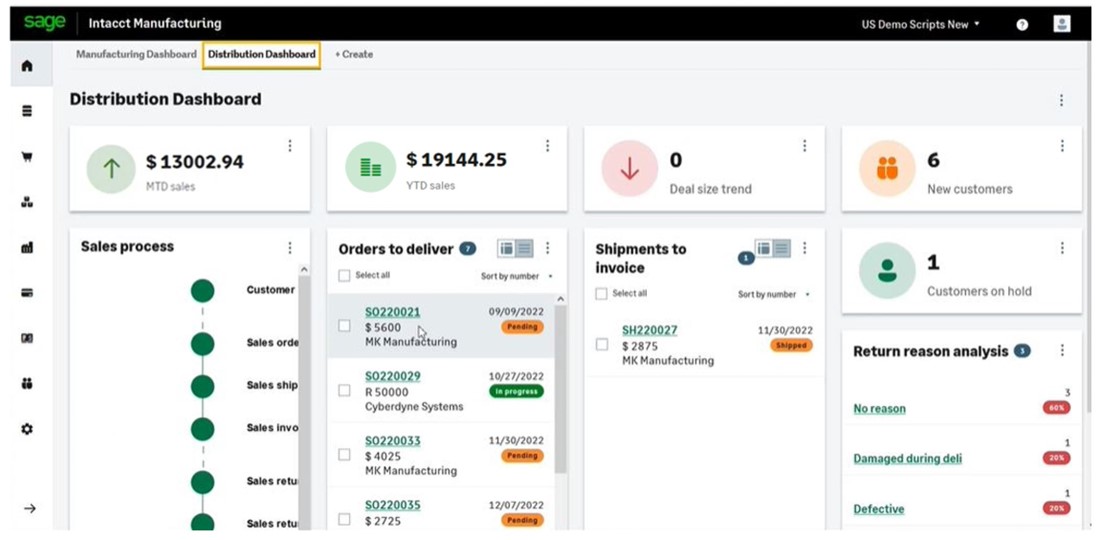 Key Benefits of Distribution Operations for Sage Intacct:
Strategies for Leveraging Distribution Operations for Sage Intacct:
Download this Data Sheet to learn more.