SWK Managed Cloud Services Resource Library
SWK Technologies is an award-winning managed services provider (MSP) with decades' worth of experience in solving persistent network management pain points and supplying our clients with the experience, information and guidance they need to get the most out of their entire technology stack. This content library consolidates many of our educational resources in one location, allowing you to take advantage of SWK's accumulated knowledge on navigating the intricacies of your infrastructure needs. Scroll below to brose through IT and Cybersecurity videos, ebooks and more to see what our Managed Cloud Services can help you achieve.
Catch up on SWK's latest video playlists on Managed IT Services and Cybersecurity on our YouTube channel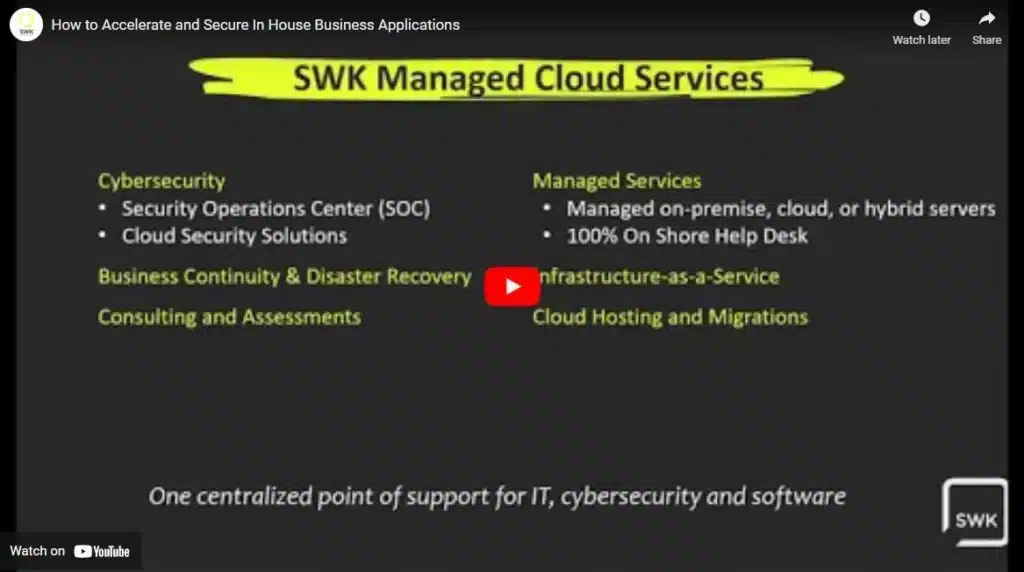 IT and Cybersecurity Videos
MCS Information Series Videos
Want to see even more helpful videos?
Microsoft 365 Resources
Click on an image below to download
More IT and Cybersecurity Resources
Click on an image below to download
IT and Cybersecurity Articles
In an ever-evolving cybersecurity landscape, experts tirelessly develop new defense systems to safeguard individuals and businesses from the …
November 22, 2023 (EAST HANOVER, NJ) — SWK Technologies, Inc. ("SWK") announced today that it has successfully completed its Type 2 SOC 2 audit as of …
November is coming to a close, ushering in cold weather, the Holiday season, and countless more instances of cybersecurity developments. Since hackers …