Sales Tax Automation Software
Tax Compliance can be Hard. Sage Sales Tax by Avalara makes it easier.
Agile, successful companies focus on their core business and outsource complex, administrative functions – such as payroll and sales tax management – to the experts.  SWK Technologies, in partnership with Sage and Avalara, can address your sales tax challenges with Sage Sales Tax, by Avalara. Avalara's cloud-based service is the fastest, easiest, most accurate and affordable way to calculate sales and use tax; manage exemption certificates; file returns; and remit payments across North America and beyond.
Sage Sales Tax  provides seamless integration with Sage ERP solutions and is the fastest, easiest, most accurate and affordable sales & use tax solution available. The Avalara AvaTax API makes it possible to integrate Avalara with any e-commerce, POS, or accounting application.
DOWNLOAD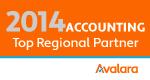 Want to find out in which states you have the greatest tax risk? Use our free Sales Tax Assessment Tool (STAT) and find out!
Find Out Now
Economic Nexus and How It Affects Your Business

New laws on remote sellers and other big changes across the U.S. might impact the way you think about (and manage) your business. Let Avalara's tax experts give you a breakdown of what you need to know.
---
Download the report on state tax law updates in 2019 OR watch webinar on-demand to discover how these changes affect you:
EMPOWER 2018 | Avalara Interview