Sales Tax Automation Software
Make tax compliance easy with Sage Sales Tax automation software by Avalara.
Avalara's cloud-based sales tax software is the fastest, easiest, most accurate and affordable way to calculate sales and use tax, manage exemption certificates, file returns, and remit payments across North America and beyond. Sage Sales Tax is an integration powered by Avalara that enables Sage 100 and Sage X3 users to address their tax compliance challenges. Partner with SWK Technologies and Avalara to deploy the most efficient tax automation solution for your Sage ERP.
Economic Nexus is transforming the face of interstate commerce in the 21st century. E-commerce sales now generate a whole host of new tax reporting regulations for your business. The Avalara AvaTax API makes it possible to integrate Avalara with any e-commerce, POS, or accounting application, adding sales tax automation technology to your ERP and allowing you to seamlessly process in a single system.
With AvaTax, Sage Sales Tax, Avalara CertCapture and more, Avalara provides the best sales tax integrations for enterprise software users. Leveraging the flexibility of Avalara SaaS allows you to automate your tax reporting requirements and manage the tax burden one very transaction in real-time. Thousands of businesses large and small rely on Avalara to make sales tax compliance less taxing.
Discover Your Tax Nexus Risk
Ecommerce sales are driving business growth all over the US, but economic nexus can disrupt your interstate sales if you are not prepared to deal with new state sales tax regulations for remote sellers. Right now, you need to put your company's people, time, and resources to work where they matter most. And that's not managing sales tax. To help you during this critical time, our partner Avalara is offering a free Tax Risk Assessment and 3 months of sales tax automation at no cost and make no payments for 90 days when you add Avalara's premier cloud-based tax compliance suite to your financial and commerce systems.
Avalara's cloud-based sales tax compliance solution has pre-built connections into 700+ accounting, ERP, and ecommerce systems, so you're set up to automatically:
Apply the right sales tax rate or exemption to every sale
Update sales tax rates and rules in every state (even as they change)
Remit and files sales tax returns accurately and on time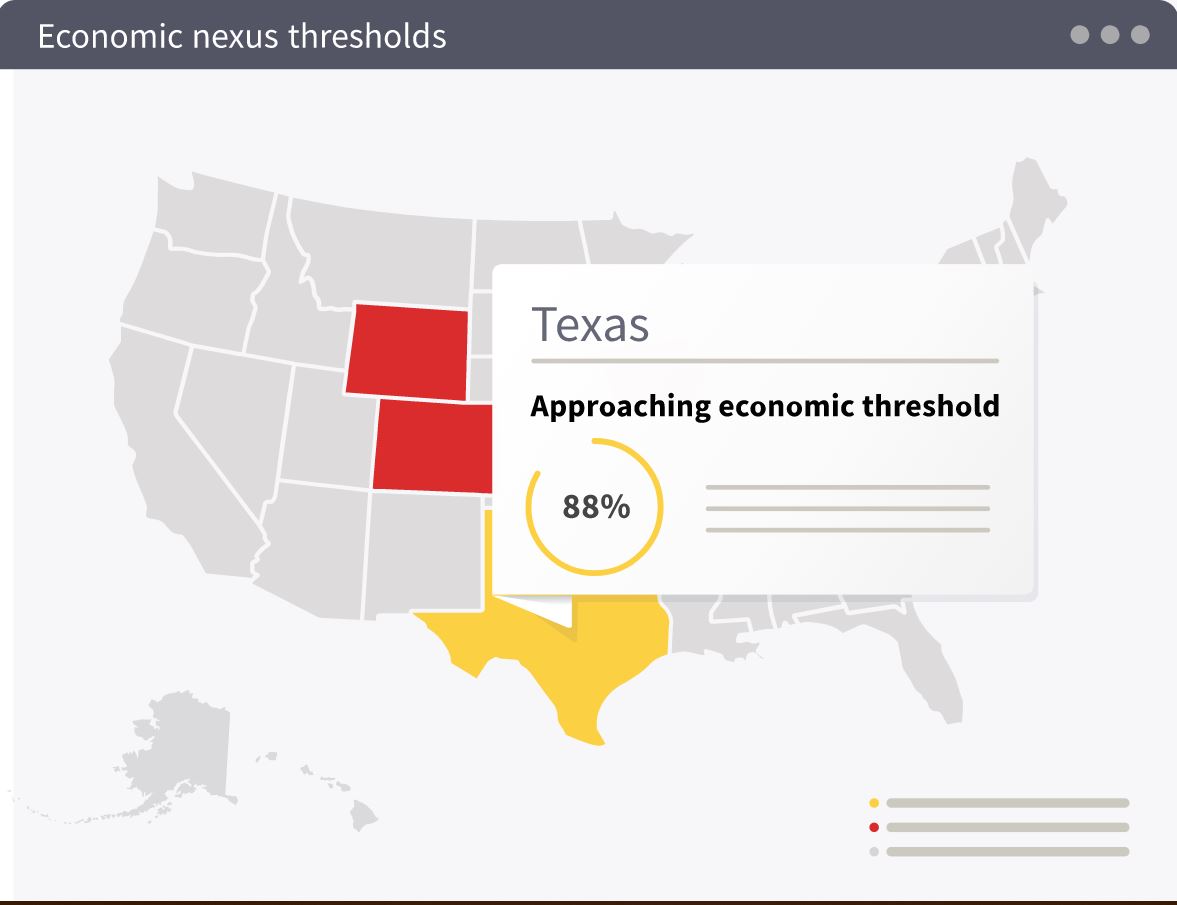 Fill out the form to start your free Tax Risk Assessment:
Sign up for 12 months of AvaTax or AvaTax plus Avalara Returns to receive the additional free 3 months. Annual billing via automatic payment required. Offer valid for new Avalara Customers only and expires on June 30th, 2020. SWK may share your information with companies that we partner with to provide certain solutions.
Economic Nexus and How It Affects Your Business

New laws on remote sellers and other big changes across the U.S. might impact the way you think about (and manage) your business. Let Avalara's tax experts give you a breakdown of what you need to know.
---
Download the report on state tax law updates in 2020 OR watch webinar on-demand to discover how these changes affect you:
Hear more on the partnership between SWK Technologies and Avalara and how it allows us to provide you with the latest in sales and use tax compliance software.
EMPOWER 2018 | Avalara Interview