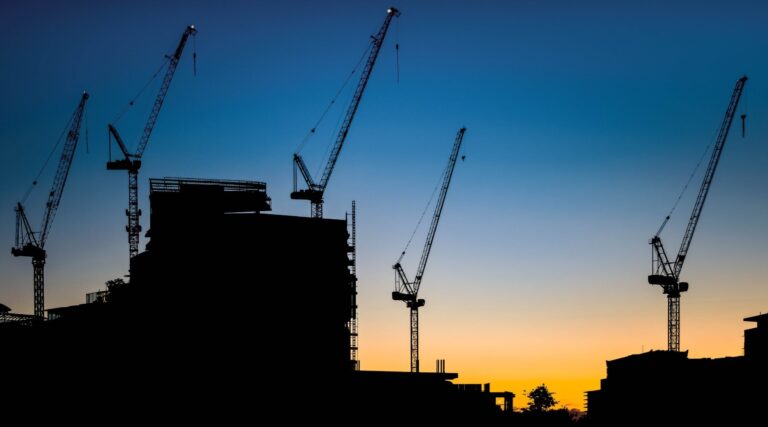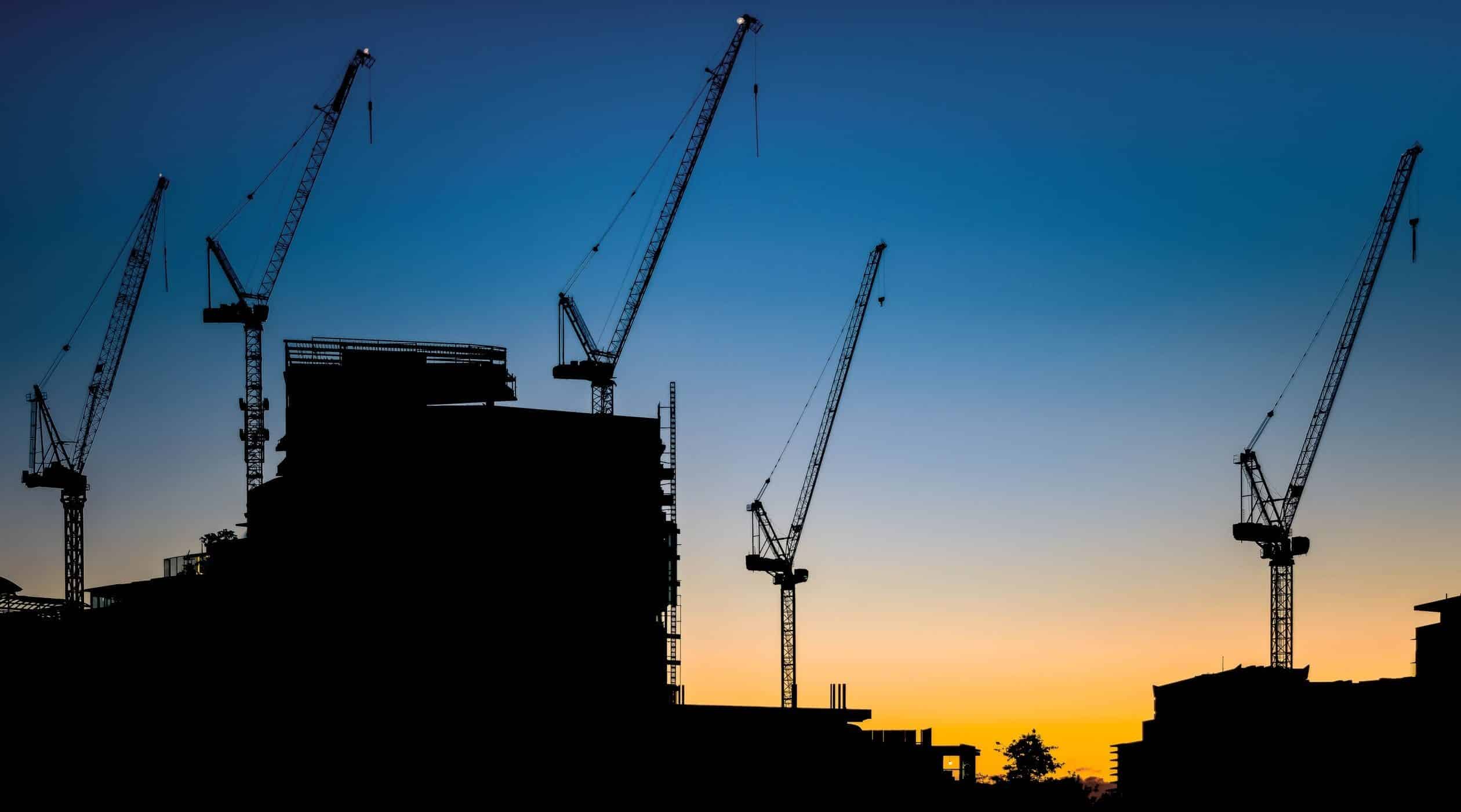 Accounting & ERP Software
---
Acumatica: Construction Management Software
Cloud-Based Construction Project Management ERP Software
Construction ERP software in the cloud enables you to streamline your job scheduling and workflow management, and consolidate project accounting to save you time, energy and – most importantly – money. Whether deployed as single-tenant or multi-tenant SaaS, in a hybrid infrastructure or even on-premise, Acumatica ERP provides you with web-based construction software accessible via browser or mobile app. No matter the tool, Acumatica delivers state-of-the cloud technology designed to adapt to your processes, not the other way around.
The construction industry is a complex network of buyers, vendors, architects, contractors, and subcontractors all navigating a catalogue of residential, commercial and industrial properties. Your customers, partners and projects all introduce their own data touchpoints that must be tracked to ensure you keep your ROI for every contract. Without robust project management and accounting software for construction, you will lose your investment through inaccuracies, errors and even lost business.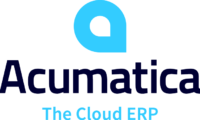 Acumatica Construction Software in the Cloud
Cloud ERP provides the best way to capture insight into your disparate data siloes, on-demand and in real-time. Leveraging SaaS for construction management gives you a comprehensive view of your disconnected datapoints, letting you cut through channel noise to obtain the information you need, when you need it. With Acumatica, you gain the visibility you need to make your construction business profitable.
Take Charge of Your Business with Cloud Construction Software
No matter your place in the construction industry, Acumatica Cloud ERP delivers the functionality your business needs to capture ROI. Get information as you need it with anywhere, anytime access through desktop, laptop, tablet or mobile dashboards.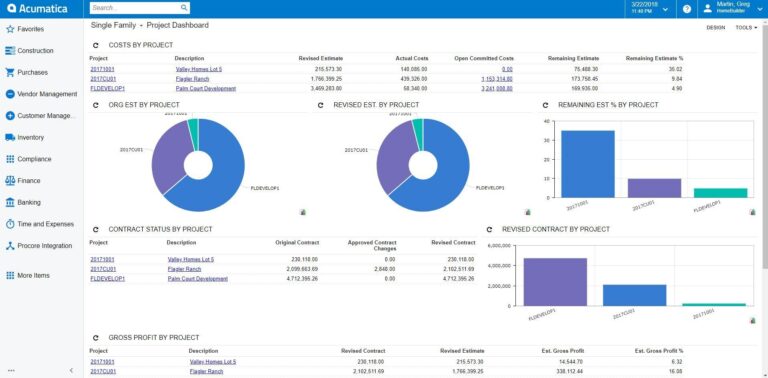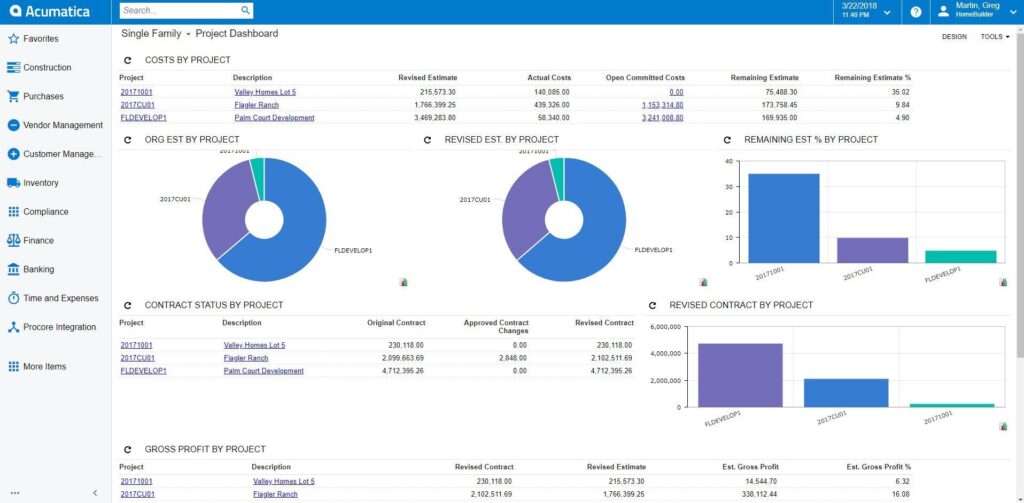 Whether for Home Builders, Land Developers, General Contractors or Subcontractors, Acumatica consolidates your touchpoints into a central, easy-to-manage data stream that empowers you to streamline your business processes.
CONSTRUCTION ACCOUNTING SOFTWARE

Acumatica features a modern cloud platform that fulfills the project accounting needs of construction businesses. Capture the full story of your financials from contract start to finish, with bookkeeping and payment functionality for manufacturing, distribution and service roles. Track every cost and investment with real-time visibility into payroll, tax, purchase requisitions, warehouse inventory and more.
PROJECT SCHEDULING AND MANAGEMENT
CONTRACTOR AND FIELD SERVICE MANAGEMENT

Acumatica delivers a single version of the truth for all of your operations, including for project activities in field and between contractors. With access to mobile resources and a team dashboard, information is exchanged between the back office, supervisor and field service personnel seamlessly. Make it easy for your contractors and subcontractors to feed you data from anywhere and at any time by leveraging the flexibility of SaaS construction applications.
CONSTRUCTION PROJECT CRM

Use Acumatica's CRM suite to keep track of your customer activities, project lifecycles and ensure that your clients receive the level of service they expect. Review and management contract details and costs to help you act on opportunities to deliver the most value to your stakeholders. Leverage accurate, real-time customer data to optimize your project margins.
SOFTWARE INTEGRATION IN THE CLOUD