Mid-Market & Enterprise Software
---
ACUMATICA MANUFACTURING
ACUMATICA MANUFACTURING SOFTWARE
The Acumatica Manufacturing Edition suite delivers a state-of-the-art ERP for manufacturers combined with CRM to effectively support all major business areas with flexible processes for planning and controlling your connected operations. Take control of your value chain with an integrated technology stack that bridges the data siloes between your material resourcing, production and distribution.
This ERP module provides powerful and comprehensive production management software functionality for make-to-stock, make-to-order, engineer-to-order, project-centric, job shop, batch, and repetitive manufacturing companies. Leverage a modern MRP system hosted in the cloud to capture visibility into your entire supply chain in real-time, from anywhere and on device from desktop to mobile.
Integrate production planning and shop floor with customer management, sales orders, inventory, purchasing, accounting, and financial reporting to provide real-time coordination of activities across your entire business, as well as giving you a full picture of your manufacturing overhead costs. Taking advantage of cloud-hosted technology allows you to consolidate the disparate touchpoints throughout your business and create a unified source of truth for your manufacturing chain.
Bill of Material (BOM) and Routing

Acumatica BOM management lets you efficiently plan and manage inventories, costs and manufacturing processes.

Effectivity/Expiration Dates: Control material planning and usage according to effectivity dates for phase-in and phase-out of content changes.

Multiple Sites: Enables the support of multiple sites and have different or alternate BOM/Routing for each different site.

Mass Change: Allows for the replacement of a component with a different component on individual or all Bills of Material.

Attributes: Used to display optional or required values when reporting production. These are available on the bill of material header and/or operations and can be copied onto a Production Order when the order is created.

Acumatica Manufacturing BOM
Material Requirements Planning (MRP)

Satisfy customer requirements and maintain optimal inventory with the powerful manufacturing planning tools of Acumatica MRP system.

Forecasting: Forecasts can be calculated or entered manually. These forecasts can be dependent and consumed by sales orders, or they can be independent. Input forecasts as one-time, weekly, monthly, or yearly.

MRP Detail: Review and execute the complete material plan through MRP screens that show all activity, orders, requirements, balances, and recommendations for an inventory item.

Bucketless System: Enhance your manufacturing resource planning by planning every requirement for every item. Acumatica MRP does not ignore detail by grouping requirements together.

Multi-Site Planning: Controls whether MRP will plan requirements by site or by a combination of sites.

MRP Exceptions
ESTIMATING

Create estimates for new or existing items, convert to bills of material, production orders.

Estimate Non-Inventory Items: Estimate items not currently in your inventory. Attach notes, files, and item attributes to the estimate.

Create New Inventory Items: Easily convert non-inventory items to inventory stock or non-stock items. Create inventory items and generate a bill of material from an estimate.

Create Production Orders: Create a production order directly from an estimate.

Sales Integration: Attach an estimate directly to, or against, a sales order or an opportunity in Acumatica Customer Management. Create a sales order directly from the estimate.

Estimate Operation
PRODUCTION MANAGEMENT

With Acumatica you can schedule productions on the shop floor and track material and labor costs. You can compare standard and planned production costs to the actual costs of the order.

Critical Materials: View production order shortages. Create purchase orders and production orders for the parts that are short from a single screen.

Labor Tracking: Capture direct production labor to production orders by employee. Enter and track non-production time using indirect codes.

Production Performance: Monitor and manage performance with detailed reports, including actual vs. standard/planned costs with labor, material, machine, tool, fixed, and variable overhead details.

Event Audit Trail: Trace all production activities (events) against a production order including description, date and time, and ID of the user.

Production Order Maintenance
PRODUCT CONFIGURATOR

Multi-level, dimensional, rules-based system with non-hierarchical feature selections and configuration evaluation. For us with quotes, sales orders, production orders. Offers real-time price and cost rollup.

Configure to Order: Configure any item using predetermined features and options. The results of the configuration carry forward to a production order.

Dimensional Capability: Use multiple dimensional calculations and formulas to calculate the material requirements for the specific components of configuration.

Formula Validation: Validate formula calculations based on a minimum or maximum attribute value or the quantities chosen for selected features and options.

CRM Opportunities: Create configured items for sales opportunities in CRM.

CRM Configuration
Advanced Planning & Scheduling (APS)

Using Advanced Planning & Scheduling (APS) in Acumatica lets you create a more streamlined and accurate production scheduled, better enforce delivery dates and optimize for capacity. Develop a more refined manufacturing run that captures the best ROI of resources on hand and schedule automation to mitigate manual user entry.

Rough-Cut Capacity Planning (RCCP): RCCP schedules open production orders against finite capacity constraints. Optionally, the orders selected can be released. Orders are loaded and scheduled in sequence based on priority, constraint dates, and production order numbers. The availability of material is considered including supply orders such as purchase orders, transfer orders, or component production orders. Planners may exclude planning orders from RCCP to focus only on actual production orders.

Capable to Promise (CTP): Use Acumatica Advanced Planning and Scheduling to determine how many units of an item will be available by a specified date or calculate availability dates for a quantity of items based on finite capacity constraints, material availability, and vendor lead times.

Work Center Capacity Planning: Plan, monitor, and manage work center capacity using rough cut capacity planning with finite scheduling for operation durations based on crew sizes and labor efficiency.

RCCP
ENGINEERING CHANGE CONTROL

Automate Engineering Change Control (ECC) from Engineering Change Requests (ECR) to Engineering Change Orders (ECO) all from inside of the Manufacturing Edition. Consolidate your ECC controls by BOM and establish a secure approvals workflow augmented by log and audit trails.

Engineering Change Requests: Manage engineering change requests by BOM and revision with requested dates, effective dates, requester names, priority codes, and additional information.

Engineering Change Orders: Tie multiple ECRs to a single ECO for the same item or skip the ECR process and manage changes directly from the new ECO.

Approval Process: Setup an automated process to route ECRs and ECOs internally for approval.

Engineering Dashboard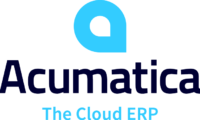 Acumatica Manufacturing Integrations
Integrate the Acumatica Manufacturing Edition with any other publisher module to build the technology stack that returns the best ROI for you. Connect your entire production and distribution chains through your ERP and leverage real-time supply chain automation, compliance traceability, and inventory management. Ensure your business operates smoothly from end to end with an inclusive cloud application suite that bridges the gap between all parts of your organization.
See Acumatica Manufacturing Edition in Action with this Video Demo
Acumatica Acumatica Process Manufacturing – eWorkplace Integration Data Sheets
SWK partner eWorkplace Apps developed a proprietary process manufacturing integration for Acumatica available with the 2021 product release. The Quality Management solution extends the batch processing capabilities of the cloud ERP with a framework built on BatchMaster Software. Industries and micro-verticals requiring comprehensive formula management and compliance traceability – such as a Food and Beverage, Nutraceuticals and Cosmetics – will be able to accelerate their migration to the cloud with this new application.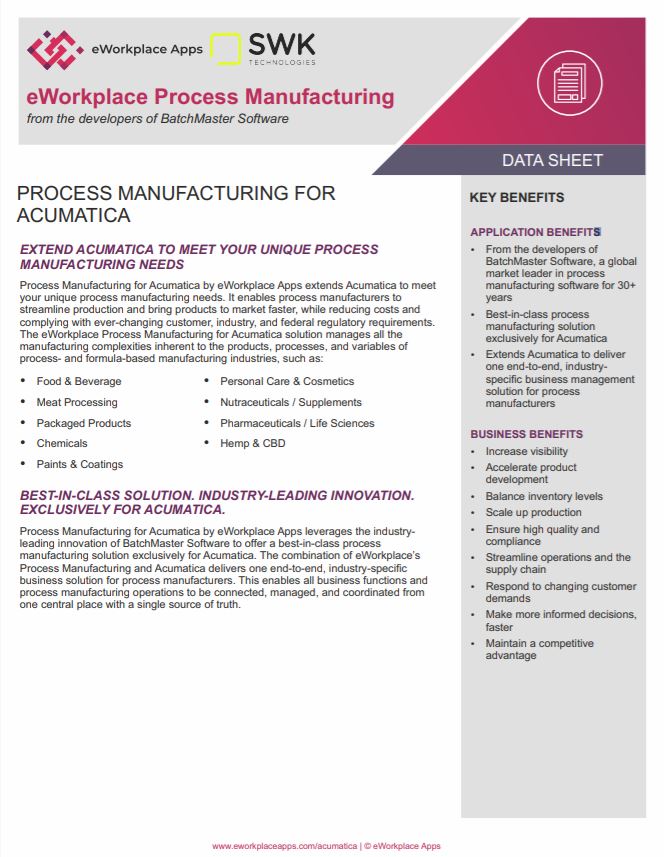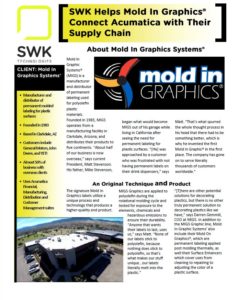 Don't Just Take Our Word
Learn how Acumatica Manufacturing helped Mold In Graphics Systems®