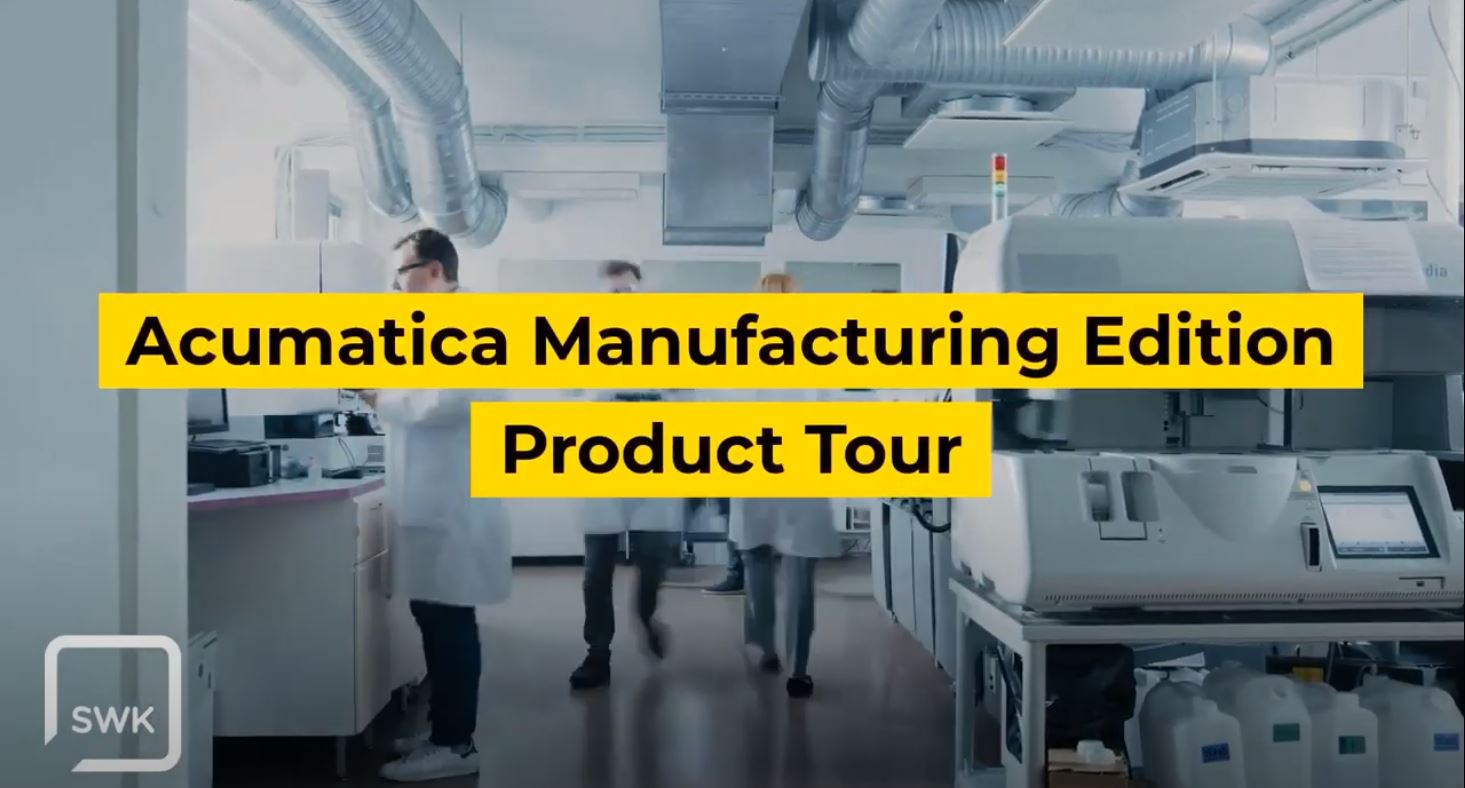 Want to see a tailored demo of Acumatica's manufacturing features? Click here.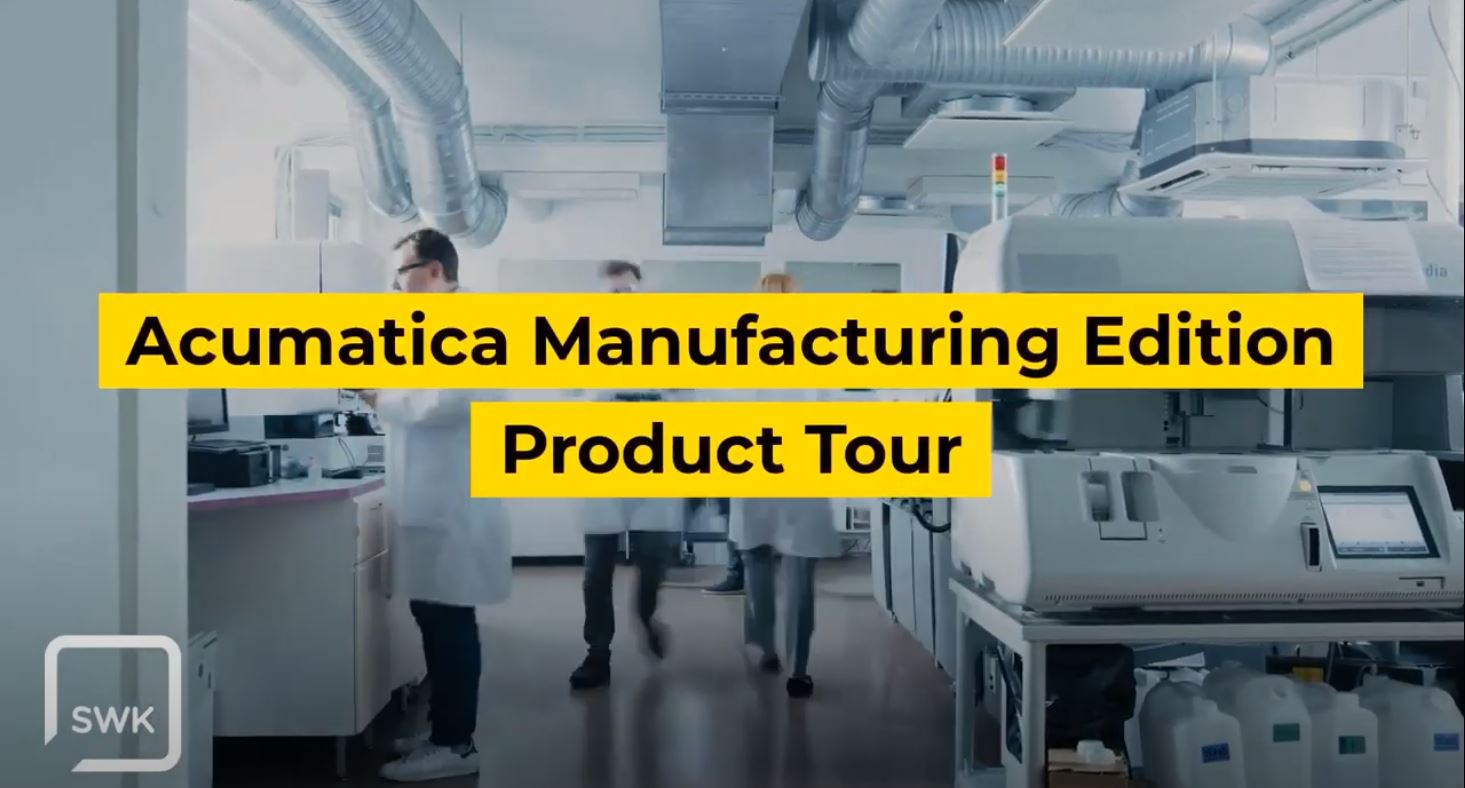 See the top features available in the Acumatica Manufacturing Edition with the product tour below, which includes a video demo presented by Acumatica MVP and Director of Solutions Architecture at SWK Technologies, Jeremy Potoka. This article will break down the functions demonstrated by Jeremy below for your step-by-step viewing, as well as expand upon others that power this state-of-the-art cloud ERP built for discrete manufacturing and batch processing. This tailored solution streamlines every stage of your value chain, including supply chain, production, order management, and produces seamlessly unified workflows that empower your teams to work as a single unit from shop floor to warehouse.
Watch the video below to see a quick demo of the Acumatica Manufacturing Edition:
Read through the list below to see the top features of Acumatica Cloud ERP for manufacturers:
The Acumatica Software Platform for Manufacturers
The foundation of every Acumatica module is the proprietary native cloud platform that runs the ERP and connects users from all ends of your business to the same centralized data hub. As the software was designed as SaaS from inception, it can be loaded in from any supported browser (Edge, Chrome, Safari, etc.), even when hosted on-premise. Here are a few of the features that make Acumatica xRP unique for the manufacturing industry:
Dashboards
The dashboards in any Acumatica instance deliver comprehensive visibility into universal and role-based key performance indicators (KPIs), and can be customized using an intuitive user interface. This UI is simple yet robust, allowing you to be able to drag and drop your own handmade widgets into your individualized screen layout without needing a coding background.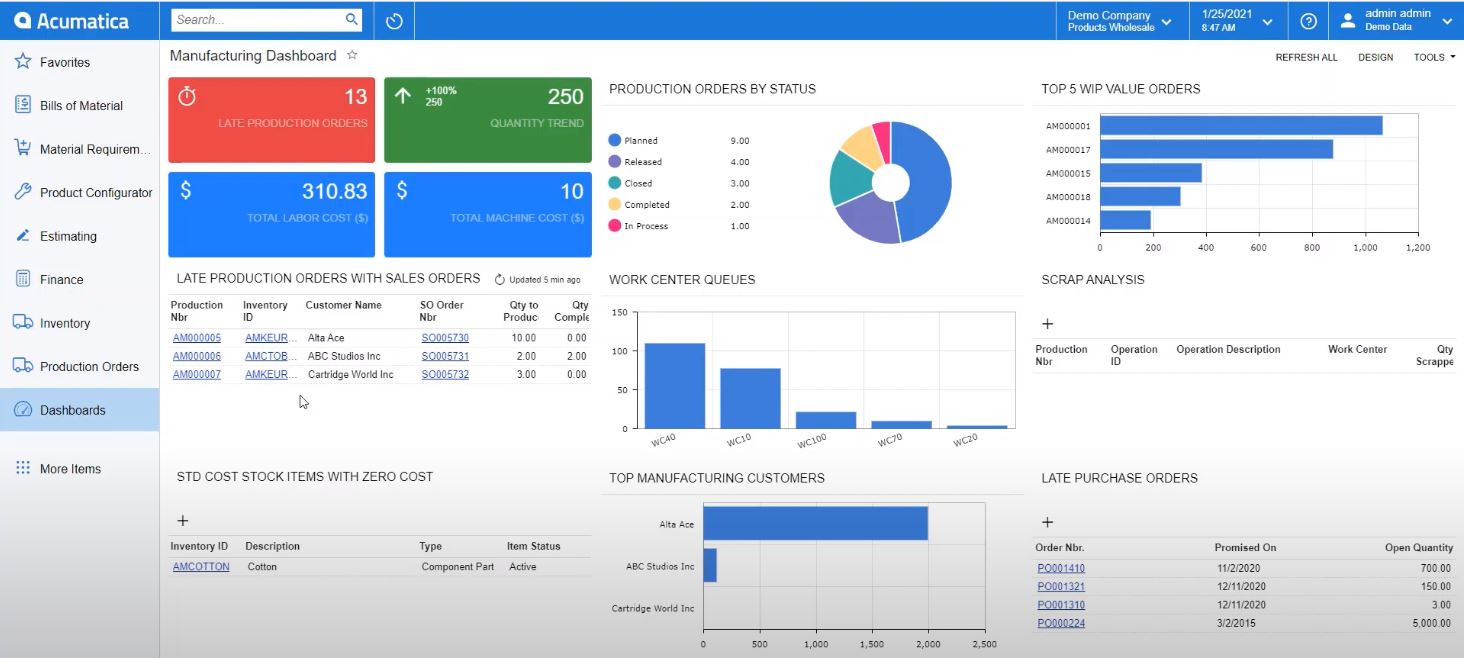 Personalized Login
Every user can personalize what their Acumatica display looks like upon login, including which dashboards and KPI widgets appear once their instance loads in. This allows employees and managers to quickly review their data sets and execute on tasks from within a consolidated menu of priority activities.
Manufacturing KPIs
For suites like the Manufacturing Edition, dashboards and workflows are already built around typical industry KPIs for fast access to your key processes. However, Acumatica Cloud ERP offers full flexibility in leveraging the plug and play nature of the built-in widgets, while still contributing default templates designed to help you ease into the software's functionality.
Acumatica Modules for Manufacturing Edition
Individual Acumatica modules (AKA "workspaces" in the solution) merge together to power industry-specific Editions, which just as the pre-built dashboards are designed to operate in a similar plug and play model, these components deliver a wide array of features for every vertical and role-based function. This includes typical ERP accounting tasks like General Ledger to narrower purposes like lot/serial tracking, custom order configuration and change control. Here are some of the modules that are included with the Acumatica manufacturing suite:
Financial Management
Production Management
Operations
Material Requirements Planning
Bill of Materials and Routing
Inventory Management
Fixed Assets
Engineering Change Control
Estimating
Product Configurator
Order Management
Advanced Planning and Scheduling
Top Acumatica Manufacturing Features
Many of the top features of Acumatica Manufacturing Edition revolve around persistent visibility demands faced by discrete manufacturers and batch processors (more chemical/formula-based manufacturers should look into the process manufacturing module). These prevent silos between disconnected units and teams from increasing the costs, labor and time needed to complete each production lifecycle, as well as help to keep your business appraised of developments in your value chain. Other features also deliver automation on traditionally repetitive and manual tasks, reducing the time for each activity as well as mitigating the possibility of human error.
Inventory Management
The Inventory module in Acumatica Cloud ERP keeps track of every detail associated with your Stock Items, from default pricing to quantity counts, and enables you to execute on individual or bulk actions for linked sales and production orders. Every Item is assigned a lot or serial number from inception, and can be further categorized by Class, Type (Finished Good, Component Part, Subassembly), Valuation Method (Standard, Average, FIFO, Specific), Tax classification, Default Warehouse and more. Stock Items can be classified as materials in addition to Finished Goods, giving you options in how you customize your replenishment automation workflows.
Bills of Material (BOM)
Bills of Material (BOM) in Acumatica are linked by ID to each associated Stock Items and display multiple levels of detail per Material, Step, Tool, Overhead and Outside Process. More than being a simple list, every BOM keeps consistent track of the resources and operations tied to each individual material tied to a specific Stock Item ID. Users can also decide whether to directly record transactions or labor, or backflush either to each Bill with a few simple clicks.
Material Requirements Planning (MRP)
The Acumatica MRP (material requirements planning) module allows you to centralize your production planning, scheduling and purchasing within an integrated display connected to both ends of your supply chain workflow. The MRP Display feature grants a consolidated location to know when to execute on purchasing raw materials, manufacturing Stock Items, transferring materials and Finished Goods, and more. Additional functions include the ability to create and maintain the master production schedule, generating forecasting and linking production cycles to sales orders.

Production Orders (Work Orders)
Production orders are essentially work orders created and recorded in the Production Management module of Acumatica Manufacturing Edition, which can generate production runs manually or automatically based on programmed criteria. The Production Order Maintenance feature enables you to view and carefully manage all the details within each order, including an Event History of any material, move or cost transaction as well as labor totals (Planned and Actual) without needing to run a report. Additionally, users that integrate the WMS module and Acumatica mobile app will be able to scan barcodes and enter the information into work orders with any Android or iOS device.
Other Top Manufacturing Features
Here are a few other top features from some of the function-specific modules included with Acumatica Manufacturing Edition:
Custom Order Configuration and Estimating
The Product Configurator and Estimating modules allow users to create custom work orders based on customer request and estimate costs for custom jobs, respectively. The former enables Configure to Order with predetermined templates for customers to choose from, including multiple dimensional capabilities and formula validation. The latter can estimate the cost of items even if they are not included in your inventory, and create production orders directly from the estimate.
Advanced Planning and Scheduling
The Advanced Planning & Scheduling (APS) module introduces finite capacity scheduling and planning features to Acumatica. These include Rough-Cut Capacity planning (RCCP), Capable to Promise (CTP) and Work Center Capacity Planning to help you optimize your scheduling and enforce better accuracy throughout your production runs no matter your unique circumstances.
Change Control Tracking and Approvals
The Engineering Change Control module empowers you to make, modify and manage Change Orders and Change Requests, with consistent and detailed tracking enabled through the associated BOM. Users can set approval automation that allows fast – yet secure – approvals on upcoming bulk changes to recipes.
Schedule an Acumatica Demo to See More Features for Manufacturers
There are still many more features besides those listed above included standard with Acumatica Cloud ERP, and even more that can be customized with help of a development and implementation support partner like SWK Technologies. Reach out to us ASAP to get in touch with our Acumatica experts like Jeremy Potoka to capture the best insight and assessment of what ERP features will provide the best value return for your needs.
Contact SWK today to schedule a tailored Acumatica demo built for your requirements and learn more about what this manufacturing system and SWK Technologies can offer.
Contact SWK for an Acumatica Demo