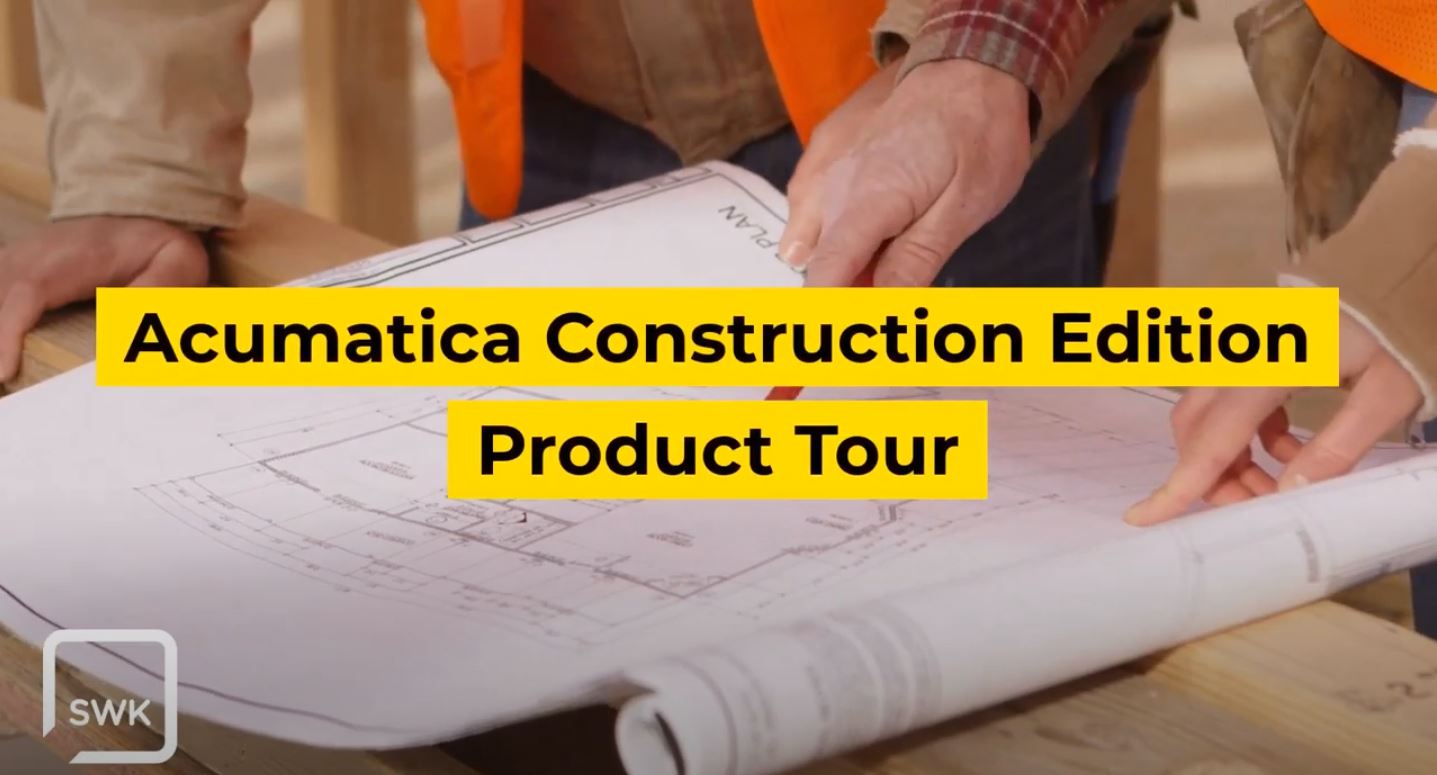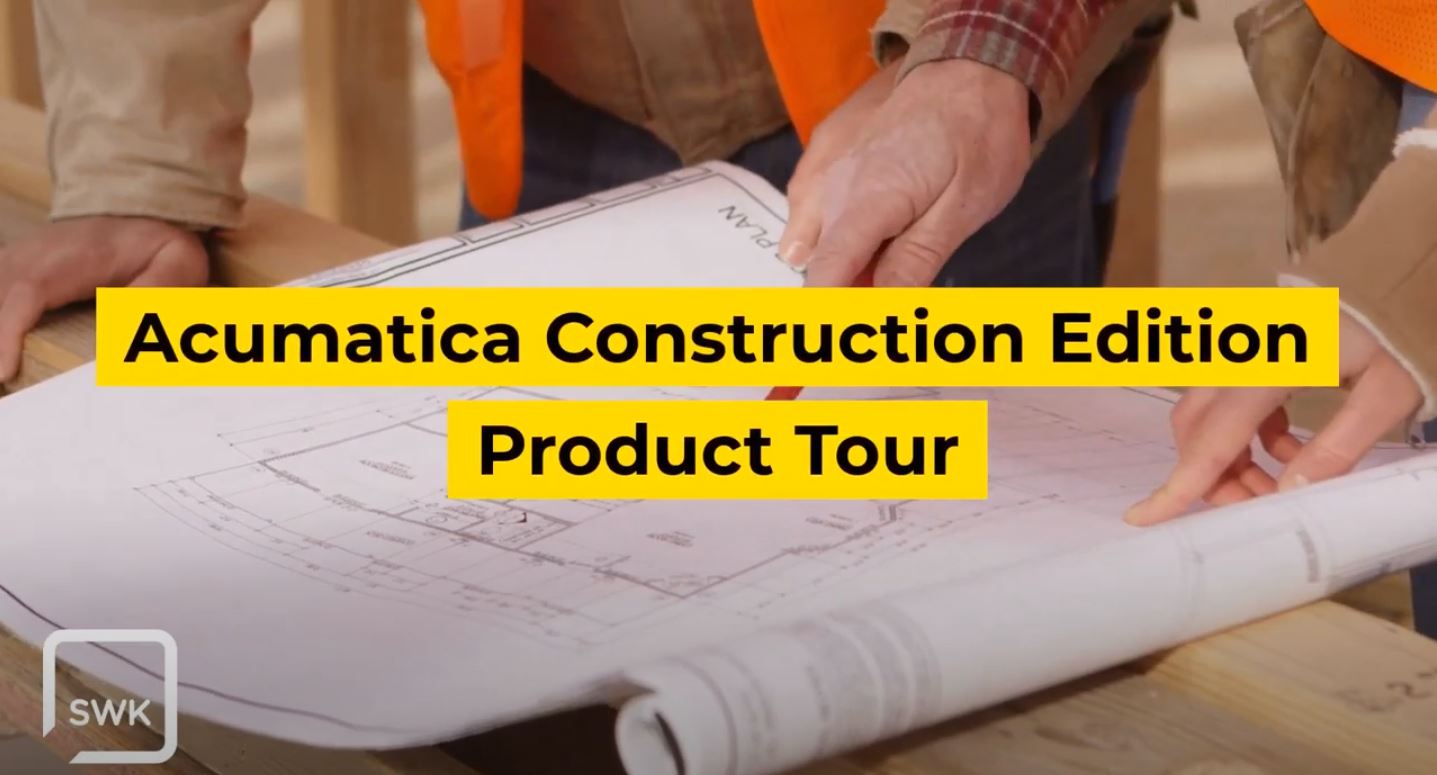 Learn about the top features in Acumatica Construction Edition with SWK's Product Tour video demonstration and walkthrough below. This step by step demo will highlight some of the most useful functions available with this cloud ERP solution designed to provide immediate and long-term value for all parts of your industry, whether you are a general contractor, subcontractor, homebuilder or developer. In the rest of this article, we will break down each of these attributes and tools by category, and explain further how every part of this platform will return value on your software investment.
Watch the Acumatica Construction Product Tour video below for more information:
Here is a list of top features in Acumatica Construction Edition and how they will benefit you:
Cloud Construction Software Platform
The strength of Acumatica Cloud ERP begins with its core platform, which provides a solid foundation from which each module derives both universal and industry-specific functionality. By delivering visibility and flexibility from the ground up, every Edition is able to offer robust features out of the box while individual solutions can be customized to specific preferences by a qualified partner like SWK Technologies.
Personalized User Experience and Interface
To enable seamless usage and boost productivity through the software experience, every version of Acumatica allows personalization of the user interface to fit in with your existing culture and processes. SWK's consultants will work with your business to tailor the layout, features and data flows to your preference and ensure that each employee has easy, quick access to the key performance indicators (KPIs) and actions they need available at the click of a button.
Acumatica Dashboards
The age of digital transformation gives everyone insight into an unprecedented volume of information, which unfortunately can become overwhelming quickly and hinder actionable returns being gleaned from within those data sets. This is why Acumatica's dashboards aggregate your KPIs and tasks into interlinked visual widgets that allow you to simultaneously view top-level data and drill-down into specific items as needed. These dashboards are generally divided into two primary categories: those that provide a curated overview of critical data points and those that link to actionable, individual tasks.
Data Overview Dashboards
More data-driven dashboards in Acumatica Construction Edition provide a quick but comprehensive overview of your key data sets, such as the Project Dashboard which aggregates and lists information by each project. With the right integrations and widgets, users can also capture real-time data straight from each project jobsite that allows managers to be able to keep in touch with activities onsite.
Specific actions available through data overview dashboards include:
Organizing projects according to profitability, costs and contract status
Capturing camera feeds and weather information for a specific jobsite
Filtering for individual projects to be able to drill-down to specific data sets with the above details
Task-driven Dashboards
Task-driven dashboards in Acumatica also give quick overviews of your data sets that include visual representations for key items (e.g., red and green KPI widgets. for upward and downtrends, respectively); however, these are organized more according to pending activities than high-level snapshots. For example, the Project Manager dashboard can include lists of project items requiring approval as well as Project Issues trends that alert you when individual anomalies are beginning to form a correlation.
Some of the activities you can perform with task dashboards are:
Create and organize you own charts and other visual widgets with specific rules for KPIs
Follow links on individual list items and click through to drill-down into more granular Data Views

Integrations with Acumatica Construction Software
Acumatica is a cloud-native system that was designed (and continuously upgraded) to be able to integrate with as many other solutions as possible to empower businesses like yours to get the most out of your entire technology stack. What this means is that instead of having to exit in and out of multiple screens and devices just to renter the same data over and over again, many of these processes are automatically integrated and the only user action remaining is to sync the data.
Software integrations available for Acumatica Construction users include:
Top Features in Acumatica Construction Edition
The Construction Edition of Acumatica is powered by several core modules with supplementary add-ons available to integrate as you need to extend the functionality for specific roles and demands. These components contribute to the top features found in this state of the art cloud ERP and how it delivers value to contractors, subcontractors, developers and more.
Here are some of the core modules found in Acumatica Construction Edition:
Financial Management
Project Accounting
Field Service Management
Inventory Management
Order Management
Acumatica CRM
Modern Financial Management
Virtually every Enterprise Resource Processing solution is built from a foundation of accounting functionality, but what truly makes a modern ERP is its ability to connect all of your transactional silos with other mission-critical data sets. Acumatica Financial Management bridges the gaps between disconnected teams and gives your CFO the tools they need to streamline their repetitive pain points.
Intercompany Accounting
Intercompany accounting is part of the extended functionality delivered by the Financial module in Acumatica Cloud ERP that enables you to better consolidate your disparate assets, and leverage multibranch and multicompany reporting to consistently track all of your bookkeeping across every entity.
Acumatica Payroll
Acumatica payroll supports multiple unions, classes, benefits packages, as well as a range of complex and unique wage, compensation and commission structures.
Project Management and Accounting in the Cloud
Grant your project managers better visibility into KPIs and budgeting with Acumatica Construction Edition's project management and accounting functionality. These features empower users to quickly look up high-level key items and drill-down into granular data sets on command on each of your contracts, capturing real-time insight from every jobsite, transaction, subcontractor and more.
Acumatica Project Tracking
Acumatica allows you to filter projects by multiple fields, including profitability, cost and contract status, and consistently track all associated details from activities to documents to costs from anywhere and at any time.
Integrated Job Costing
Unlike with many legacy ERP and desktop applications, Acumatica Construction Edition features integrated job costing functionality that allows contractors and subcontractors to capture detailed costs and forecasting without having to print out multiple reports.
AIA Billing Automation
Create AIA reports directly from an invoice with Acumatica, which generates industry standard forms using the data taken straight from the associated documentation, saving you considerable time on manually entering this information.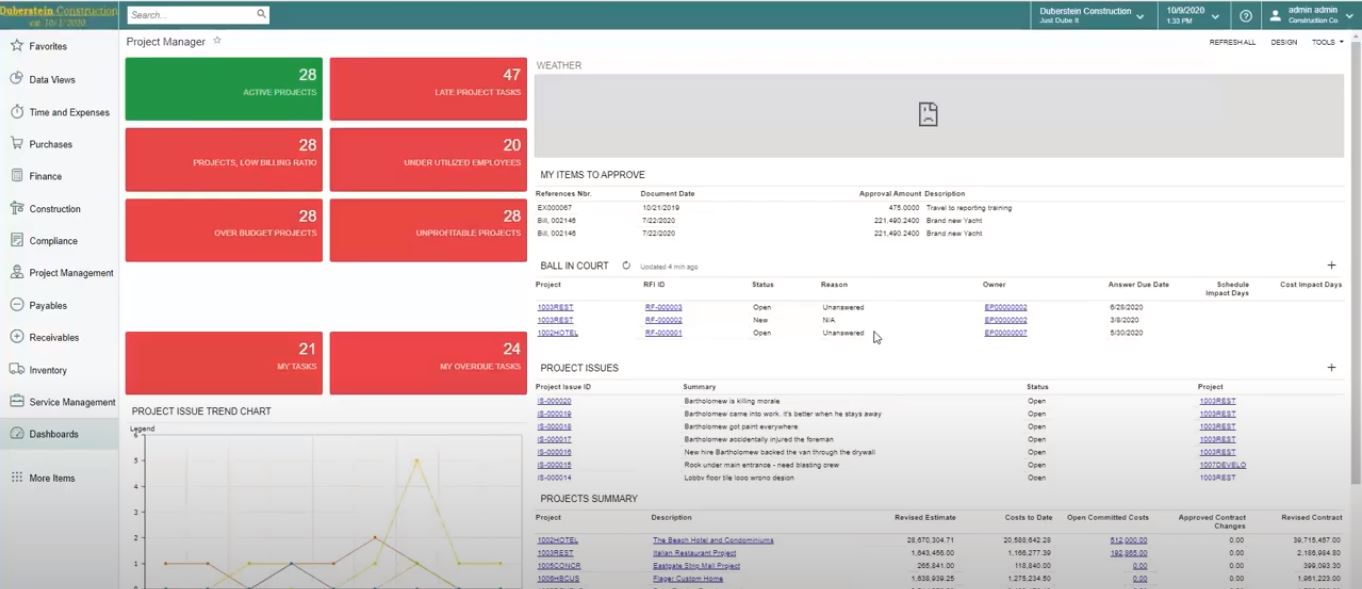 Connected Field Service Management
Good field service management is vital to maintaining your firm's ROI on every project and contract activity, yet contractors and subcontractors have historically had to rely on siloed applications for their field teams. Acumatica Service Management keeps personnel onsite connected with the back office seamlessly, with real-time data updates passed through integrated solutions and databases that prevent the need to rely on multiple systems.
Acumatica Mobile App
Access your critical data and features from any tablet or mobile device with the Acumatica mobile app, which delivers much of the same functionality (and more in some cases) as your desktop application.
Other Acumatica Module Features in Construction Edition
There are many other top features available through these and other modules and additional integrations with Acumatica Cloud ERP, including:
Produce Daily Field Reports with standardized fields and real-time updates from onsite locations
Provide customers with self-service portals through integrated CRM
Track and drill-down into Project Issues and maintain visibility into anomalous trends
Discover More Features in Acumatica Construction Software
As the consecutive Acumatica Partner of the Year, SWK Technologies has proven our deep level of knowledge and expertise with this state of the art solution and we will be able to leverage this background to optimize your implementation. Reach out to us to let our experts walk you through even more of the robust features included with Acumatica Construction Edition and discover how this modern cloud ERP will benefit you.
Contact SWK Technologies today to see a demo of Acumatica and learn more about its unique features for the construction industry.
Contact SWK for an Acumatica Demo