SAGE HRMS

HR and Payroll Software

Sage HRMS – Human Resource Management and Payroll Software
As an industry-leading, customizable solution, Sage HRMS (formerly Sage Abra) helps your company significantly boost your human resource department's abilities by allowing them to quickly and effectively respond to their daily challenges. Sage HR and payroll software saves time and money for your human capital management (HCM) and enables you to focus your energy on your greatest business asset – your employees.
SWK's HCM technology consulting team will help you identify where your most critical needs are and how you can best save money with the most appropriate systems for your existing processes. As experts in ERP and business management applications, we will provide you with the expertise and direct support you need to seamlessly integrate your HR and payroll software with your solutions stack and current IT infrastructure. We will help you streamline your technology to return the best ROI, with an ecosystem that behaves as a single, well-oiled machine.
Disruption and uncertainty have reinforced the value of empowering people to be able to perform their roles effectively and efficiently, and deploying the right solution is critical to maintaining productivity. Sage HRMS connects your HR managers with real-time employee data, delivers consistent visibility, and allows for seamless flexibility in your reporting. Avoid inaccuracies and ensure seamless employee self-service, time management, and tax compliance with the latest in HR and payroll software.
People make all the difference in any company, whether in the SMB, midmarket or enterprise space. Don't inadequate human resource software prevent your people from delivering value to your business. Maximize your investment in your employees with Sage HRMS.
Support your company objectives while improving HR efficiencies and compliance with a solution that empowers your Human Resources team to capture and execute on accurate information.
Did you know over 50% of an HR department's time is spent processing data and answering questions? Don't worry— HRMS eliminates redundant data entry, helping you focus all your efforts on talent acquisition and management.
Learn how to get the most out of your Sage HR and payroll software by visiting the SWK Sage HRMS Video & Resource Library. From reporting tutorials to benefits tips and tricks to our HRMS Bootcamp video series, SWK Technologies will provide you with the resources and education you need to streamline your HCM systems to your needs.
Click here to view the Sage HRMS & Payroll Resource Library.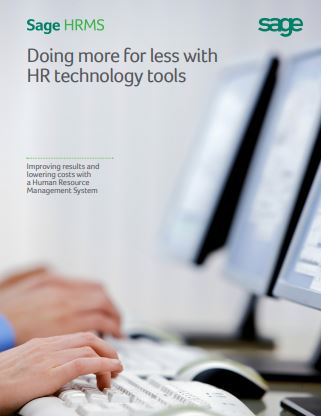 Doing More for Less with HR Technology Tools
Recent statistics released by the U.S. Department of Labor indicate private industry employers spent an average of $30.11 per hour worked for employee compensation ($21.02 for salary/$9.09 for benefits), accounting for over 30% of operating expenses in a typical organization. With so many company resources dedicated to maintaining the workforce, it is necessary to identify ways to improve results, increase efficiency, and lower costs. Human Resource Management Software (HRMS) help you find such opportunities and capitalize on them.
Download the free e-book to learn how you can solve your HR business challenges and empower your workforce.
Download Now
Reporting with Custom Detail Pages
OSHA Compliance with Sage HRMS