SWK and Secure Cloud Hosting are now a proud Service Delivery Partner for the Sage Partner Cloud Learn more here.
Let us take that off your hands
Your software applications are the key component to helping you run your business more efficiently, and that's crucial to remaining competitive and growing your company. The question is, where is the best place for your software to reside? On your servers (on-premise), hosted in the Cloud, or some combination of both?
SWK can help. We have solutions for each of these environments or any combination of them living in a hybrid deployment.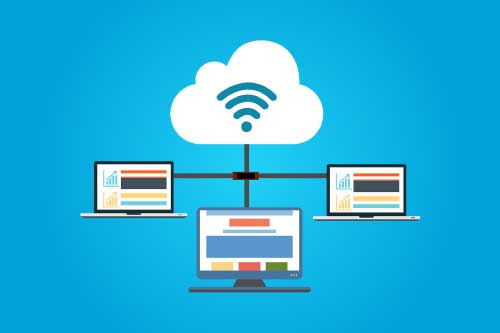 For many businesses, the secure Cloud is the future. And we recommend starting that transition ASAP and taking advantage of the many benefits of migrating, such as:
If you're not 100% ready to join the Cloud revolution, we also offer on-premise/Cloud hybrid solutions that help you take advantage of both worlds. Click here to learn more
Secure Cloud Hosting in the Sage Partner Cloud
SWK Technologies has officially joined the Sage Partner Cloud, giving our customers and partners multiple options for migrating  Sage 100 or Sage 300 data to a completely hosted or hybrid cloud environment of their choosing. And with Secure Cloud Hosting on the Sage Price List, other Sage Partners may offer SWK's solution to their customers and receive tier credit, improving future margins on Sage products.

Secure Cloud Hosting — The 1st and only single-source Cloud application hosting solution protected by affordable, enterprise-class cybersecurity
SWK is pleased to offer the latest in application hosting, armed with modern cybersecurity and scaled to fit your business. Our service, Secure Cloud Hosting (SCH), provides the most secure and cost-effective way to have your business applications hosted in the Cloud. SCH offers full service hosting for your ERP, CRM, network monitoring software, and other business management applications.
Hosting your business applications helps you focus on your business, transform your technology infrastructure, and lower your total cost of software ownership. This is a perfect solution if you plan to move your applications from on-premise to the Cloud OR if you want a hybrid of on-premise and Cloud application functionality.
One Vendor for Your Technology, Software & IT Services
When you rely on a vendor for your software, another vendor for your application hosting, and another vendor for your IT and data security, you run into countless complexities and problems. When you run into problems and seek answers, your cloud service vendor blames the software vendor, the network security vendor blames the cloud vendor, and so on and so on.
At SWK, we can manage all of this for you. We work directly with accounting software and ERP, software automation integrations, on-premise and cloud-hosted networks, and cybersecurity and cyber defense solutions. We have wrapped up these practices into our Secure Cloud Hosting so that we can be your single solution vendor.
SWK supports over 5,000 customers and we have helped them evolve their technology from entry-level accounting software to ERP and integrated software automation systems, and from on-premise servers to hybrid Cloud and fully Cloud-hosted solutions.
Let us take all the technology rigors off your hands. We can be your single solution vendor and your single point of contact for issues, challenges, and solutions.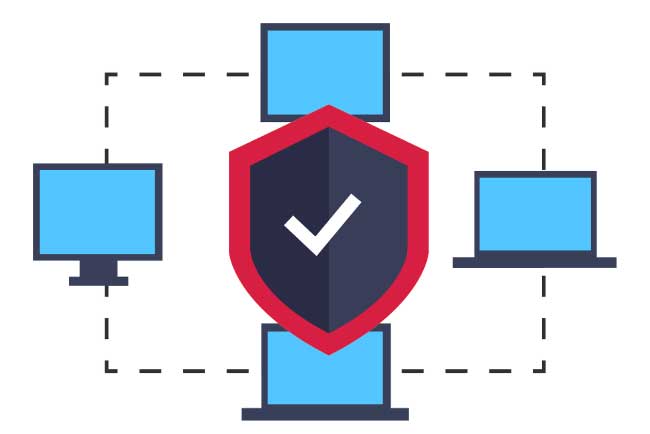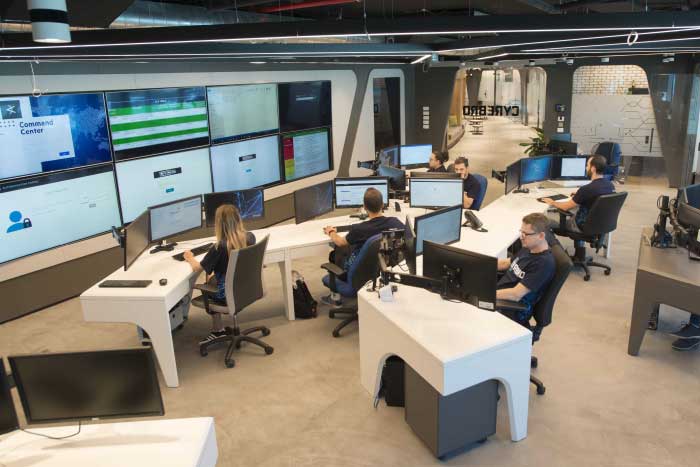 Actual photo from inside our SmartSOC
Affordable Cloud Cybersecurity & Managed Security Services
We're all aware of rampant network attacks, ransomware, phishing and many other inventive ways hackers are finding to gain access to networks, steal customer information, and hold your data for ransom. What has become clear is that "network security" is no longer enough. The threat has widened and the challenge made more difficult.
We've stepped up to that challenge. We have secured SCH with a SmartSOC — the most powerful cybersecurity service available to small and mid-sized businesses.
SmartSOC is an intelligent security operations center (SOC), comprising of high-end security tools and a 24x7x365 team of cybersecurity experts that protect our customers' networks and data by seeking "hacker footprints," identifying them, and curtailing them before they can infiltrate and hack critical data. In other words, this is the most proactive type of cybersecurity available today. Best of all, we've incorporated it into our application hosting services and made it affordable for you.
Here are some of the products we support:
Robust Technical Features:
Top Reasons to Host Your ERP & Accounting Software in the Cloud
Hosting your ERP or accounting software in a hosted or  hybrid environment provides many advantages over traditional on-premise deployments, like saving money on servers and other hardware, improving the speed and availability of support, and enabling your users to work remotely. While solutions such as QuickBooks Online and Sage 100cloud (Sage 100c) can offer partial SaaS functionality, only by working with a trusted provider will you be able to capture the full range of benefits of your solution while migrating to a cloud-hosted environment. Adopting Secure Cloud Hosting for your deployment will also give you access to real-time IT support and cybersecurity, consolidating your technology stack maintenance to one hand to shake. Discover even more reasons to consider moving to the cloud by clicking on the articles below.
Managed IT Support for Your Secure Cloud Environment
Managed Cloud Services (MCS) by SWK Technologies provides our customers with comprehensive infrastructure management and robust technology stack support for their entire application ecosystem. MCS also delivers real-time IT support for  hosted and hybrid environments, modern business continuity and disaster recovery solutions, state of the art cybersecurity supplemented by a Smart SOC (security operations center), network vulnerability testing, proactive employee security training, Dark Web monitoring, encryption and more.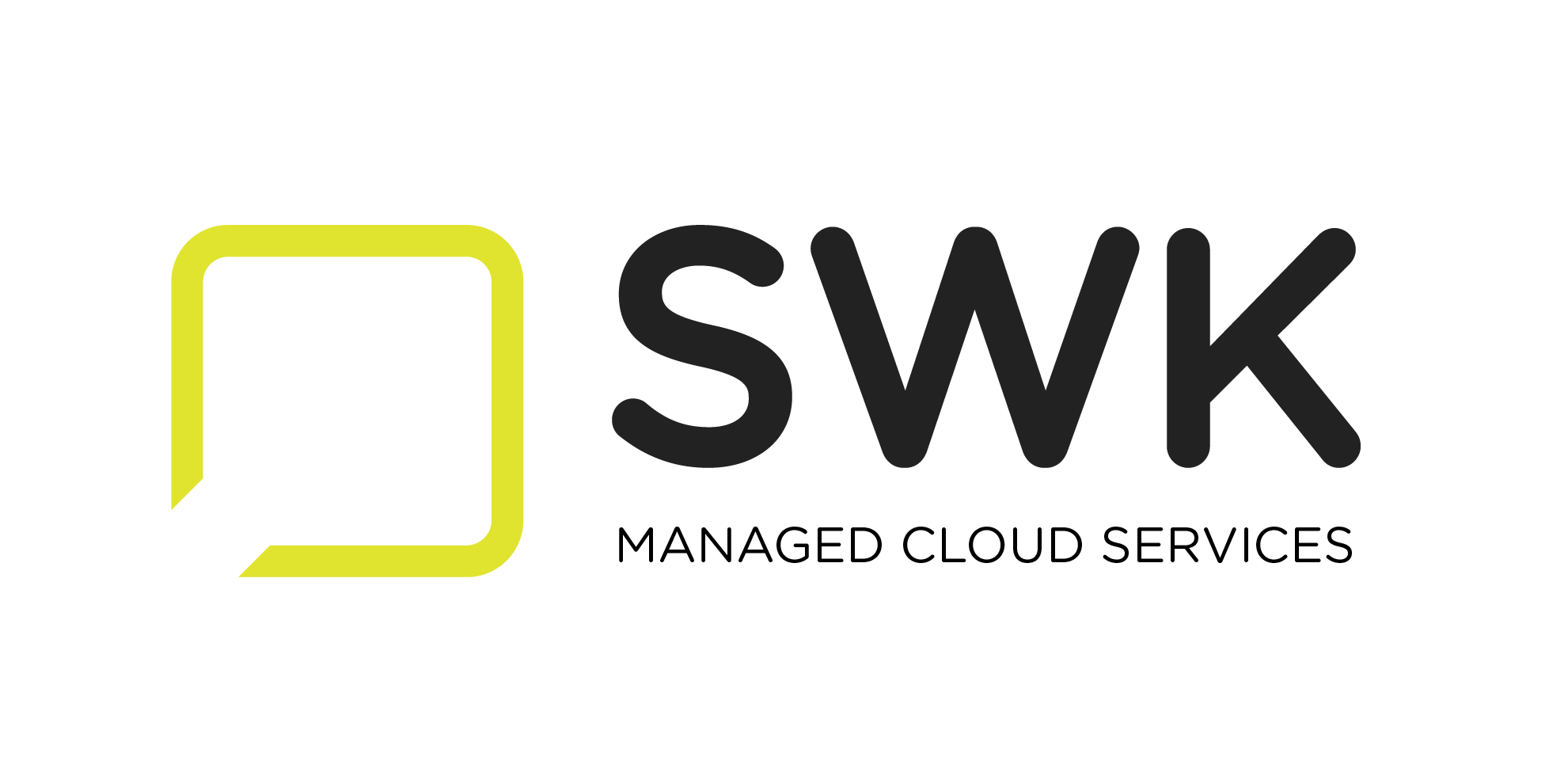 FAQ – Frequently Asked Questions, and Answers