Accounting & ERP Software
---
Acumatica Resources
Acumatica resources for business management
Acumatica is a state-of-the-art ERP (Enterprise Resource Planning) solution designed in the cloud and built with the latest in automation features and technology upgrades for a wide range of industry- and role-specific needs. The xRP platform is robust yet malleable, leveraging an advanced architecture to provide a significant number of customization options and seamless integration with many of the leading third-party applications on the market. Available on-premise, hosted in a private cloud, single or multi-tenant, and in subscription or perpetual licensing, Acumatica Cloud ERP delivers the flexibility modern users need to adapt to the demands of contemporary business workflows.
SWK Technologies is a top partner and valued-added reseller (VAR) of Acumatica, with consecutive Acumatica Partner of the Year and other awards, along with multiple certified Acumatica MVPs on our team. This resource library aggregates our accumulated knowledge on this solution and provides you access to the product education, thought leadership and news you need to get the most out of your applications.
Flexible Solutions to Grow and Manage Your Business
ACUMATICA FINANCIALS

Built on standardized GAAP rules that enable seamless collaboration between users as well as compliance, Acumatica's accounting and financial management features streamline bookkeeping for companies of all sizes and in any industry. Capture end-to-end automation connected to all sides of your business, with real-time integration with CRM, inventory, shipping, payroll and more.
ACUMATICA BI AND REPORTING

Gain access to real-time data delivered out of the box with your ERP, integrated to your key workflows, customized for optimal user experience and automated according to your preferences. Acumatica's business intelligence and reporting tools reflect its modern functionality, centered on personalized dashboards providing role-specific data sets that can be converted into visual widgets and gated with permission-based controls to protect sensitive KPIs.
ACUMATICA INVENTORY AND DISTRIBUTION

Capture reliable, up-to-the-minute visibility into your supply chain with modernized distribution management and inventory controls. Carefully track and manage Stock Items by lot/serial number, bin, warehouse, valuation method, tax category and much, much more.
ACUMATICA DISCRETE AND PROCESS MANUFACTURING

Leveraging the scalability of a native cloud solution, manufacturers using Acumatica can unite the disparate silos across their value chain into a centralized workflow from supply to shop floor to distribution. No matter your manufacturing space, whether discrete or process manufacturing, Make to Stock, Make to Order or any other, Acumatica Cloud ERP delivers the insight and automation you need to streamline production for the best ROI on your resources.
ACUMATICA CRM

Consolidate your customer records and activities from a single screen, with sales and marketing automation that grants your team the tools they need to ensure seamless collaboration while staying top of mind with your clients. Arm your salespeople and support staff with real-time data integrated directly to your ERP, populating information straight from your key databases.
ACUMATICA PAYROLL AND TIME TRACKING

Remove the need for external payroll solutions with Acumatica, which consolidates pay and time tracking databases for both employees and contractors when integrated with your ERP's project accounting features. Managed and gain a centralized view into multiple Pay Groups, Employee Classes, rates, benefits and more with real-time reporting, while the Acumatica Employee Portal enables enhanced collaboration and communication.
Combine Acumatica modules to build an ERP system that is optimized for your business needs!
Related Resources
White Paper – 3 ERP Investment "Gotchas"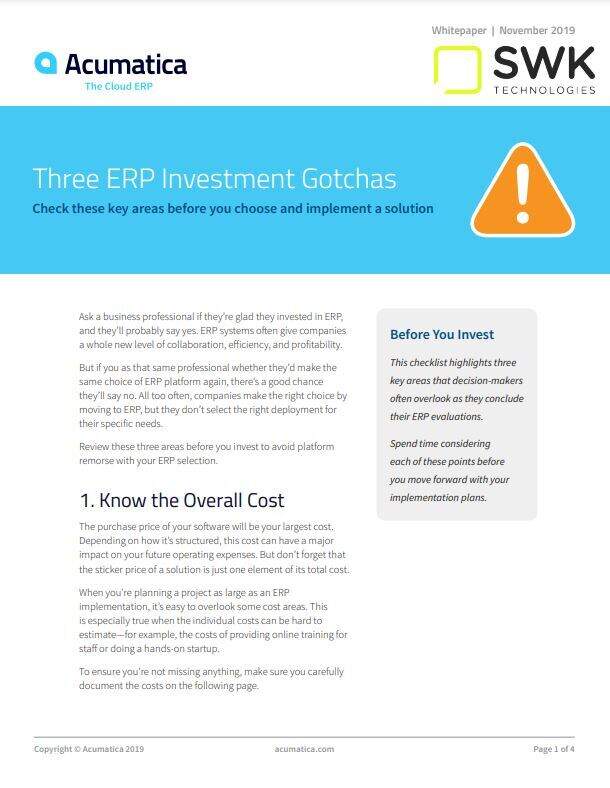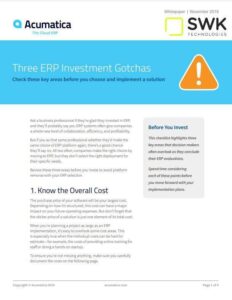 Many recognize the importance ERP plays in connecting their business siloes, but fewer would give a glowing recommendation of the solution they're currently using. Too often, it is not the software itself but the implementation that has failed to meet scope and critical objectives, diminishing the ROI for the product and project costs.
Our Three ERP Investment Gotchas whitepaper is your guide to key areas you need to check before choosing and implementing an ERP solution. It outlines what you should consider when it comes to overall costs, defining the benefits of implementation, maximizing your ROI and how to understand and capture the true value of migrating. Download the whitepaper to learn more.
Business Software White Papers
Access these white papers to learn more about Acumatica, ERP add-on's and enhancements, the Cloud, general ERP concerns, inventory management, manufacturing improvements, and more.