ERP and Accounting Software
Acumatica resources for business management
Acumatica is a state-of-the-art ERP (Enterprise Resource Planning) solution designed in the cloud and built with the latest in automation features and technology upgrades for a wide range of industry- and role-specific needs. The xRP platform is robust yet malleable, leveraging an advanced architecture to provide a significant number of customization options and seamless integration with many of the leading third-party applications on the market. Available on-premise, hosted in a private cloud, single or multi-tenant, and in subscription or perpetual licensing, Acumatica Cloud ERP delivers the flexibility modern users need to adapt to the demands of contemporary business workflows.
SWK Technologies is a top partner and valued-added reseller (VAR) of Acumatica, with consecutive Acumatica Partner of the Year and other awards, along with multiple certified Acumatica MVPs on our team. This resource library aggregates our accumulated knowledge on this solution and provides you access to the product education, thought leadership and news you need to get the most out of your applications.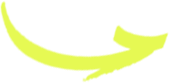 Flexible Solutions to Grow and Manage Your Business
Combine Acumatica modules to build an ERP system that is optimized for your business needs!
Financials and Extended Accounting
Modernize your accounting and streamline financials to generate value instead of draining it.
With web-based features that include a seamless browser interface, users can leverage the intuitive functionality of Acumatica CRM to quickly call up the right information at the right moment with one button click. 
Integrate Financials, Sales, Inventory, CRM, and Fulfillment systems with popular point of sale (POS) and eCommerce platforms.
Provide the tools your business needs to re-imagine software development for an interconnected world.
Distribution and Inventory
Warehouse and inventory management with cloud-hosted ERP grants real-time visibility into material and product at any location.
Project Management and Accounting
Organize all of your project quoting and operational expenses for up-to-the-minute reporting delivered through the cloud.
Create sales quotes, sales orders,  purchase orders and more with data extracted directly from your manufacturing, inventory and warehouse operations.
Leverage modern construction automation to reduce costs and time spent on tedious tasks, and capture the visibility you need to consolidate pain points that drain profit from your contracts.
Discrete and Process Manufacturing
Capture powerful and comprehensive production management software functionality for make-to-stock, make-to-order, engineer-to-order, project-centric, job shop, batch, and repetitive manufacturing companies. 
Business Intelligence and Reporting
Extract raw information from your ERP and transform it into reporting with actionable data that empowers you to make informed decisions.
Empower employees in the field to seamlessly communicate with back-office staff for equipment updates, contract changes, customer billing/collections, etc. from anywhere and with any device.
White Paper – 3 ERP Investment "Gotchas"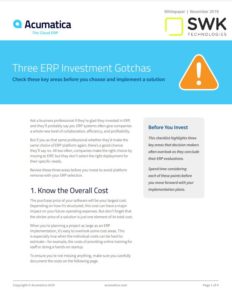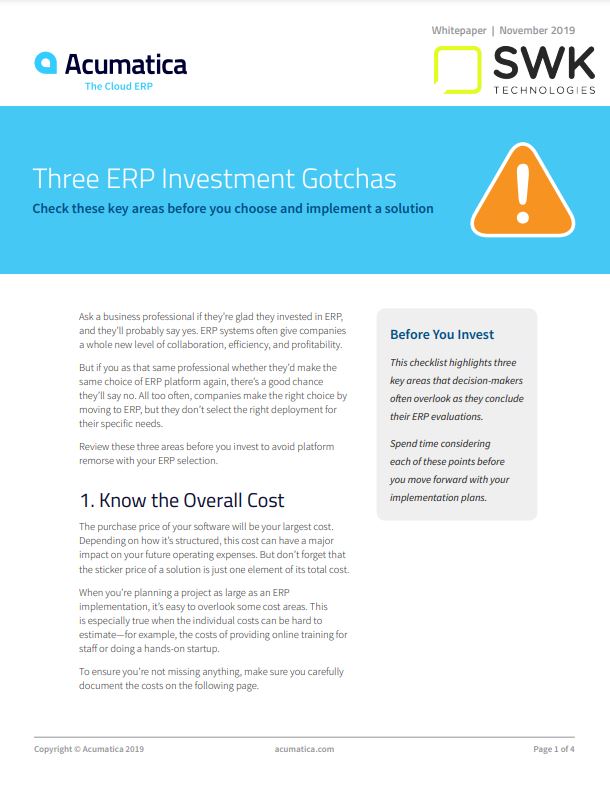 Many recognize the importance ERP plays in connecting their business siloes, but fewer would give a glowing recommendation of the solution they're currently using. Too often, it is not the software itself but the implementation that has failed to meet scope and critical objectives, diminishing the ROI for the product and project costs.
Our Three ERP Investment Gotchas whitepaper is your guide to key areas you need to check before choosing and implementing an ERP solution. It outlines what you should consider when it comes to overall costs, defining the benefits of implementation, maximizing your ROI and how to understand and capture the true value of migrating. Download the whitepaper to learn more.
Download Now
Acumatica Blog
Catch the latest in Acumatica from SWK Technologies
Acumatica, the leading provider of cloud-based ERP software, has just announced the release of its latest update, Acumatica 2023 R1. This new release includes a range of new features and…
SWK would like to give a special thanks to all those who attended our reception at the La Cave Lounge to kick off Acumatica Summit 2023! Hosted on January 29th…
SWK's Chief Marketing Officer, Antonio Carrion, participated in a VAR panel titled, "Seven Winning Marketing Strategies for 2023" at Acumatica Summit 2023 in Las Vegas.  Moderated by Irina Barber, Senior…
Business Software White Papers
Access these white papers to learn more about Acumatica, ERP add-on's and enhancements, the Cloud, general ERP concerns, inventory management, manufacturing improvements, and more.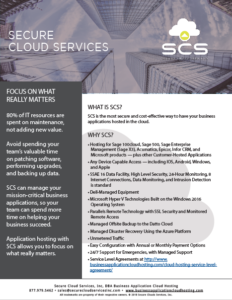 Focus on what really matters.
80% of IT resources are spent on maintenance, not adding new value. Avoid spending your team's valuable time on patching software, performing upgrades, and backing up data.
Download Now
Excel Reporting with Acumatica Velixo Integration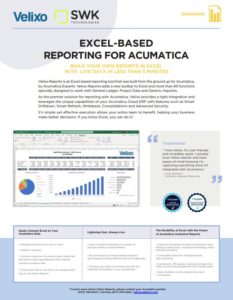 Streamline your Excel reporting with the Velixo integration for Acumatica, which automatically collects data straight from your ERP to populate in your spreadsheets. This connection saves you considerable time and effort when exporting information from your enterprise system, powered by real-time cloud synchronization.
Download Now
Fill out some of your details below, and we'll contact you shortly. Or, feel free to contact one of our customer account managers.
info@swktech   |  877.979.6120