FOUR STRATEGIES FOR SMARTER
INVENTORY CONTROL
Learn simple strategies for inventory management.
Inventory is a major investment for most companies and lower inventory is often an important management objective. However, simply lowering inventory without a plan is likely to increase the incidence of shortages, disappointing customers and losing business.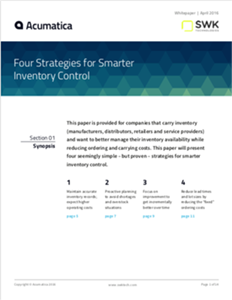 This white paper will present four simple – but proven – strategies for smarter inventory control:
To learn more about how inventory control can improve your business, download this free white paper.
Fill out the form to download the Four Strategies for Smarter Inventory Control white paper!
HOW CAN WE HELP YOU?
SWK Technologies is a business application and consulting company providing strategies and solutions to meet our clients' information and business management needs. We make technology work for you, and provide the experience and expertise to get the job done by working with both your needs and the business management software that actually support your ways of doing business.