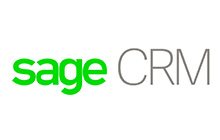 Sage CRM gives you control of your sales pipeline, allowing for managing and reporting on all phases of a sales cycle with instant access to customer data including reports and graphs, quotes, forecasts, and history.
Sage CRM Integrates with back-office applications to view financial and non-financial data, automatically distributes leads to sales professionals, and offers mobile and offline solutions. CRM also helps automate and track marketing campaigns and offers metrics on all marketing activities, including ROI.
Other features include online access to service requests, personalized presentation of information, call and escalation histories, interactions, multiple contacts, support cases, and email and documents sent and received. A dashboard manages such activities as calendar, tasks and lists. User may view web and RSS feeds, and tap into social networking through integration with LinkedIn and other sites.
Also offered: wireless connectivity with Microsoft Windows Mobile, and integration with ERP solutions and Microsoft Outlook.