ERP and Accounting  Software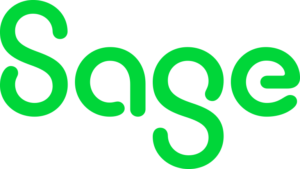 A Modern Accounting Software System in the Cloud
Sage Intacct is a state-of-the-art accounting software system hosted in the cloud that empowers you to transform how you handle your financials throughout every corner of your business. As a true cloud, native SaaS solution, Intacct enables you to better adapt to the increasing speed of your market and confidently face a wide range of disruption factors including new technologies, remote work shifts and natural disasters.
As an experienced and trusted Sage partner, SWK Technologies will help you get the most out of implementing Sage Intacct and assist you in building an effective, optimized technology stack around your core accounting software. With decades of experience in handling Sage ERP and other business management solutions, including development of custom workflows and integrations, SWK will ensure that your investment returns the value you need and streamlines your financial management. Reach out to us today to schedule your tailored Intacct demo – click here to Contact SWK.
QuickBooks, Sage 50 and Sage 100 – Upgrade Your Financials
Smaller solutions like QuickBooks may provide basic bookkeeping features to hold over your organization in the beginning stages, but as your business grows, these limited functions will quickly start to reach capacity. Software that cannot scale with your processes will hold you back, preventing your accounting team from achieving efficiency and providing visibility into your finances.
Sage Intacct provides you with a comprehensive list of financial management features that will continue to fulfill your critical accounting software functions even as your operations and headcount expands. While many ERP solutions seek to deliver a broader range of industry-specific functionality on top of standard bookkeeping tools, Intacct is focused on supplying deeper finance capabilities that allow CPAs to confidently manage and process every data set across your company. These key capabilities include:
Accounts Payable & Receivable
Cash Management
General Ledger
Order Management
Time and Billing
Revenue Recognition
Fixed Assets
& More
Intacct VS NetSuite – True Cloud Software
ERP systems like NetSuite that similarly claim the mantle of "true cloud" rarely are able to match the accounting functionality, architecture flexibility, integration compatibility or clear pricing structure of Sage Intacct. As a cloud-native SaaS product, this solution is built on a modern platform that allows for more streamlined implementation as well as seamless connection and data exchange with third-party applications through robust Intacct APIs. It also features consistent automated updates as long as your devices remain connected to the Internet, which allows you to receive the latest patches for security, technology upgrades and regulatory compliance immediately instead of forcing long downtimes.
Cloud-hosted applications introduce a wealth of benefits over the traditional on-premise deployment model, including removing the need to invest in hardware set up and continuing maintenance. Your software is delivered to your business offsite from state-of-the-art servers designed to achieve optimal performance for hundreds of thousands of users simultaneously. As an award-winning managed IT and cloud service provider, SWK will work with you as your Sage partner to ensure your hosted software environment is supported and secured against a broad range of disruptions and cyber threats.
Intacct VS Sage 100 – Are Your Financials Ready for the Cloud?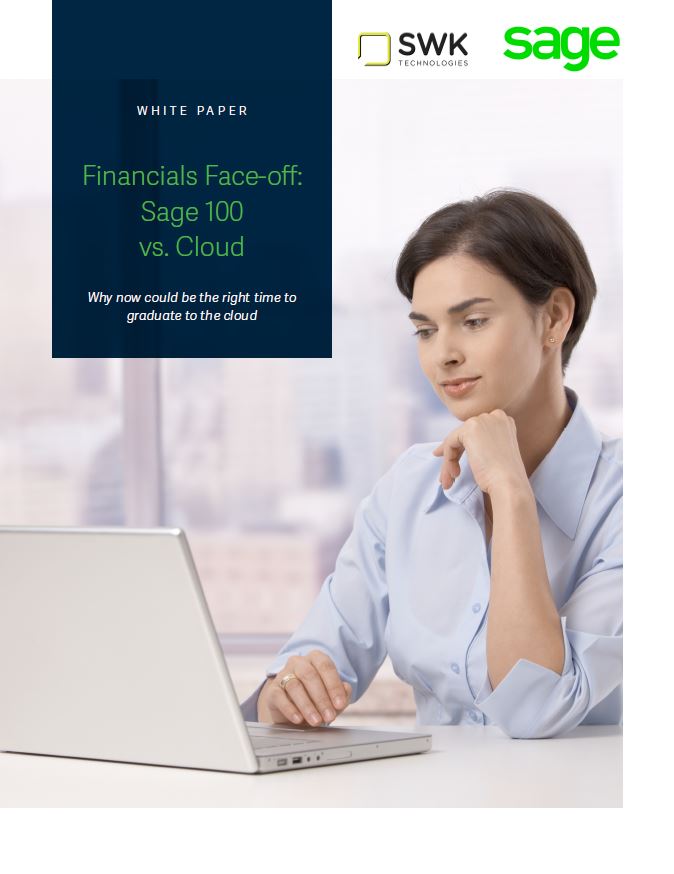 List of SWK Integrations for Intacct
Robust Sage Intacct APIs allow seamless integration with an extensive list of third-party modules designed for industry- and function-specific roles. These include human capital management (HCM), sales tax automation, document management and more.