This article will help you cut through some of the noise when comparing Sage Intacct versus NetSuite to choose the best ERP for your business, with guidance provided by a partner that has worked with both. SWK Technologies is a longtime Sage value-added reseller (VAR), and was formerly one to Oracle NetSuite, delivering services and support to users in both groups aimed at optimizing their ROI for their technology. However, in a battle between solutions, SWK would be much more likely to recommend Intacct for SMBs and nonprofit organizations that require the next level of accounting software functionality.
The claim to fame for NetSuite is being born in the cloud (as NetLedger), something which the publisher leverages over many reigning on-premise systems that have slowly migrated to a hosted option. Sage Intacct is also cloud-native, though, with the same multi-tenant deployment and modern SaaS architecture supplied through state-of-the-art offsite data centers that optimize performance for tens of thousands of users. Between this and some very public spats as well as contentious lawsuits, it is quite easy to disprove many of the marketing claims Oracle NetSuite makes about solutions like Intacct.
Here are several factors to consider when comparing Sage Intacct versus NetSuite:
Intacct VS NetSuite – Similarities
Your comparison should begin where each system is similar. Both were founded in the late 1990's and were built to disrupt the ERP and accounting software market, which was dominated by on-premise solutions.
True Cloud Multi-Tenant Accounting Software
With web-based architecture that is labeled "true cloud," the multi-tenant environment presents a cost-effective and seamless deployment model for businesses that want to streamline how they access their financial management applications. Intacct and Oracle NetSuite help your organization move into the future and leverage the benefits of digital transformation. While traditional solutions are static, cloud-hosted ones provide access to data in real-time and allow users to communicate with each other instantly and stay on top of developments proactively.
Intacct VS NetSuite – Differences
Existing as ERP delivered through the cloud is where most of the similarities between these two systems end.
Pricing – Where Does the Cost Hit You?
The true value return to be captured from your software implementation is always dependent upon what features you actually need and how much you pay for that critical functionality month over month (MoM) and year over year (YoY). While both of these ERP are subscription-based, Oracle NetSuite charges an upfront license fee for the application ($999 MoM), another license fee per user ($99 MoM per each), and then introduces additional price tiers for more advanced packages. All of this may still seem feasible for SMBs as long as you don't need to add  extra suite modules, but the final cost will truly hit you upon contract renewal, where the locked-in pricing can surge.
Intacct is charged similarly as a cloud subscription, although at a much lower annual cost for the core package which typically includes the software and user license packs of 10 (base application begins with a minimum of 1). However, where pricing truly stands out against NetSuite's is the lack of a locked contract, as well as the ability to scale down your module investment for the features you actually need. Sage Intacct pricing is based upon paying for the functionality and resources you will actually use YoY to grant you better control over your cost of ownership.
Functionality – Depth VS Breadth
Every ERP system is built on a core of financial management application that can include additional sets of features, typically focused for usage in specific vertical categories, and quite a few solutions are built to focus on one particular industry. However, Oracle NetSuite positions its offerings in several suites (hence the name) that are geared towards providing value for various sectors, roles or business sizes through a combination of select modules. However, NetSuite has received allegations from customers (as well as more lawsuits) of underperforming on expectations, reflecting how much the breadth of features lack deeper functionality.
Sage Intacct devotes its capabilities to its financial management and reporting focus, which includes features integral to bookkeeping in areas such as compliance for healthcare facilities and nonprofit organizations. By centralizing functionality in this space, Intacct is able to solidify its position as a best-in-class solution for a wider range of advanced accounting requirements in numerous scenarios, powered by modern technology developments such as AI and machine learning.
Implementation – Failure or Success
ERP implementations have created plenty of horror stories in the press listing very expensive failures that customers were forced to suffer through often for extensive periods of time just to lose their ROI. NetSuite created their own SuiteSuccess methodology to standardize deployment for every customer and establish a pre-built pathway for representatives and partners to follow. The problem with this is that the very challenge of choosing ERP is adapting those standard features to unique processes, so you will inevitably run into issues for every quirk and deviation your business brings.
As a cloud solution, Sage Intacct has a similarly consolidated deployment cycle that removes many of the traditional pains of implementing legacy systems, although without the forced standardization. Additionally, choosing a Sage ERP will allow you to work with a top partner like SWK Technologies who can streamline, refine and fool-proof your implementation project methodology as much as possible. With thousands of successful deployments in our portfolio – along with several recovery projects we were specifically asked to aid – SWK will bring all of this knowledge and expertise to the table to give you the best experience we can.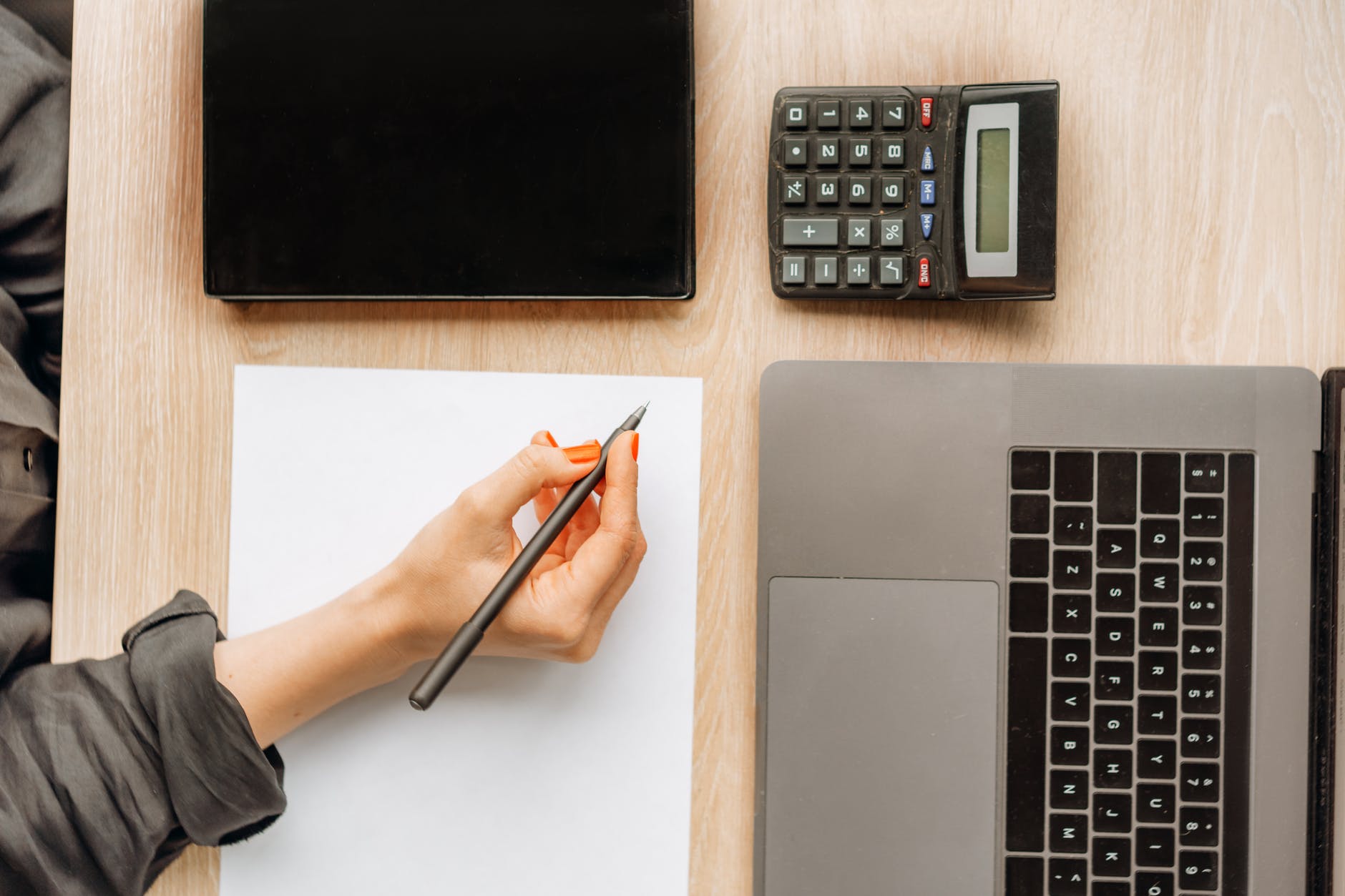 Customization – APIs and Scalability
Integration and customization are critical components of empowering your team to get the most out of your software by improving it where it needs to be improved. Oracle NetSuite's suite approach focuses on promoting its own modules and relying on its own coding practice to build custom workflows and extensions, and yet again deviations can cause issues.
Since it is function-specific to financial management features, Sage Intacct's developers ensure that the solution can integrate with as many external applications as possible that fulfill vital roles. ADP, Salesforce, Avalara, Expensify, American Express, Paychex and Ascentis are just a few of the systems and services available for integration with Intacct's flexible APIs.
Support – Enabling Customer Success
Having the right support is vital to navigating an ERP, which is inherently a complex piece of software that needs those many layers to be good at what it does. Unfortunately, this is another area where Oracle NetSuite has received less than stellar reviews, with customers reporting consistent disappointment with the publisher's professional services and support teams.
Whether you choose Intacct or NetSuite your best support option should remain your VAR, but speaking as a firm that has fulfilled both roles, the relationship with Sage will prove much more collaborative. SWK has had access to top-level resources from Sage, as well as training and certification with the master product source code that allows for critical customization of Sage ERP.
Customer Reviews Pick Sage Intacct as Best ERP
When stacked up against each other in actual customer reviews, Sage Intacct often beats Oracle NetSuite in most usability and accessibility categories. Feedback often points out that NetSuite's wide assortment of features, implementation issues and pricing can be roadblocks for many businesses, while Intacct works comfortably for much of its user base. This reflects how Sage Intacct is designed, with features built FOR CPAs BY CPAs, and the value it delivers to its focused audience in small business over a universal suite.
Cut Through the Noise to See the Truth About Intacct
It can be tough getting through marketing claims to research the truth about ERP choices, but hopefully this helps consolidate your search – NetSuite works best for larger organizations that need a wide range of features, have a bigger software budget and can find a reliable partner, while Intacct fits perfectly for SMBs and nonprofits that need advanced accounting and reporting functionality, require integration with CRM, EDI, WMS, etc., and must keep implementation costs manageable. To discover more facts about Sage Intacct, download our ebook below dispelling 5 of the top claims NetSuite has made.
Download our ebook here to learn more of the truth about Sage Intacct and disprove 5 claims made by Oracle NetSuite.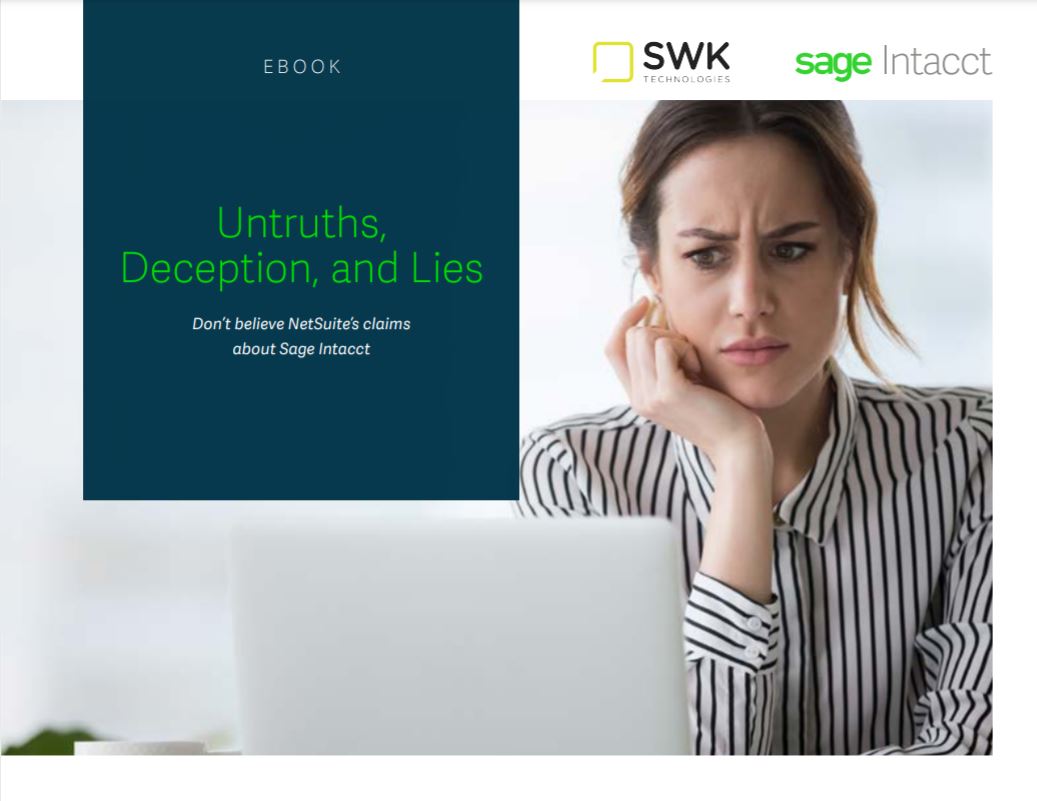 Fill out the form to download the ebook and learn the truth about Sage Intacct