IT SUPPORT SOLUTIONS
---
EMAIL HOSTING
Email Hosting Services
SWK's email hosting services and solutions for Microsoft Exchange and Outlook empower your business to control costs, boost scalability and improve productivity with streamlined deployment of resources in a secure cloud. Email evolved into a mission-critical communications tool over the past few decades, and in the 21st century no organization can go without having some kind of messaging system in place to communicate internally, as well as with customers and partners.
This greater reliance on electronic communication has increased the number of messages sent and received, the variety of work getting done, and even the speed of business itself. Today, your employees look for rich, efficient access – to their email, their calendars, attachments, contacts and everything else that comes along with your Microsoft Exchange subscription.
SWK delivers an integrated solution for managing your time and information, connecting across boundaries, and remaining in control of the information that reaches you. We ensure that your Outlook instance contains the latest updates and automations to enable you to quickly search your communications, organize your work, and better share your information with others — all from one place.
With professional virus and spam filtering, antivirus, patch management and more, SWK's Exchange email hosting services ensure you have access to your messages no matter where you are or what type device you are using. Capture the benefits of real-time access in the cloud combined with cybersecurity monitoring and managed IT support for your vital Microsoft solutions.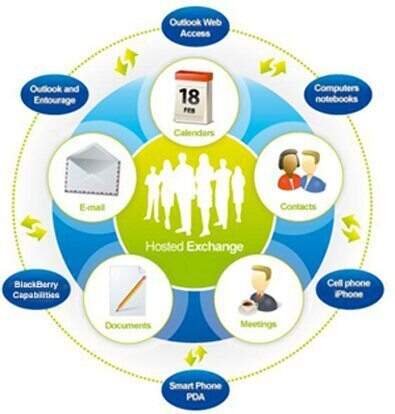 Microsoft Exchange Email Hosting
If you're interested in the collaboration and productivity benefits offered by Microsoft Exchange and Outlook but not the overhead and costs often associated with owning an on-premise server, then SWK Exchange email hosting is for you. As a Microsoft Gold Partner with certified solution experts on staff, SWK Technologies will help you maximize your ROI on your Microsoft technology stack. Taking advantage of SWK's hosting for email and other services through Exchange gives you access to 24x7x365 managed IT and security services for your cloud environment, along with seamless updating and provisioning of resources to enhance productivity.
Discover 4 Benefits of hosting Microsoft Exchange with SWK here