Discover why Sage Intacct is the dream software for CPAs looking for a modern accounting system, and how SWK Technologies will help you get the most out of your implementation. With all of the best of breed features an accountant would ever need, Intacct enables your team to truly digitally transform your business. As a top Sage Partner that has supported thousands of Sage ERP and cloud hosting clients, SWK will provide you with the knowledge and resources you need to leverage this financial management solution as the basis for a robust technology stack.
Here are all the reasons why Sage Intacct is the CPA's dream software for accounting:
Designed by CPAs, for a CPA
Intacct is the top choice of finance professionals across the US and the globe, and is the first solution to be preferred by the American Institute of Certified Public Accountants (AICPA). It is designed and maintained by a team that comes from an accounting background themselves and who know what technology CPAs need to achieve their goals, without having to code it in by hand. This means that Sage Intacct is built to supply users with role-based automation and visibility delivered in an interface that is easy to understand and navigate, even for those lacking any technological savviness.
Cloud ERP
Native cloud software is born in a naturally multi-tenant environment that is free from legacy connections (or lack thereof), enabling real-time collaboration through any device – including smartphones and tablets. This digital connectivity ensures that your finance team can communicate with each other and execute on activities at up to real-time speeds, sharing files and reports with whomever has the right permissions to view.
Dimensions
Intacct's reporting features are driven by Dimensions – categorizations for every type of transaction field that could be used to organize your reports without having to keep track of an endless supply of additional account codes. The breadth of multi-dimensional capabilities included with your accounting software lets you leverage a wide range of filters to capture the view into your data you need, as you need it.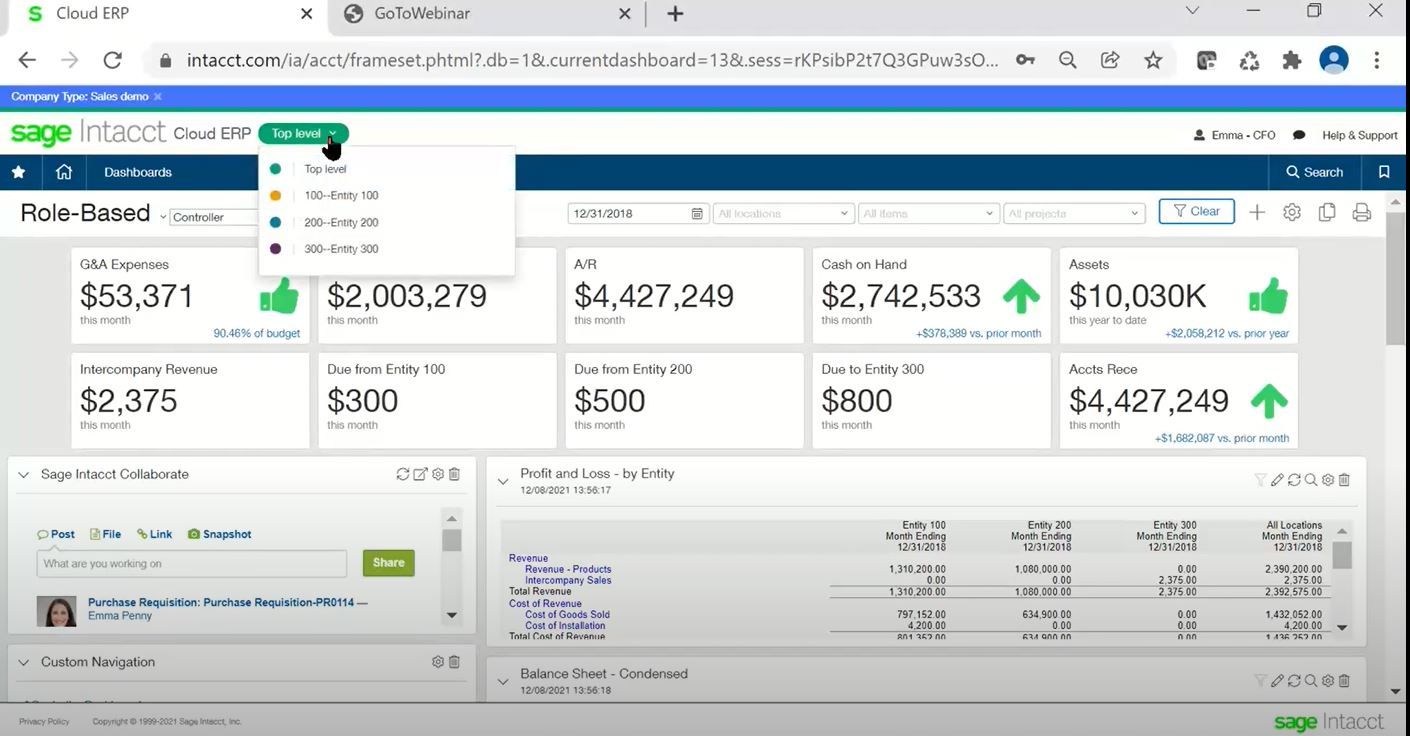 Artificial Intelligence (AI)
Artificial intelligence (AI) and machine learning (ML) power both Sage Intacct's bookkeeping and time tracking features, running automated data entry with decision-making based on preprogrammed rule sets and historical trends. Anomaly detection quickly identifies errors, while users can make adjustments at any time, ensuring accuracy and consistency in both timesheets and reports.
Dashboards
Dashboards in Intacct allow you to capture a consolidated view of your KPIs (key performance indicators), presenting a top-level visualization of your analytics, while also granting the ability to drill down into any individual data set. Each dashboard interface is role-based, with access secured by permission rules while still allowing report sharing with key stakeholders.
Reporting
Sage Intacct reporting is built to be intuitive, flexible, and heavily visualized so that users can seamlessly capture the information they need without getting bogged down in complex formulas and manual entries. Reports can be drilled down into for as many dimensions you have, and customized to better match your internal processes and to display the information you need, when you need it.
Process Maps
Process maps are one of many examples of the visualized workflows Sage Intacct provides for users, giving a pictorial medium that empowers your accounting team to more easily navigate operations.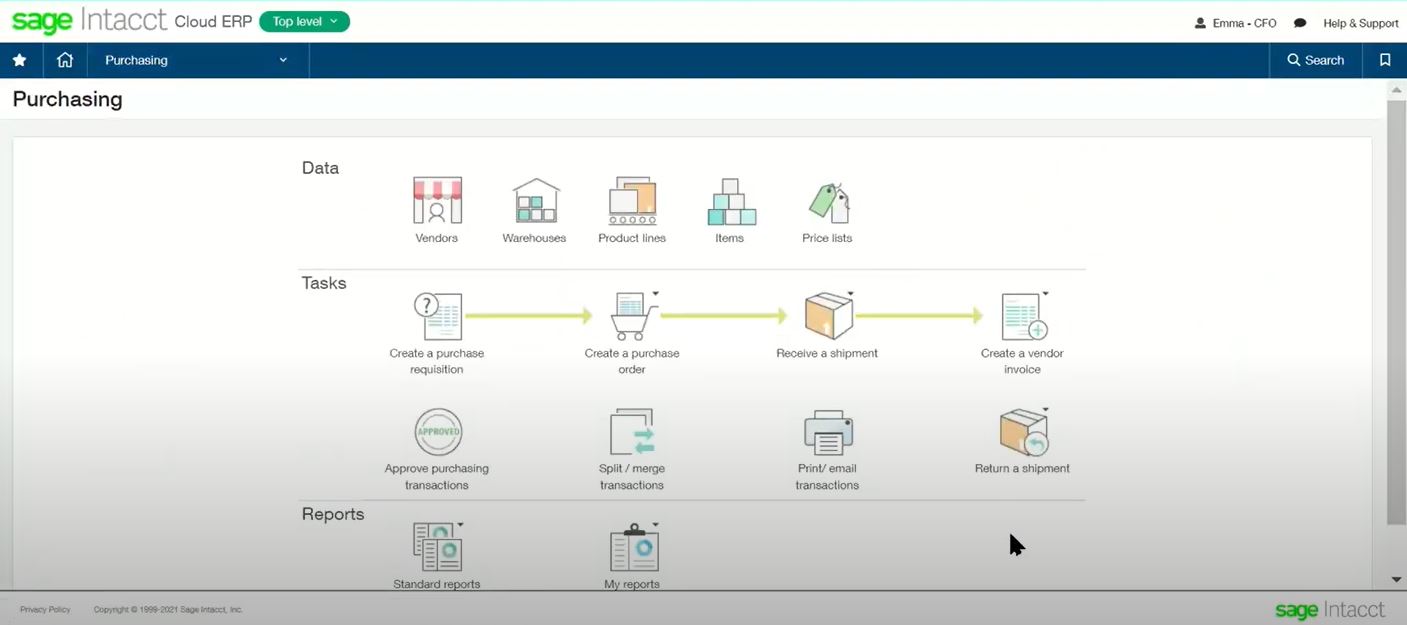 Multi-Entity Accounting
Intacct users can manage bookkeeping for an unlimited number of individual entities within their accounting software while keeping secure access controls in place to prevent data from being accidentally exposed in the backend. Support for multiple currencies, regulatory standards (GAAP, IFRS, etc.) and locations is included, eliminating the need to manually enter data for all of the variations between your subsidiaries, franchises, offices, etc.
Chart of Accounts (COA)
Having multi-entity, multi-dimensional accounting in place also empowers you to significantly consolidate your Chart of Accounts (COA) to a more streamlined, table-driven version.
General Ledger (GL)
The Sage Intacct Intelligent GL™ provides a state-of-the-art General Ledger powered by its AI capabilities, allowing for real-time transactional visibility across multiple ledgers, with flexible dimensional drill-down features. Users can define their own fields (UDF) and approval workflows, review thousands of transactions within minutes, automatically adjust data on the fly, and much, much more.
Accounts Payable/Receivable (AP/AR)
The Accounts Payable and Receivable (AP and AR) modules are integrated directly with Intacct's core accounting features, granting you access to more seamless end-to-end payment automation. Deploy completely paperless workflows with digitized invoices and more, automated approvals, and integration with the rest of your software stack (like your CRM) to keep your data flows connected.
Cash Management
Sage Intacct grants you a complete, 360-degree picture of your business's cash flow from every transaction to every payment and expense. Enforce greater control over where your money goes and speed up processes, and reduce errors with automated bank reconciliation features.
Order Management
Streamline fulfillment processes across every channel with connected order management in Intacct, integrated with your bookkeeping, billing, revenue recognition and more. Leverage flexible APIs to synchronize your transactional data with additional software such as your CRM and sales tax automation solutions.
Purchasing
Accelerate your purchase order activities with Sage Intacct's procurement software module, designed to optimize the pace of your orders, requisitions and approvals. Leverage automated workflows and templates to streamline your purchase orders while tracking performance indicators through Purchasing dashboards.
Industry
Sage Intacct contains several features that directly contribute to industry-specific accounting needs, including:
Nonprofit organizations (NPOs) can take advantage of fund accounting, grant management, revenue recognition and more to capture greater visibility and enforce compliance.
Intacct is certified HIPAA- and HITECH-compliant, and endorsed by the Healthcare Financial Management Association (HFMA) for the strength of its data security services.
Take advantage of extensive billing and expense management features, along with AI-powered time tracking and integrated project management through open APIs.
Protect your valuable client data in the cloud, simplify reporting and significantly streamline consolidations with a faster close done at the push of a button.
Track and manage inventory across multiple locations in real-time, measuring performance and profitability throughout your operations, and connect your transaction workflows between your disparate databases.
Integrations
The Sage Intacct marketplace hosts hundreds of third-party partner applications available for seamless integration with your accounting software. Choose from best-of-breed solutions to industry- and role-specific solutions, including HR and payroll, CRM, WMS and more. Connect your CPAs with the rest of your business and transform your siloed operations into a unified workflow.
With the help of a consulting partner such as SWK, you can uncover which systems will provide the best ROI for your combined technology stack and develop customizations that maximize the efficiency of these solutions together.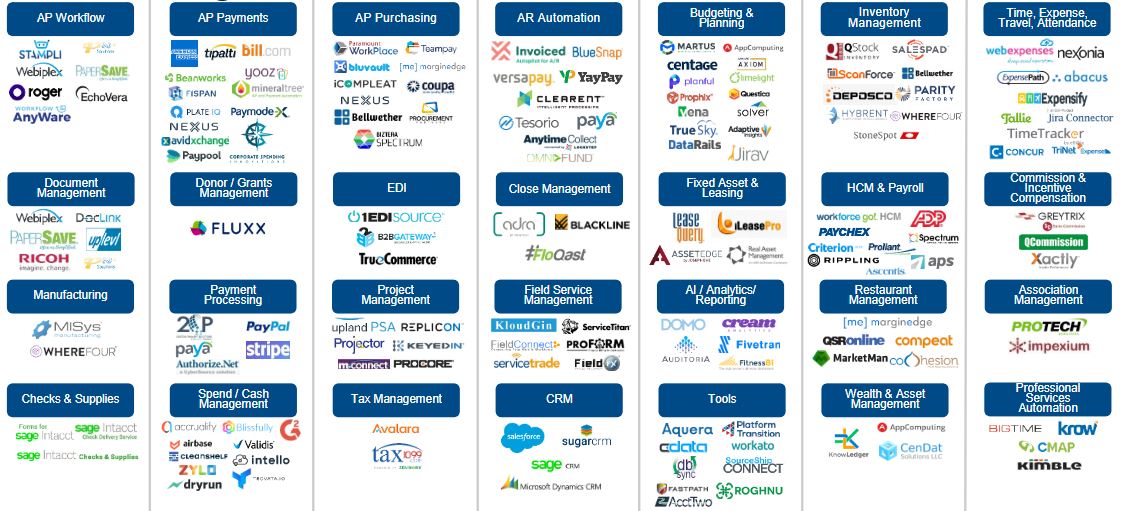 Learn More About Sage Intacct with SWK Technologies
There is so much more that Sage Intacct can help you achieve, and SWK Technologies will help you discover if this modern accounting solution is the right fit for you, and how to get the most out of your implementation if you decide to migrate. Watch our recorded webinar video with Sage to see this system in action for yourself, and learn firsthand why it is a CPA's dream software.
Watch the recorded webinar here to see the demo and uncover all of the benefits of Sage Intacct accounting software for CPAs.
Contact Us for a Sage Intacct Demo