Icon Foods is a Portland, Oregon-based manufacturer of natural sweeteners, which provide low-sugar and sugar-free alternatives to traditional food additives. Icon was born from Steviva Ingredients, Inc., which was founded by Thom King, president and CEO, in 1999 to help solve the growing disease and obesity epidemics resulting from the artificial sugar-laden products saturating the food and beverage market.
From Steviva to Icon Foods
Operations Manager Ryan Flowers recalls when joining Steviva in 2015 that there were only a handful of employees in one location.  "The space that we were in when I first started was barely larger than our conference room is currently,"says Ryan. "Now, we have a 30,000 square foot warehouse."
A Need for Supply Chain Visibility and Automation
Numerous product lines, raw material and recipe batches, and storage, manufacturing and operational locations requires comprehensive visibility into Icon Food's supply chain to maintain it.
The only technology solution they employed at the time was Intuit QuickBooks, which could not handle the volume of data Icon Foods produced. "Definitely glad to be away from [QuickBooks]," says Ryan Flowers. "Our CFO would tell you it wasn't a very robust system."
Icon Foods started seeking out a real ERP solution so that they could better handle the influx of warehouse and shipping data. "One of the difficulties we had was moving inventory offsite," says Ryan. They eventually chose Sage 100cloud, but Icon became aware that they did not have the resources available to handle an on-premise installation. It was not only their hardware that was limited – Icon's IT staff consisted solely of Ryan himself.
The merger of SWK and ISM brought application hosting into the former's portfolio, and SWK's Sage 100 consulting practice could now apply their expertise to building cloud-hosted environments for Sage customers. This is exactly what Icon Foods took advantage of by deciding to implement Sage 100cloud in a hybrid infrastructure.
A hybrid cloud environment has delivered several benefits, including enabling real-time remote user access in the cloud and consolidating technical support touchpoints. Users can log in from anywhere with an Internet connection, which has made it much easier for Icon Foods to manage multiple locations. "The ability to manage offsite has definitely helped things," says Ryan.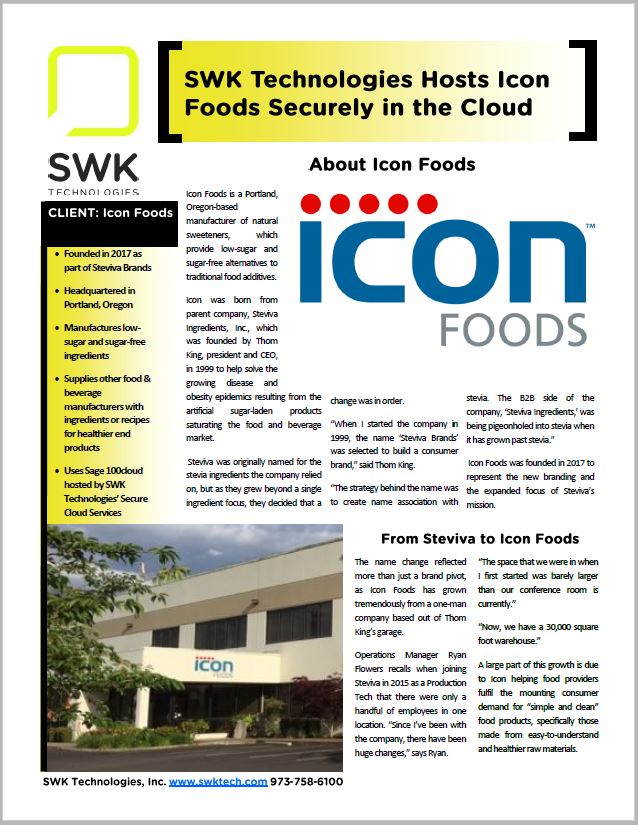 ---
Learn More About Secure Cloud Hosting

---