Top 7 Differences for Sage Intacct vs Sage 100
This article will compare Sage Intacct versus Sage 100 (formerly MAS 90/200) to highlight the top seven differences and help you decide which Sage ERP is the right fit for your current – and future – business needs. Whether you are on the legacy on-premise version or the newer Sage 100cloud (formerly Sage 100c), you may find that your Sage accounting software does not provide the full depth of features or level of technology you need to keep pace in the rapidly evolving markets of today. Intacct delivers this and more, with state-of-the-art functionality and a cloud-native architecture that is easy to mold for multiple industry-specific solutions, including for Healthcare, Nonprofits and Financial Services firms.
Here are the top 7 differences between Sage Intacct and Sage 100, and how they impact your choice for the best Sage ERP:
1. SaaS vs Cloud-Connected (or Hosted)
Despite the naming change for Sage 100cloud, this does not indicate that Sage migrated this legacy system to the cloud wholesale. Rather, it is what has been termed "cloud-connected," being able to integrate with certain SaaS (Software-as-a-Service, i.e., completely cloud-native) applications as well as be hosted either internally, with the Sage Partner Cloud or with a cloud service provider (CSP). The Sage Partner Cloud also allows a Sage 100 customer to choose a Service Delivery Partner to host their ERP, such as SWK Technologies.
Sage Intacct is what is often called, "born in the cloud," meaning that it designed from the ground up as a SaaS solution loaded in from a multitenant environment. There are many pros and cons to consider between cloud-hosted versus cloud-native systems – along with several shared characteristics – but Intacct's design does offer multiple noteworthy advantages over the mainly on-premise Sage 100cloud. Chief among these is the ability to download and install updates in the background without having to force extended periods of downtime that can disrupt productivity.
2.  Accounting Software Features
Sage 100 provides a viable enterprise-level system for small business and midmarket entities still on the lower end, with a good range of broader ERP features not available with desktop applications like QuickBooks or Sage 50. This serves SMBs that require a high-level supply chain management solution that can incorporate light manufacturing and inventory controls with financial reporting. However, what Sage 100cloud lacks are deeper levels of functionality for more focused but critical areas, and without extensive workarounds (including with heavy integration and/or customization) users must face issues like the bloated chart of accounts or running consolidation through external reports head-on.
If there is one thing Sage Intacct does well, it is providing a dedicated accounting software system with the depth of features a midmarket or enterprise finance team needs to manage books across an entire organization – with all branches, franchises, etc. included. Multiple entities are able to share the same chart of accounts as well as customer and vendor data, with users able to manage an unlimited number of books. Consolidations and eliminations are also automated to reduce the amount of time spent, and Intacct's Intelligent GLtm  makes reconciliation a dynamic process instead of a reactive one.
3.  Depth of Insight & Visibility
Basic financial reporting is a hallmark of any accounting application, from desktop-level systems to ERP, with the biggest difference between each product being the scale and robustness of the functionality. Sage 100 provides decent top-level reports, but requires extra steps and significant work with integrations to generate any deeper layers of visibility and organize your transaction tracking. Users will need to rely on additional tools like Sage Intelligence and Power BI for more complex insight, along with the traditional export to Excel – which will include more manual processes to manage.
As a more modern accounting software than Sage 100cloud, Sage Intacct is built to deliver the deepest levels of insight instantly and automatically, with a much more robust and fluid dimensional-based reporting workflow. These dimensions allow users to drill down as much as they need to, layer by layer, into every individual cross-point between various data attributes. Additionally, each user has to a role-based dashboard tailored to the information they need, making it easier to execute tasks and produce reporting while maintaining strict data security.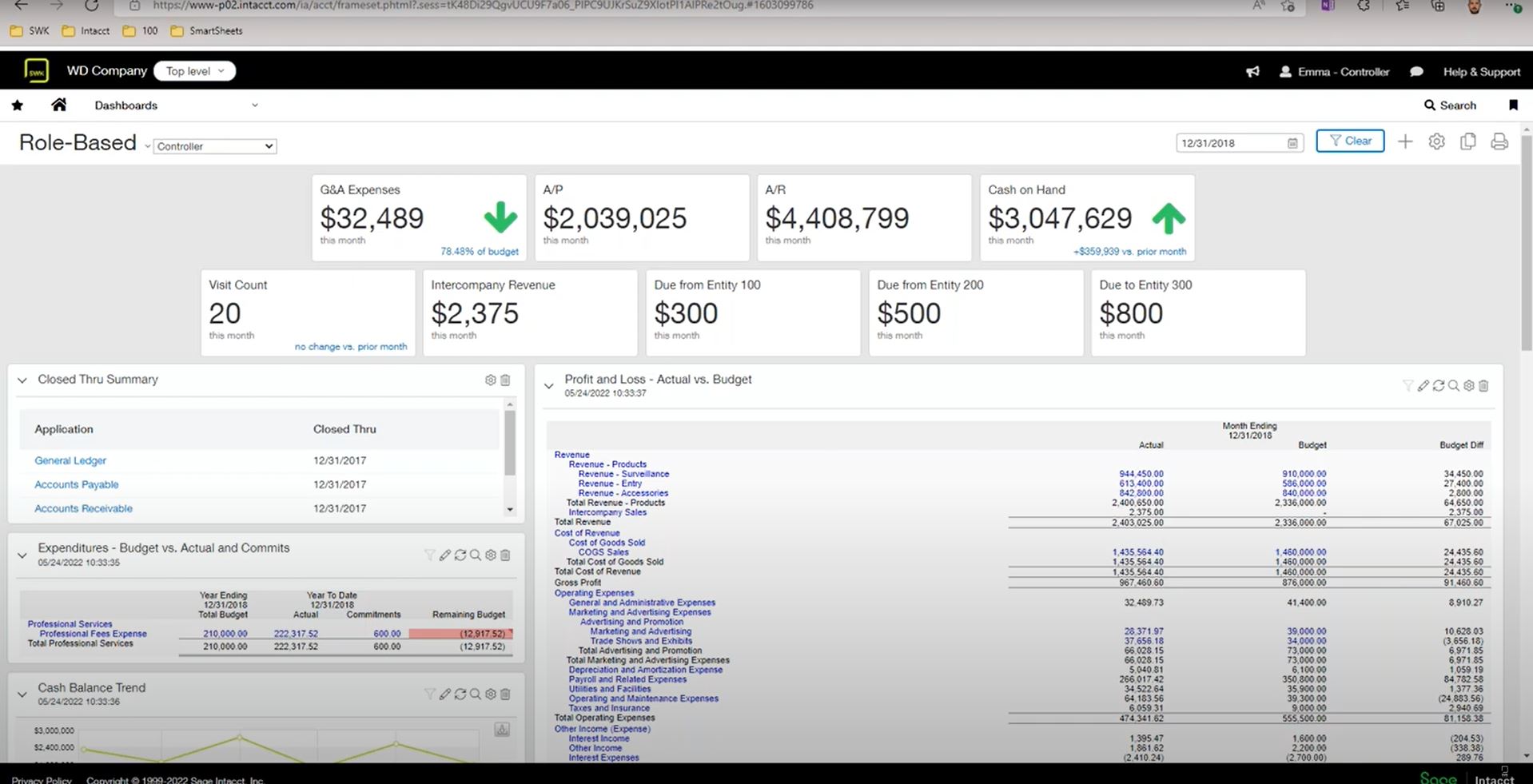 4.  Integration Ecosystem
Both Sage 100 and Intacct rely on integrating with third-party applications to connect the features that are required to produce a true technology stack and accelerate productivity. The difference lies in the purpose and availability of each's integration ecosystem, however. Since Sage 100cloud is a broader, more small business-oriented version of an ERP, the extent of its featured connectors is generally for critical but basic levels of functionality like business intelligence reporting or bin tracking (and often with similar SMB solutions).
The Sage Intacct third-party ecosystem is more likely to include best of breed (that is, top of the market) applications than those available for Sage 100, like Salesforce for CRM and ADP Workforce Now for human resource and payroll functions. What this means is that if you use one of these market-leading systems as a significant productivity accelerator, you will be much better off integrating with a lateral solution like Intacct. Otherwise, your team (and whole company) will be forced to work in silos where data needs to be passed manually between systems for any information to be shared.
5.  Process Automation
Sage 100cloud offers several options to automate your processes and reconcile data fields to help limit the number of manual actions your team has to go through to push items forward. Unfortunately, there are still quite a few areas in the native functionality that are missing automation that would make it much easier to accelerate productivity. Additionally, integrations or customizations are still needed to get the most out of every workflow that can be streamlined.
Sage Intacct provides a wider variety – and depth – of key automations for financial management, with a powerful engine augmented by AI and machine learning, as well as easily configurable workflows and reports. Data can be automatically repopulated into new reporting to save time, along with workflow approvals to reduce the time spent on manual execution.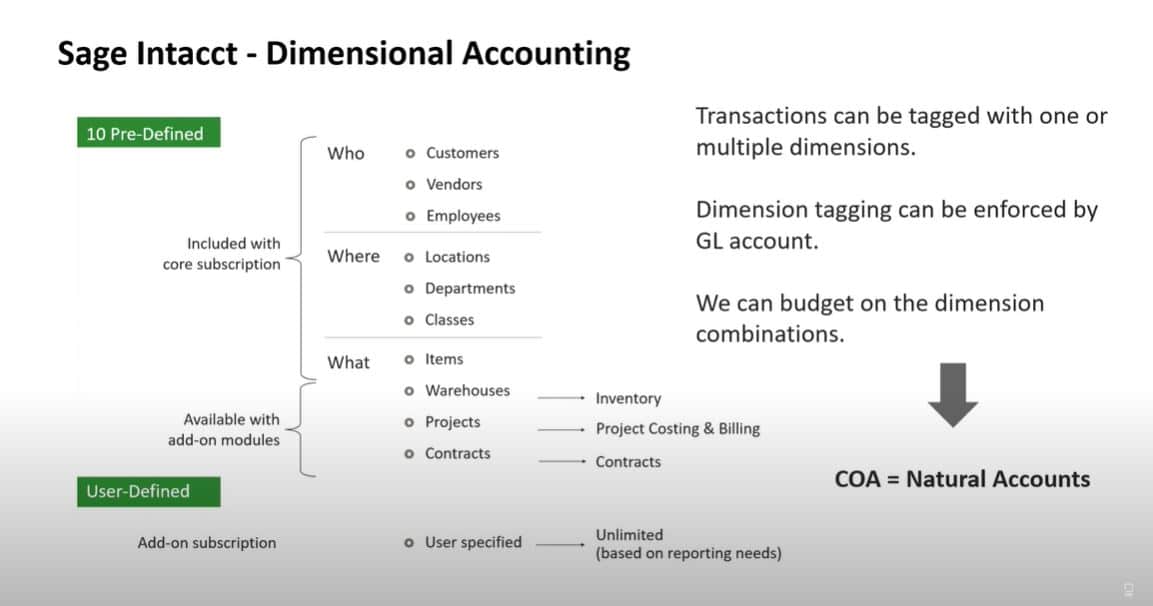 6.  Industry Software Features
Sage 100 is a more appropriate solution for businesses that are trading in hard goods, namely smaller manufacturers and distributors that require item tracking and organization from production to inventory storage and shipping. It is less valuable for more service-oriented companies or those with multiple locations, franchises, subsidiaries, etc.
Intacct is a better fit for anyone with service and/or multi-entity accounting software needs and is often the top choice in this category for industries like CPA firms, nonprofit organizations, healthcare institutions and more. This is because Sage Intacct includes many industry-specific financial management features tailored to these sectors, such as fund accounting, that cannot be found in smaller desktop solutions or even many ERP systems.
7.    Security & Compliance
Sage 100 has gone through several improvements to bring it more up to par with modern security and regulatory standards when it comes to data collected and stored, with both regular updates for basic items like tax table and more specific additions for regulations like the CCPA. However, businesses that need greater cybersecurity or compliance enforcement beyond these surface-level enhancements will need to rely on any combination of integrations, customizations and manual workarounds that could become very tedious. Those with stricter security concerns or obligations will also find that legacy systems come with gaps that hinder scalable business continuity and user access control.
Sage Intacct features stringent security and compliance controls that leverage its cloud architecture and regular updates to frequently deliver the latest bug patches, back up data in real-time, and many other measures that ensure your files are protected. This ensures peace of mind as well as compliance, with specific guidelines written-in to comply with some of the strictest regulations, including:
SSAE 18 SOC 1 Type II
SOC 2 Type II
ISAE 3402/ISAE 3000
HIPAA
GDPR
Compare Reporting in Sage Intacct vs Sage 100
There are many other differences besides those above that separate Sage Intacct versus Sage 100, but SWK Technologies will help you sort through them all and determine which is the best fit for your business goals now and in the future. See how financial reporting works in both solutions side by side by watching our webinar with SWK's Practice Director of Sage Intacct – and longtime Sage 100 consultant – Bastian Boesner-Worth.
Watch the webinar here to see firsthand how reporting works in both Sage 100 and Sage Intacct to better compare the differences between these Sage ERP.
Learn more about Sage Intacct vs Sage 100
---