Sage Intacct Versus Sage X3 – Which is the Best Sage ERP?
When comparing Sage Intacct versus Sage X3, it is important to consider all of the factors that separate these two ERP systems and define the return on investment for your needs now, and your long-term goals. These include feature focus, age of the technology, cybersecurity and more, but this article will focus on the top differences that divide these Sage solutions and create a noticeable gap in ROI. While one software is a modern best of breed product, the other is an aging platform catering to a tighter market and that requires additional work to get the best value return on implementation.
Here are the top seven differences to consider when comparing Sage Intacct versus Sage X3:
1.  Accounting Software Functionality
While all ERP systems are primarily financial management solutions, Intacct and X3 have different approaches (and strengths) in this space. The former delivers a much more robust and expansive accounting application that can handle a wide range of requirements and scale much more easily with various pain points and growth objectives. Sage Intacct was built as a best of breed software, meaning that it comes with functionality designed to handle the needs in its focus first and foremost, from multi-entity and multi-currency accounting to an AI-powered automated general ledger and unified Chart of Accounts.
Sage X3 is less powerful in this regard as it was designed as a broader solution, fitting best as the one-stop-shop supply chain management system for its user base. Its strength lies in tracking materials and goods as opposed to transactions, and lacks both agility and scalability when forced to move out of this comfort zone.
2.  Cloud Migration
Software platforms are increasingly moving towards the cloud, where complete (or even partial) digitization allows for greater bandwidth and performance, along with improved agility. Not all cloud-based options are the same, however, and it is important to know what you are getting before making an investment in an ERP that could be SaaS – like Sage Intacct – or that needs to be cloud-hosted, like Sage X3.
Intacct is what is called "cloud-native," or completely built from the ground up in a web-based, multi-tenant architecture that is completely digital and inherently accessible in a browser. X3, on the other hand, is loaded in from an on-premise environment that would require being hosted from a cloud server to be accessible remotely. There are pros and cons to both approaches, but the latter requires a good provider to ensure cost-effective support and security while the former just needs a decent Internet connection most of the time.
3.  Technology Age & Customization Needs
The era of digital transformation has created a dividing line between legacy and modern software, with older ERP systems like Sage X3 increasingly showing their age as the gap widens with solutions like Sage Intacct. As the workforce is overtaken by Millennials, followed shortly by Gen Z, business applications must more closely resemble the utility of the consumer-level technology ecosystem, which is becoming dominated by cloud platforms.
Additionally, modern web-based software is typically built on a more modular architecture that is easier to adjust to user needs and internal workflows as opposed to aging systems. While Intacct provides more room for making – and keeping – customizations here and there, X3 modifications can be tricky to manage without breaking functionality somewhere and will likely get worse as the platform gets older than the best of breed applications on the market.
4.  Industry Vertical Focus
Many legacy ERP were often designed with one or a few more specific industries to cater to in mind as it was easier to package functionality; however, cloud-based suite systems are creating both broader systems as well as ones with multiple categories of features. Which option is better for you, though, depends entirely on what your needs specifically are from your software – do you have apps like CRM already in play and just need an accounting application, or do you need something that can handle various silos?
Sage Intacct's financial management capabilities can be used with similar best of breed systems in nearly any industry, but are especially valuable for service sectors like wealth management and real estate as well as nonprofit and healthcare organizations. Sage X3 is a more focused ERP for a narrow range of product-centric markets, particularly distributors and manufacturers with traceability requirements (especially if the latter needs recipe management).
5.  Regulation Compliance
Given both the amount and categories of data an ERP will inevitably record, having some level of automated compliance for functionality your various regulatory obligations is an invaluable feature. Intacct and X3 both have capabilities to fulfill this for various regulations; however, there are two main differences between how each solution handles this. The first is in which industry-specific regulations either is able to address, and the latter is in how the cloud's real-time connectivity allows for these features to be updated more frequently.
While both solutions do provide compliance for reporting regulations such as Sarbanes-Oxley and GDPR, Sage Intacct takes it a step further by natively handling data security regulations like SSAE 18 SOC 1 Type II, SOC 2 Type II and even HIPAA for healthcare organizations. Sage X3 does enable users to meet FDA and some ISO standards, although it lacks native capabilities to handle many of the Internet-facing privacy regulations since it starts on-premise.
6.  Sage Integration Marketplace
While X3 is built to handle multiple functions and track data in a hard goods value chain, some of these features are less developed than others. While the traceability functionality for production and inventory workflows are some of the most robust on the market, users have complained about several of the other features – or lack thereof, requiring customization or additional integration. The problem is that these can break when upgrading Sage X3, as well as that with the software aging into legacy territory, it could provide you with a harder time maintaining those connectors with more up to date solutions.
Sage Intacct is built with integration with other best of breed applications in mind, including top marketplace leaders like Salesforce CRM and ADP Workforce Now for HR and payroll functions. Cloud APIs empower Intacct users to seamlessly connect hundreds of third-party applications in the Sage independent software vendor (ISV) ecosystem or even build their own custom connectors with development support.
7.  Cybersecurity
ERP cybersecurity is increasingly becoming a critical factor in the era of digital transformation, especially when moving to the cloud for the first time and additionally so if connecting a natively on-premise system to cloud-hosted networks. Migrating to a SaaS or hybrid environment requires a new investment into security, in both time and money, to ensure data is not exposed by accident or to a persistent hacker.
While Sage X3 has been updated to introduce new basic protections, it still largely lacks the native capability to handle modern cyber threats or data exposure risks if connected to other programs (including from unmonitored personal mobile devices accessing cloud-hosted databases). Users would need to ensure their cloud hosting provider provides the level of cybersecurity they need; Sage Intacct, conversely has more automated security checks on the publisher hosting end in keeping with regulatory standards. Intacct's Information Security Management Program – among other services – is intended to meet compliance with the requirements outlined in point #5 above, and enforce consistent data privacy and security.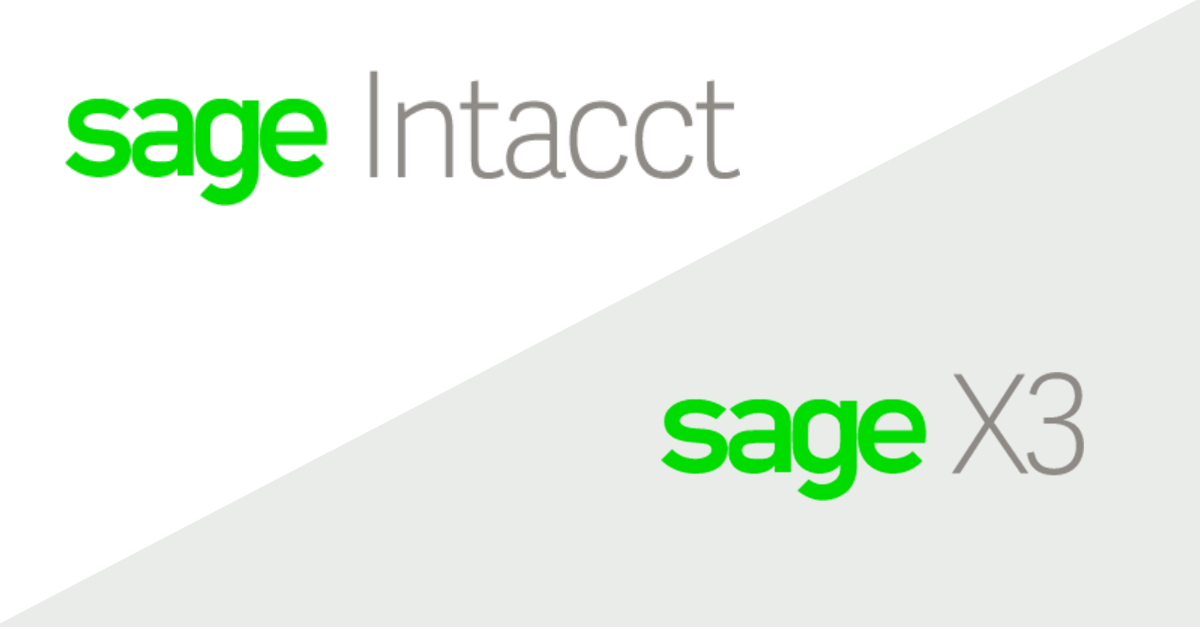 Learn More About Sage Intacct vs Sage X3
As a former Sage X3 value-added reseller (VAR) and current Sage Intacct partner, SWK Technologies intricately understands the key differences between these two systems, and will help you discover which is the best fit for you. If the time is right to migrate to Intacct, we will help you determine how to get the most out of your implementation and provide you with the support you need to maximize the value of your digital transformation journey.
Contact SWK today to see Sage Intacct in action and learn more about what sets it apart from Sage X3 and other Sage ERP systems.
Sign up for a Sage Intacct Demo