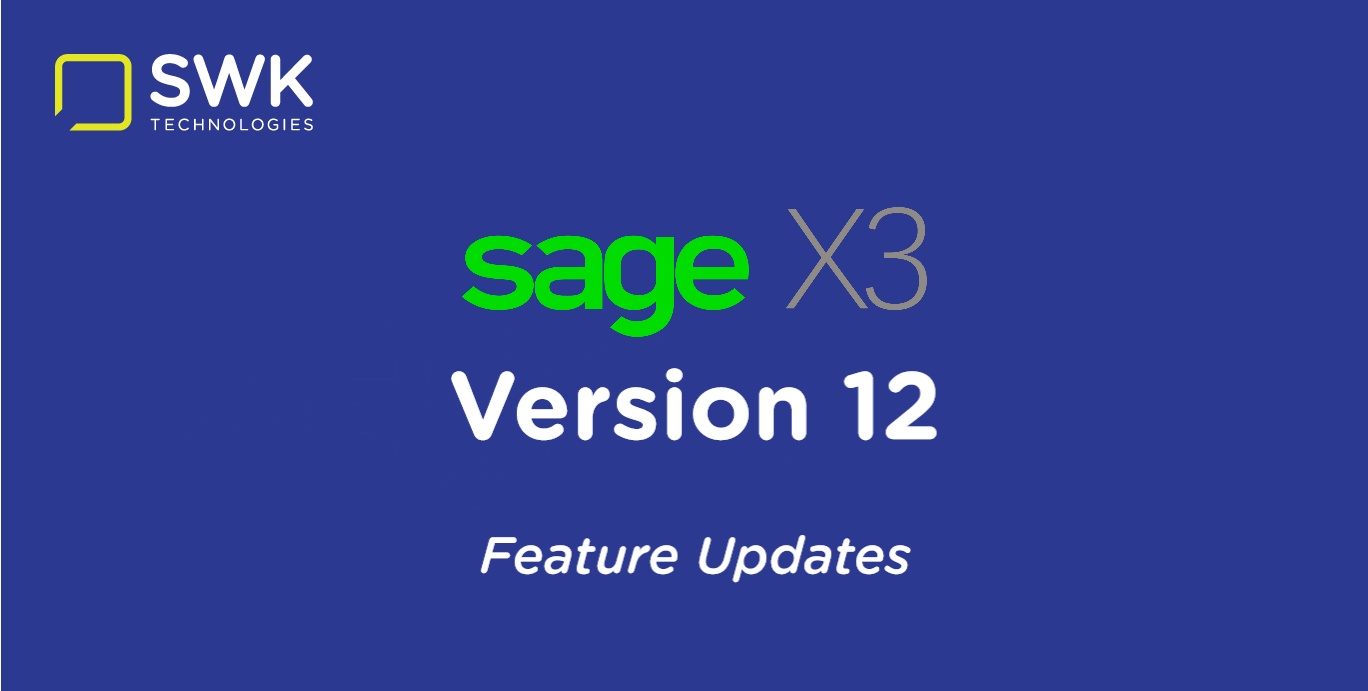 Version 12.0 of Sage X3 (Enterprise Management) features numerous product updates for the Sage Business Cloud. Launched in 2019, the latest release delivers an improved UI, vertical functionality, and enhanced cloud capabilities that allow an easier migration for existing on-premise users. See the list of new developments provided by Sage X3 V12 below:
Sage Business Cloud – SaaS, PaaS, Hosted
Sage X3 Version 12 expands the foundation of Sage Business Cloud and introduces enhanced delivery of Software-as-a-Service (SaaS) and hybrid cloud resources via Amazon Web Services (AWS). These improvements provide add flexibility in choosing software deployment no matter your business size or demands. V12 also introduces single-tenant Platform-as-a-Service (PaaS) hosting as an option, along with single- or multi-tenant SaaS while retaining traditional on-premise implementation.
SaaS – Available in a single-tenant or multi-tenant environment hosted by Sage, who also provides patching and upgrades
PaaS – Available in a single-tenant environment hosted by Sage, with your Sage Partner VAR delivering patches and upgrades
On-premise – Traditional deployment option available in perpetual or subscription pricing*, can be hosted in a hybrid infrastructure provided by your Sage partner
*Customer support is included in your Sage X3 subscription pricing
User Experience
V12 brings a responsive design framework that features better mobile functionality across multiple device types and operating systems (iOS, Android and Windows).
Navigation – Easier administration features navigation as well as a new interactive sitemap allow you to access your personalized dashboards faster
Responsive UX Design – Automated screen size adjustments tailored for every device size and a simplified screen designer replaces previous authoring mode in Sage X3 V11
Regional & Global Compliance
Compliance automation in Sage X3 has been updated for regulations in over 80 countries, including for ACH processes in North America, BAS and GST reporting in Australia, and ISO requirements. New documentation tools provide easier GDPR compliance for businesses in all 28 EU member states and the UK.
Vertical Coverage – Module Enhancements
Version 12 adds onto the industry-specific functionality in Sage X3 with updates to the individual module components integrated with your ERP. These enhancements deliver more capabilities to users in the discrete manufacturing, process manufacturing and distribution sectors, including in electronics, food and beverage, pharmaceutical and wholesale distribution micro-verticals.
Financial Management
Revenue Recognition – Addresses new revenue recognition standards by granting the ability to calculate adjustments based on project percentages
Tax Declaration Framework – Improved automation of tax declarative processes
Inventory Management – Track license plate numbers (LPNs) across your entire logistical chain
Electronic Transacting – XML document generation for EDI and electronic invoicing compliance for Chorus Pro
Non-Conformance Management – New features allow for better QA and customer experience by allowing you to implement continuous improvement programs
Production Scheduler – Versioning now allows mass replacement, deletion and revisions, in addition to Weighing Scale Improvements for pharmaceutical manufacturers and linking work order and raw material availability
---

---
Project Management
Financial Tracking – Adds multi-project consolidation, financial snapshots and a global tree view of tasks and budgets
Project Planning – Visualize projects with baseline snapshots and graphical timelines based on individual task planning
HR & Payroll
Employee Self-service – ESS will now allow employees to main their own personal information, as well enable administrators to track changes through the new control center
Contact SWK Technologies to Migrate to Sage X3's Latest Version
Upgrading to Sage X3 V12 will enable you to capture the most value from your ERP investment, and working with a recognized Sage Partner such as SWK Technologies will help make your migration to the latest version of X3 as seamless as possible.
Contact SWK to learn more about Version 12 of Sage X3 and how we can ensure you receive the most out of your enterprise software implementation.
Don't Wait – Ask Us About Migrating Now