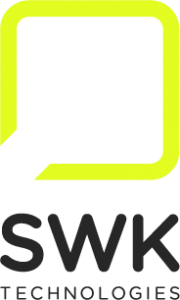 EAST HANOVER, NJ October 1, 2018 – SWK Technologies, Inc., a provider of transformational business technology applications, announced another innovation to its ever-growing portfolio of value-add solutions for its partners and customers. Through its strong relationship with the world leader in payments automation – AvidXchange – SWK has developed a powerful and robust integration between AvidXchange and the Sage 100 ERP system.
"AvidXchange is super excited to deepen our partnership with SWK," said Justin Nelson, VP of Product Management at AvidXchange. "They are helping lead us into opportunities for deeper integration with codes, budgets and PO invoices that all integrate back into Sage 100, linking to the original PO and PO receipts. We look forward to working with SWK to continue to expand this integration and extend it to other financial accounting ecosystems in the future."
The integration provides significant improvements. It allows Sage 100 users to seamlessly pass purchase order invoice data from AvidXchange to their ERP solution, facilitate more complex AP processes, and delivers improved transaction capabilities and streamlines procurement operations.


As a Sage Master Developer since 1989, SWK has developed numerous integrations between third-party independent software vendors (ISVs) and mid-market cloud and on-premise ERP solutions, including EDI (MAPADOC), Time & Billing, warehouse management, AP automation, and other software customizations.
"SWK is thrilled at the opportunity to work with AvidXchange more meaningfully as their exclusive Sage 100 integration provider," said SWK CSO Andrew Nunez.  "We look forward to promoting AvidXchange and this new integration to the Sage ecosystem, strategic partners and our own 5000 Sage customers."
About SWK Technologies, Inc.
SWK Technologies, Inc. delights its customers and partners by providing solutions and expertise that transform their businesses and enable success. SWK's Strategic Technology Advisory Team (STAT) provides business management consulting services that help maximize value derived from technology investments. Business Application Cloud Hosting (BACH) is SWK's secure cloud hosting service that supports ERP, CRM, WMS, and other software solutions. SWK's parent company, SilverSun Technologies, Inc., is publicly traded on the NASDAQ public markets under the ticker SSNT.
About AvidXchange
AvidXchange™ revolutionizes the way companies pay their bills.  Serving more than 5,500 clients throughout North America, AvidXchange is an industry leader in automating invoice and payment processes for midmarket companies spanning multiple industries including Real Estate, Financial Services, Energy, and Construction. AvidXchange has been recognized as one of the 50 fastest-growing private companies in the Charlotte area for four consecutive years, as well as ranked among Deloitte's Fast 500 this past year. In the midst of record growth, AvidXchange has remained true to its most valued competitive advantage—its people. AvidXchange has been recognized as one of the Best Places to Work in Charlotte for seven consecutive years.
About Sage
Sage is the global market leader for technology that helps businesses of all sizes manage everything from money to people – whether they're a start-up, scale-up or enterprise. Sage does this through its Business Cloud – the one and only business management solution that customers will ever need, comprising Accounting, Financials, Enterprise Management, People & Payroll and Payments & Banking.
Media Contact:
Antonio Carrion
SWK Technologies
(973) 396-1747
antonio.carrion@swktech.com