12 CLEAR SIGNS YOU'VE OUTGROWN QUICKBOOKS
This eBook helps you decide when it's time to move to ERP.
When your company was small, a basic accounting system met your needs. But once you start thinking about managing and tracking inventory, integrating financials with an eCommerce site, or even consolidating multiple business entities in your financial reporting, it's obvious QuickBooks is no longer enough.
That's when most companies decide to move to a full ERP system. Is your company ready? Find out by reading "12 Clear Signs You've Outgrown QuickBooks" today.
There comes a time in every business' lifecycle when QuickBooks is no longer enough. And even if you're using QuickBooks Enterprise—the most robust version of the platform—you've probably run into frustrations that have only intensified as your business has continued to grow.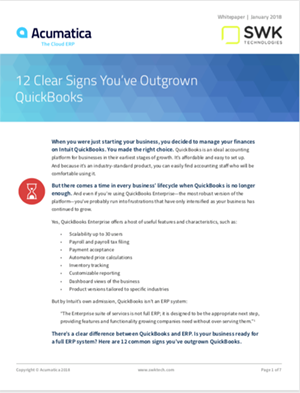 In "12 Clear Signs You've Outgrown QuickBooks", you'll find out:
Don't let limited functionality hold you back. Find out how moving to ERP could help you take your business to the next level. Download the eBook now.
Fill out the form to download the 12 Clear Signs You've Outgrown QuickBooks white paper!
HOW CAN WE HELP YOU?
SWK Technologies is a business application and consulting company providing strategies and solutions to meet our clients' information and business management needs. We make technology work for you, and provide the experience and expertise to get the job done by working with both your needs and the business management software that actually support your ways of doing business.