Financials and Extended Accounting


Acumatica Fixed Assets
Maintain complete visibility of your fixed assets and depreciation calculations. Fixed Asset Management maintains depreciation schedules for assets that you own, rent, or lease, and is fully integrated with all other financial modules. You can add fixed assets directly from AP purchases, import them, or add them individually—and track tax and reporting scenarios independent of general ledger postings.
KEY FEATURES OF FIXED ASSET MANAGEMENT
Multiple depreciation methods. Choose from a large inventory of predefined depreciation schedules or create your own. Accommodate accelerated cost recovery system (ACRS), modified ACRS, straight-line, declining-balance, sum of years' digits, remaining value, flat rate, units of production, and other methods. Each depreciation method can include different averaging conventions as well as useful life and recovery periods.
Tax benefit s Take advantage of multiple depreciation books, multiple calendars, special depreciation bonuses, and tax benefit recapture capabilities to comply with complex tax rules.
Purchase order integration. Convert purchases into fixed assets without re- entering data. Eligible purchases are automatically displayed to simplify the conversion process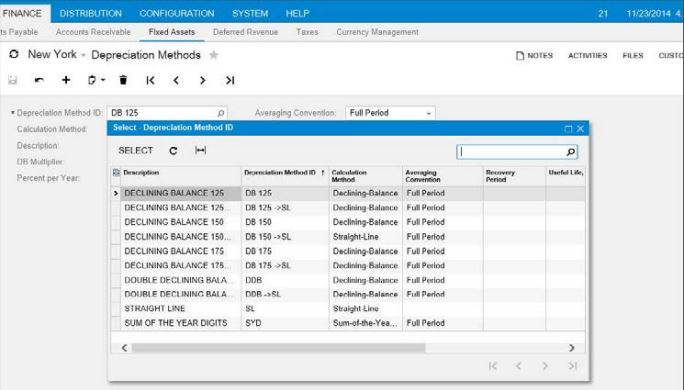 Key Benefits
MANAGE THE ENTIRE ASSET LIFECYCLE
Account for assets from the time they are acquired until disposal
Enter asset information only once since assets are shared by all modules and reports
CUSTOMIZE FOR YOUR COMPLIANCE NEEDS
Configure depreciation schedules with a predefined method, averaging convention, useful economic life, and recovery period
Create your own schedule if needed
SAVE TIME WITH AUTOMATION
Automate entry, depreciation schedules, and workflow
Keep accumulated depreciation, asset values, and asset class balance reports up to date
MAKE FASTER DECISIONS
Get instant access to past information through reports and dashboards
Gain insights into future needs to improve business decisions
Use included reports or design your own
Features and Capabilities
120 Eagle Rock Ave, Suite 330 East Hanover, NJ 07936 • 877.979.5462 • info@swktech.com
©2021 Acumatica. All rights reserved.