Mid-Market & Enterprise Software
---
Acumatica Construction Edition
Acumatica Construction Project Management & Accounting
Acumatica Construction Edition is a flexible, robust and state of the art cloud ERP system built to deliver value to every part of the industry, from general contractors to land developers. Connect every part of your business with mobile SaaS functionality and provide your firm with the tools to streamline operations from the ground up. Take advantage of modern software automation to reduce costs and time spent on tedious tasks, and capture the visibility you need to consolidate pain points that drain profit from your contracts.
Deploying the construction management platform provided by Acumatica grants your firm access to real-time insight, paperless processes, scalable technology and the latest industry-specific features. Leverage hosted touchpoints to bridge the gap between your back office and field teams, including subcontractors living in data silos that slow down your business. Provide your firm with adaptability in times of disruption and take complete control of your project management with a single source of truth.
CONSTRUCTION MANAGEMENT

Capture a wide range of business management benefits for construction firms no matter where you are in the industry. Whether a general contractor, subcontractor, home builder or land developer, Acumatica will deliver the visibility and automation you need to return the best value on your contracts.

General Contractors: Consolidate disparate views into the disconnected ends of your business by unifying these touchpoints in the back end. Gain an accurate, streamlined level of insight from every field team and subcontractor from any device, anywhere and anytime.
Subcontractors: Manage your contracts, payroll, field service deployments and sales cycles all from the same screen with an integrated construction software stack. Keep track of equipment warranties, purchase orders, customer records and more in real-time with advanced drill-down capabilities with the click of a button.
Land Developers: Optimize your planning and scheduling to guarantee resources are deployed when and where they are needed, and capture the best project ROI. Ensure compliance with federal, state and municipal environmental and safety regulations for every jobsite, service team and subcontractor you manage.
Home Builders: User-defined reporting with flexible customization options and deep drill-down capabilities allow for streamlined activity tracking and management. Seamless data migration augmented by pre-built standards templates, web-based service and electronic recordkeeping enables fast and easy access to the right information at the right time.

Projects Dashboard

Project Manager
PROJECT MANAGEMENT

Maintain project control with more accurate job costing delivered by Acumatica's operational and financial consolidation functionality. Leverage a clear, real-time view into every part of your business and keep track of your KPIs with informative analytics provided through intuitive dashboards.

Project Tracking: Filter through projects with multiple fields, including cost and profitability. Keep a close eye on every data touchpoint in real-time and execute faster decision-making on situations as they develop in the field. Gain a centralized view over your disparate silos that ensures seamless control over your contracts and the best value return on your investments.
Task Management: Intuitive dashboards provide a full accounting of all tasks completed and requiring attention, along with relevant details per task. High-level performance reporting with drill-down options allows users to traceback through the system to review project items and reconcile inaccuracies quickly.
Issue Tracking: Quickly identify and solve potential issues as they arise with visual reports that highlight discrepancies and negative trends. Filter by project to gain an organized view into possible developments as they occur, and receive updates on firm KPIs.

Project Management

Project Issue
CONSTRUCTION ACCOUNTING SOFTWARE

Manage your costs, payroll, profits, cash, and taxes accurately using percentage completion rates. Powerful financials that are simple enough for smaller contractors and scalable for more complex contractor needs. Acumatica Financial Management has standard financial processes (GL/AP/AR) and reports plus multicompany, multicurrency and intercompany accounting, fixed assets, recurring and deferred revenue, and cash management.

Project Accounting: Integrate your project accounting with your core financials to streamline budget tracking and revenue reporting. Capture a better understanding of your ROI by quickly and seamlessly calling up views into expenses, materials, labor, services, inventory and more that will help you measure costs against profitability.
Accounts Payable/Receivable: Streamline and keep track of all outgoing and incoming payments with real-time visibility and automation. Take control of AP and AR workflows by consolidating invoice management and billing into a single, seamless view that provides digestible updates and easy yet secure approvals.
Job Costing: Seamless customer billing, driven by real-time project costing, including up-to-date costs on labor, material, equipment, and more. This detailed job cost information will help you proactively identify problem areas in current jobs and provide you with information to accurately estimate future projects.
Payroll: Integrated with Acumatica Financial Management, Payroll supports multiple unions, locals, classes, benefit packages, and complex wages, as well as certified wages, executive compensation, and commission structures. Flexible and adaptable data management ensures that your solution can be modified to any unique pay methods for multiple construction firms.

Job Costing

AIA Reporting
FIELD SERVICE MANAGEMENT

Manage your costs, payroll, profits, cash, and taxes accurately using percentage completion rates. Powerful financials that are simple enough for smaller contractors and scalable for more complex contractor needs. Acumatica Financial Management has standard financial processes (GL/AP/AR) and reports plus multicompany, multicurrency and intercompany accounting, fixed assets, recurring and deferred revenue, and cash management.

Daily Field Reports: Unify your data flows and ensure everyone is on the same page with streamlined field reporting. Collect up to date information on subcontractors, service teams, jobsite updates, expense tracking and more.
Weather Tracking: Integration with external web domains allow for real-time updates of weather trends and forecasts according to location. This data can be fed into Daily Field Reports to be included for jobsite status details.
Jobsite Camera Integration: Camera views located onsite can be embedded into Acumatica Construction Edition dashboards and organized by jobsite. Once a site is selected by address, the feed is included onscreen with all other project details.
ACUMATICA MOBILE APP

Get full visibility into project status, job site performance, costs, and more anytime, anywhere, on any device with the Acumatica mobile app. Learn how you can empower subcontractors to feed you data in real-time and unify your siloed processes by taking advantage of the latest construction management software features through a smartphone or tablet. Capture the same level of visibility accessible from a desktop computer while leveraging mobility to manage approvals, reports and keep track of critical project items from any location.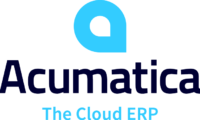 Acumatica Construction Accounting Software Integration
Integrate your Acumatica deployment with any other publisher module to build the technology stack that returns the best ROI for you. Build a comprehensive software workflow designed for your unique needs, whether for construction, manufacturing, professional services, nonprofit or any other space your company markets to. Ensure your business operates smoothly from end to end with an inclusive cloud application suite that bridges the gap between all parts of your organization.
Take a Video Tour of Acumatica Construction Edition
This product video tour of Acumatica Construction Edition outlines the solution's key features and capabilities for contractors, developers, and construction firms looking for a modern construction accounting software, including Project Management, Weather Tracking, AIA Billing and Reports, Project Issue Tracking, Job Cost Analysis, Budget Tracking, Jobsite Cameras, Task Management, Performance Reporting and more. Click to watch:
Discover 5 Ways Mobile Cloud ERP Can Transform Construction
Technology has changed the way you do business. To stay competitive in the Construction industry, you must adopt a solution that lets you be flexible, scalable and – most importantly – mobile. Discover how downloading Acumatica on your smartphone or tablet will empower you to transform your firm and bring your operations into the modern age by reading our free whitepaper: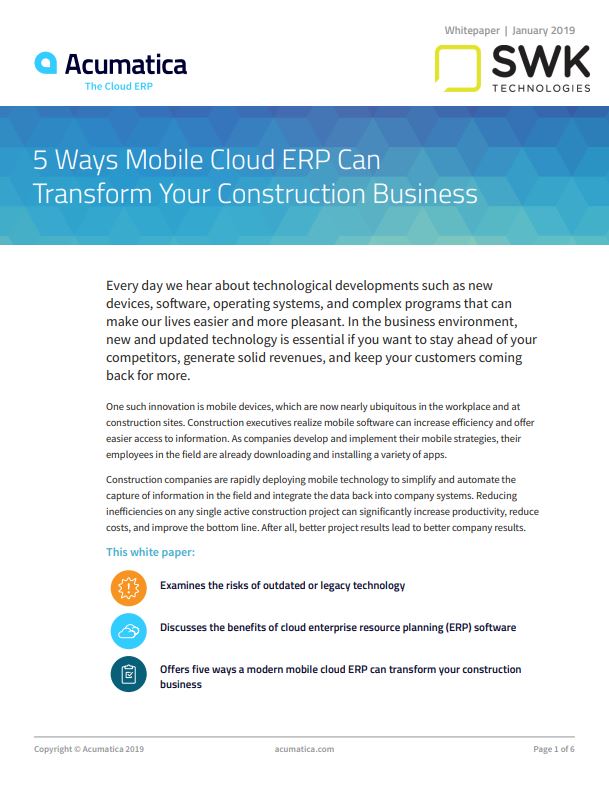 Acumatica and Procore Integration
Get a breakdown of the integration between Procore and Acumatica Construction Edition.