Mid-Market & Enterprise Software
Acumatica Pricing Options
Learn How to Buy and Deploy Acumatica Cloud ERP
Pricing for Acumatica offers multiple possibilities for buying and deploying your ERP, whether your software is hosted completely in the cloud (public OR private), on-premise with a perpetual license or in a hybrid environment. All deployment models allow for unlimited users and additional employees to be added as needed when your organization grows, enabling boundless scalability without the mounting costs associated with traditional accounting application licenses. Role permissions make it easy to designate access by individual and position responsibilities, allowing you to enforce cybersecurity according to your internal user authentication guidelines and network security requirements.
The total cost of ownership (TCO) for your software is contingent on your technology needs and your reseller will provide you with a quote that reflects both your deployment choice and your desired investment. Get the most value from your implementation by buying your cloud ERP from SWK Technologies, a consecutive Acumatica Partner of the Year and value-added reseller (VAR). SWK has been recognized as a leader in the channel, with multiple repeat Acumatica MVPs on our team and a consulting practice that has enabled customers to complete their implementations in shorter time frames and under-budget.
Private Cloud Hosting
We at SWK understand that migrating to the cloud still presents cybersecurity concerns for many, including those that must strict compliance with data privacy regulations. A SaaS (Software as a Service) subscription may not be viable for firms that need to meet these obligations, such as those with government contracts. That is what we are able to provide you with two private cloud hosting options, which offer both flexibility and security in deploying your hosted environment.
Migrating to a private cloud allows you to engage SWK as your cloud service provider (CSP) to migrate, support and cybersecure your software environment with our Secure Cloud Hosting solution. Our security operations center (SOC) proactively monitors your network for anomalies and will immediately identify and respond to cyber incidents and suspected intrusions. You also gain access to our Managed Cloud Services, which provides more direct and personalized IT support and Network Assurance than can be gained with a SaaS publisher.
Acumatica Pricing and Deployment Options
---
A true cloud option that is the fastest growing licensing model and provides the best price value for ERP investment. Receive an annual public cloud subscription hosted by Amazon Web Services (AWS), a top public cloud computing platform. You pay a set monthly fee and your IT infrastructure and upgrades are handled directly by Acumatica. Your software will live in a multi-tenant environment that is optimized for resource delivery while strictly enforcing user security, offering one of the best upfront value returns for hosting.
A private cloud option with an annual subscription license that allows you to choose your service provider, as well as where the software and data are hosted and when updates are applied. Your ERP will live in its own single-tenant environment designed for your specific needs, including industry requirements that your business must adhere to such as regulations. The application remains accessible through a browser and involves no onsite installation.
Choosing SWK Technologies as your CSP for Acumatica will grant you access to our comprehensive cybersecurity and managed IT services, available 24x7x365 for your environment. We will provide real-time support and security monitoring for your hosted architecture, hourly backups for your data, and many other proprietary benefits that are only available in the SMB and midmarket space with Secure Cloud Hosting. This option provides the best balance between security and value return when migrating to the cloud.
A license option that allows you to pay upfront for the perpetual use of Acumatica Cloud ERP. This has been the legacy model and includes annual maintenance pricing. It can be deployed through on-premise servers or in a hosted private cloud, but the UI remains browser-based with the same features. This option provides the best security at the cost of losing some cloud-hosted connectivity and collaboration when deployed solely onsite, although leveraging SWK's Secure Cloud Hosting will allow you to migrate to a hybrid environment that offers some of the best of both worlds and the flexibility to combine these resources.
Get an Acumatica Price Quote
Measuring the Cost of Acumatica – Pay for What You Use
Legacy systems impose unnecessary expenses for your ERP cost of ownership with user licensing fees, on top of the investment required in equipment such as servers and their maintenance needs. The price value of Acumatica is the solution's unique unlimited user model that allows you to pay for actual resources used, not hypotheticals. Anyone with the right role-based access can interact with the system, allowing you to get the most from your software deployment.
Cloud Security
Despite myths to the contrary, a cloud ERP can be safer to user than many legacy systems that are not equipped to handle modern cyber threats. Contemporary applications must maintain consistent security patching and delivery updates immediately to protect users from backdoor exploits. Many services and applications still force users to mind their own local cybersecurity, however, but Acumatica comes with several native security controls and enforces stringent audit standards on the hosting side in compliance with data privacy regulations. Additional measures can be implemented on the customer end directly, or with the help of a managed service provider (MSP) like SWK Technologies.
Total Economic Impacttm of Acumatica
The true price of your ERP is the investment required to bring value to your business, and the Total Economic Impact (TEI) of Acumatica according to Forrester Consulting provides ample returns in a shorter time than legacy software. Composing a sample from real world customer stories, Forrester determined that this cloud solution would deliver opportunities to recoup implementation cost and begin generating profit in a faster timeframe than typical enterprise software. Download the Report to learn more: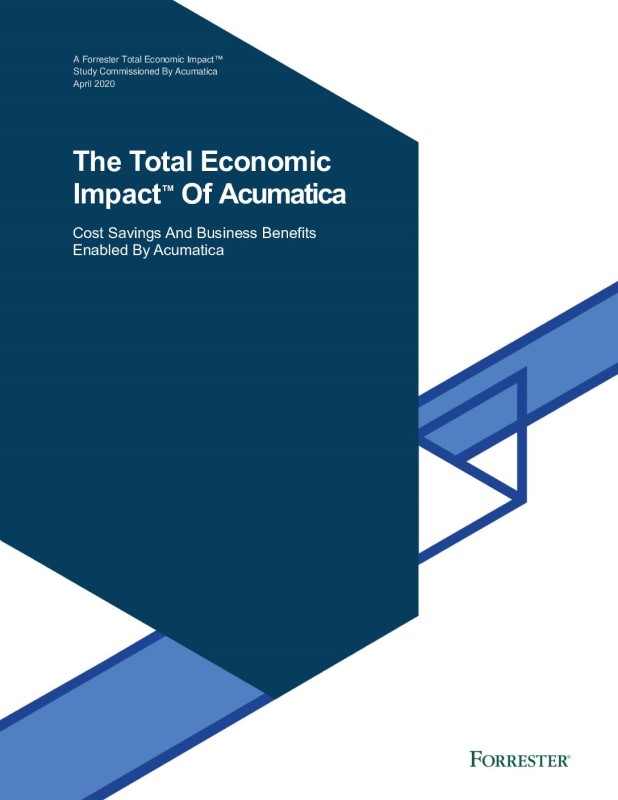 Fill out the form to download the study!