SWK – Acumatica Customer Event 2020
Jeremy Potoka
Director of Solutions Architecture
SWK Technologies
It seems that each year, the technology space comes up with new buzzwords and acronyms, like AI (Artificial Intelligence)/ML (Machine Learning) and DT/DX (Digital Transformation), to name a few. Digital transformation is often overused and misunderstood. The definition of digital transformation is "the use of new, fast and frequently changing digital technology to solve problems."  Having visited over 60 SWK customers and prospective customers over the past 2 years across 30 states, I've come to appreciate the practical elements of applying technology to a business.
As we launch into conference season (including the Acumatica Summit in Las Vegas 2020), we should clearly define 3 key elements of digital transformation:
Digital Transformation is Unique for Every Business
There are no two business that are alike.  Two different companies may share the same industry (like discrete manufacturing), but will still have vastly different company culture, geography, business model, etc.  For this reason, when looking to use technology to make your business run more efficiently, it is important to understand that you can only transform your business within the context of itself.
Let me give you an example:  My wife was visiting a friend's house for a kid's play date and noticed our friend had one of those iRobot-like vacuums that runs itself to clean the floor daily.  A busy mom of a toddler, she thought this might be a good idea for us.  The only concern we had about digitally transforming our vacuuming is the fact that we have a yellow lab who sheds hair heavily.
We were suspect of these automated vacuums being able to really clean the floor.  We went to Amazon.com and found a vacuum that appeared to receive accolades from other dog owners.  Once setup in the house, we gave the vacuum a few days to try to learn our first floor.
As I watched the vacuum pass right by dog hair laying on the wood floor, I learned an important lesson about digital transformation: What works for one business (or a house in this example) doesn't work for everyone.  You know your business and your people better than anyone.  You know your core values as a company.  You know what your competitive edge is in the marketplace.  Make sure your path to digital transformation is relevant within your organization.  In the end, we did return the Vacuum (thanks Amazon for the great return policy!).
Digital Transformation Occurs When Value Exceeds Price
Technology is trendy, cool and generally does really neat things.  As a Solution Architect (someone who designs business solutions with technology) myself, I get caught up in the next cutting-edge piece of technology.  There is nothing cooler than being able to query your Cloud ERP system with Amazon Alexa using natural language.   However, technology comes with a price.
Living through many cold Northern New England winters, I've conditioned myself (and my family) to setting the thermostat to a comfortable 64 degrees.  We had this idea last year to buy WiFi-enabled thermostats to digitally transform the way we heat the house in the winter.  Although these devices cost around $200 each, the value of being able to keep the house cooler while we are not in town, then turn it back up on our drive home, will likely pay us back within a year or two.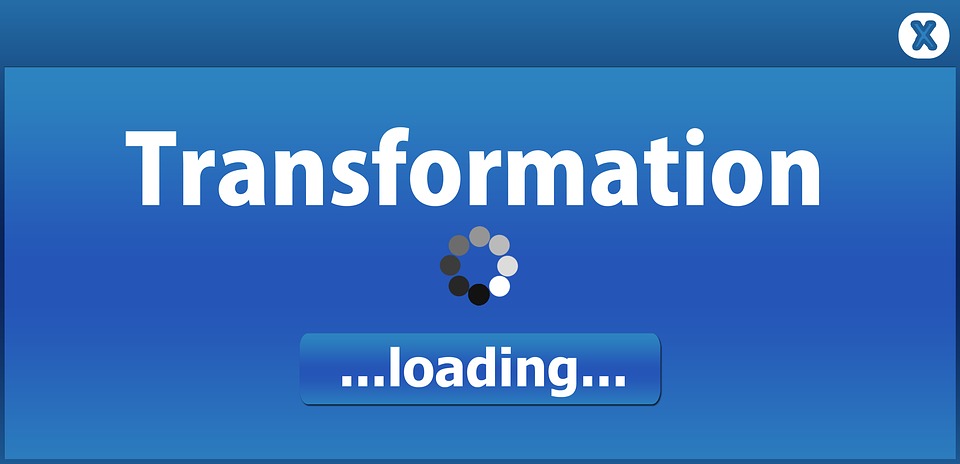 When value exceeds price, digital transformation should happen.  If I were to amortize these savings over 10 or 15 years, one could almost argue that we are losing money the longer we wait to buy them.  As you consider ways to apply technologies to your business, always consider the ROI and be able to financially substantiate the cost.  This will not only transform your business but keep anyone looking at your P&L very happy 😊.
Process Transformation MUST Precede Digital Transformation
Digital transformation is an accelerator of momentum, not a creator of it.  What are the areas of your business that are already being reviewed for process reengineering?  What teams are the most ready and desiring of change?  I've seen many companies purchase a new piece of technology and keep their business process the same.  Technology can accelerate momentum and change, but it cannot create it.
Let me provide a final example: TSA PRE is a service that allows you to register online ahead of time with TSA and go to the "fast line" while going through security at an airport.  The current price of TSA PRE is $85, and the service lasts 5 years.  As a frequent business traveler, this type of service makes sense within my context (key 1) and the value clearly exceeds price (key 2).
However, when I first received my KTN (Known Traveler Number), I didn't always add this to my profile when booking airfare.  I distinctly remember arriving to the airport and realizing that I couldn't take the faster TSA PRE lane, even though I had purchased the service.  I lacked the process change when booking airfare to ensure the number was added to my ticket.
Implementing new technologies to digitally transform your business without first improving your business process is a fool's errand (strong language, I know!).  Do your best to identify areas of your business that are already seeing momentum, change, and digitally transform those areas.
Digital Transformation is Defined by Your Needs
As you consume new technology and watch the biggest and best splashes in TECH for 2020, keep these 3 key elements in mind as part of your technology acquisition strategy. Digital transformation provides the best value to your business when you ensure your technology works for you, not the other way around.
Contact SWK Technologies for more advice on how to leverage digital technology and for additional support in your journey to the digitization of your business.
Reach Out to the Experts in Digital Transformation – SWK