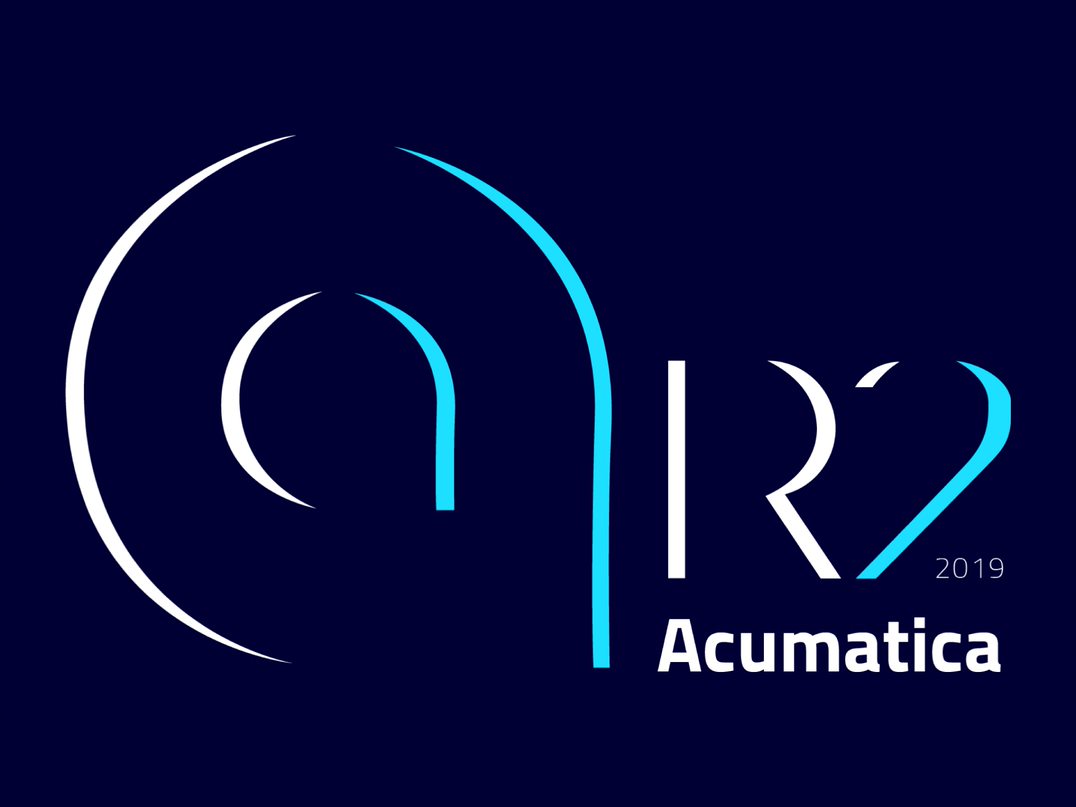 Featuring over 100 improvements, the Acumatica 2019 R2 release delivers critical enhancements to many key vertical fields, user interfaces and the underlying cloud ERP platform. Many of the latest updates add onto the feature advances delivered in Acumatica 2019 R1 released this past March, including for Inventory Management, Field Services, and many additional platform usability upgrades. Acumatica's major updates continue to reinforce the software publisher's proclamation of being a technology company with a great ERP system, and this latest round was designed directly in response to user feedback.
"Acumatica has always been laser-focused on product excellence," said Jon Roskill, CEO of Acumatica.  "The new and practical innovations in Acumatica 2019 R2 make Acumatica even easier to use and customize, and really enhance our unique cross-functional workflows, which allow a user to move from CRM to Construction to Manufacturing to Distribution screens seamlessly in real-time, resulting in improved accuracy and productivity."
Here is a list of the major changes and new features included in Acumatica 2019 R2:
Acumatica Platform Updates – 2019 R2
The latest release of Acumatica brought further enhancements to the Cloud xRP Platform along with new features and improvements adding onto those introduced by 2019 R1. These include:
Pivot Tables – Enhanced dashboards that allow for Pivot Tables to be displayed from within dashboard widgets.
SMS Support – Users are now able to receive SMS notifications without the Acumatica mobile app
Integrations – Improvements to the HubSpot integration allow real-time syncing, in addition to enhanced Power BI and Tableau features as well as the introduction of the Google G-suite integration
User Functionality
Acumatica 2019 R2's platform updates also feature usability enhancements, such as:
User Roles – User-defined field enhancements on mobile devices are joined by predefined finance user roles that allow quick set-up for specified financial positions
Dashboard Tables – Choose row or column style using conditional formatting for dashboard table widgets
File Management – Sort and filter attachments in any table or entity
Company/Branch Selector – A simplified Company/Branch selector now allows selecting a branch in one click
Acumatica Module Updates – 2019 R2
Augmenting the improvements to vertical functionality delivered by 2019 R1, Acumatica 2019 R2 adds several enhancements for multiple Business Application suites and industry-specific features. See below for a list of updates per individual Acumatica module suite:
Corporate Credit Cards – Additional support and reconciliation features for corporate credit cards in each application
Accounts Payable Documents – Now allows users to assign application of payment to particular lines in Accounts Payable Documents
Non-stock Items – Accrual of costs for non-stock items now supports posting of revenue and expenses to calculate net income
Accounts Receivable Document Approval – Simplification of approvals for Accounts Receivable invoices, credit memos and debit memos
Budget Control on Document Entry – Budget Control warns users when budget is exceeded on a saved document, such as a bill or invoice
Project Budget – New options that expanded upon project budget detail levels (such as task items and cost codes) in addition to budget forecasting comparisons by project period
Change Order Requests – Now features two-tier change management that supports grouping multiple change order requests into a single order of approval
Purchase Orders – Users can now review item prices from multiple vendors when selecting and changing PO vendors
Prepayment – Allows multiple prepayment to purchase order requests, as well as adding POs to prepayment documents
Warehouse Management System – Advanced picking and bulk processing has been added to WMS
International Shipping – Adds options with "ShipEngine" integration like current UPS/FedEx/Stamps support
Sales Orders – Automatic checking for unique and duplicate customer sales orders, as well as enhanced linking for direct sales order invoices
Non–stock Items – See "Financial Management"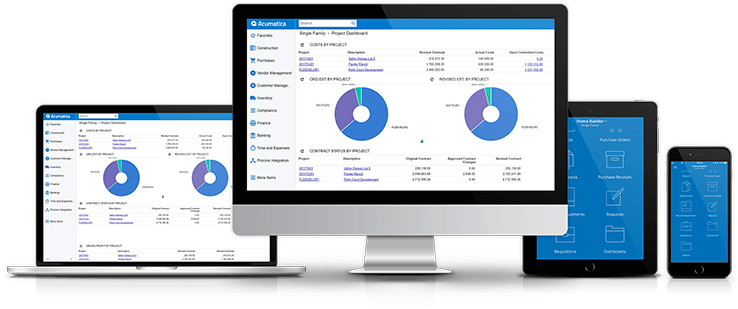 Service Orders – Allow service orders to be automatically defined according to user or appointment type, as well as apply manual discounts by amount, percent or as a discount to stock and non-stock products
Calendar – Simplified appointment creation
Mapping – Improved technician tracking by location in the field
Field Service Integration – Integrating with other modules supports creating service contracts, project schedules and tasks with default cost codes by service order type
MRP – Improved forecasting and exception handling in Material Requirements Planning (MRP), as well as regeneration options for non-stock items
Engineering Change Control – With multiple change requests, Engineering Change Control (EEC) now features the option to group these for approval purposes and displays them in bill of material comparisons
BOM – Advanced visualization tools and reports have been added to the Bill of Materials (BOM)
Acumatica Construction Edition
Daily Field Reporting – Adds tracking for Daily Field Reports to ensure all users receive the same information when they need it
Detailed Retainage Tracking – Detailed Retainage Tracking allows users to track retainage at the line level on AR Invoices
Lien Waiver – Prevent accidental payments made to vendors with lien waiver features
Change Requests – Owner change requests made are managed by a two-tier change management system to better handle change workflow and reduce profit loss
Transaction History Report – Review customer and vendor transaction history reports to confirm billing versus actual cost
Project Budget – See "Project Accounting"
Contact SWK for Acumatica Support and Consultation
SWK Technologies is an award-winning Acumatica Partner, recognized as Partner of the Year and Cloud Adoption of the Year for 2018, along with members of our Acumatica consulting and sales team being named Acumatica MVPs for their work within the cloud ERP community. Reach out to us with any questions or concerns you have about this or any other version of Acumatica, and we will do our best to ensure you get the most out of your ERP solution.
Contact SWK Technologies to learn more about Acumatica 2019 R2 and how you can capture the best value from the cloud.
Learn More About Acumatica 2019 R2