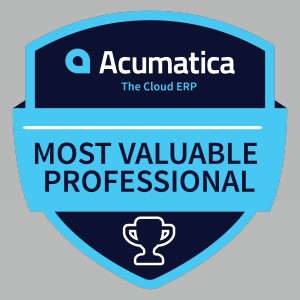 SWK Technologies is pleased to announce that Senior Vice President Mary Abdian and Cloud Solution Architect Jeremy Potoka have captured the Acumatica Product MVP award for the second year in a row. Both members of the SWK team were named Most Valuable Professionals by Acumatica in 2019 and 2020, and this is Mary's fourth consecutive year receiving the designation after also being named an MVP in 2018 and 2017 as well.
The Acumatica MVP program selects a list of nominees every year to highlight individuals who are active in the Acumatica ecosystem, and contribute to its growth and customer service value. Product MVPs in 2020 were chosen based on direct contributions to this community as well as expertise displayed during customer engagement at events and forums such as Stack Overflow, LinkedIn, and GitHub.
"The MVP program emphasizes what lies at the very heart of Acumatica: Community," says Ajoy Krishnamoorthy, Acumatica VP of Platform & Technology. "Your willingness to share your expertise, answer customer and partner questions, and offer feedback that we use to advance our platform and products is invaluable."
You can see the full list of 2020 MVPs here.
All MVPs will be recognized during the first day of Acumatica Summit 2020, Sunday, January 26, during the welcome reception between 3 – 6 PM. During this time they will be present near Acumatica's own booth at the conference.
Acumatica Summit 2020 is taking place at the Cosmopolitan Hotel in Las Vegas, NV, from January 26 to January 31. SWK will also be holding a special VIP event during the welcome reception at the Barbershop venue within the hotel.