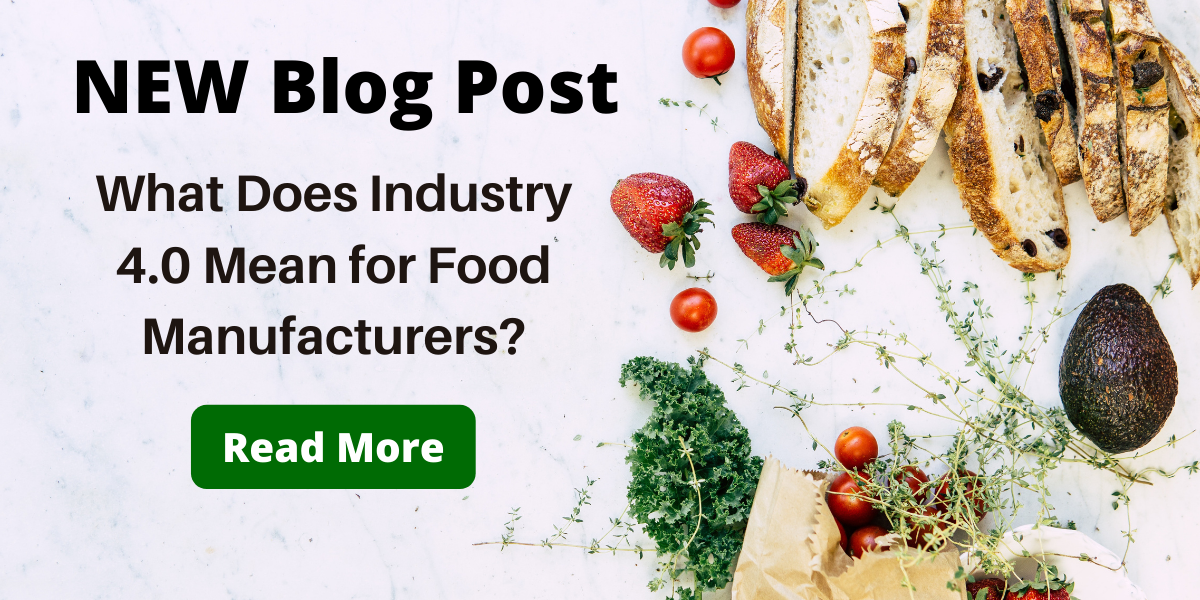 SWK's Industry 4.0 for Food & Beverage Series – Part 1
Part one of SWK's new food and beverage digital transformation series will answer a very important question – what does Industry 4.0 mean for food manufacturers and processors? This article will help you better understand what exactly is the "fourth industrial revolution," the technology and practices it introduces into your market, and how it can be best applied to improve your productivity and for maximum ROI. Subsequent posts will further clarify how this phenomenon is impacted by shifting regulations (namely the FDA's New Era of Smarter Food Safety) and present tips, tricks and tools that will help you take advantage of the transition.
The digitization of the manufacturing sector has been underway in piecemeal bursts over the past several years, but the COVID-19 pandemic accelerated migrations to new technology infrastructures throughout the market. Businesses transformed from the top down as supply and production chains were disrupted, but consumer bases retained or even grew significantly in demand for product that increased in response to "new normal" factors. Competition has similarly risen to meet this surge in a sector where supply chains were already extending across the globe, and those that continue to rely on outdated practices and technology will be quickly outpaced and as the next inevitable industrial wave fast approaches.
Here is what Industry 4.0 means for food manufacturers:
What is Industry 4.0 and Why Does It Matter to Food Manufacturers?
The idea of the Fourth Industrial Revolution was introduced by German scientists seeking to define the emerging complex ecosystem of "smart" technology and networks that were redefining manufacturing in the age of digital transformation. While the Third Industrial Revolution had first brought about the early concepts of digitization with the arrival of increasingly advanced computers, Industry 4.0 saw the connection of these machines through the Internet and the consequential emergence of cyberspace. This reflects a collaboration of the physical and digitized worlds, and for manufacturers it means that the data in the real world (like lot numbers, expiration dates and more) is easily and immediately accessible through networked devices that automate capturing, processing and acting on information.
Where Technology Meets Practicality in Process Manufacturing
Many of the technology applications digital transformation introduces may seem like science fiction (let alone the conceptual implications that are still theorized), but there exist many key tangible uses in food manufacturing for Industry 4.0. That the tools delivered by this new revolution were confined to film and TV previously does not decrease the value of being able to capture visibility and connectivity from anywhere, anytime and with any device, or of letting your machines doing the heavy lifting and thinking for you. Process manufacturers can and should leverage digitized systems and practices to streamline mission-critical operations that will significantly impact ROI, from carefully managing product lifecycles to adapting to changes in consumer preferences and seasonal shifts.
Big Data in the Food & Beverage Sector
The defining byproduct of the Digital Revolution is the wealth of data generated by so many touchpoints throughout any given network of devices. However, Big Data is also defined by the overwhelming volume of this information and how best practice requires being able to identify the right key performance indicators (KPIs) as well successfully directing the flow of data towards decision-makers. The fast pace of the food and beverage manufacturing sector combined with the many data sets developing at any given product stage can create a sense of chaos in a supply chain, but leveraging the tools of Industry 4.0 will allow you to consolidate these viewpoints and grant the ability to drill down at your convenience.
FDA Regulations and Quality Assurance Compliance
There have been an increasing number of food recalls over the past few years, which has caused federal regulators to devote greater scrutiny to traceability processes as well as release new guidelines on product safety in the case of the FDA. Both regulatory agencies and consumers expect the food and beverage industry to demonstrate better quality assurance and transparency in equal measure to fulfill public trust and preserve the integrity of any individual brand. This is easier said than done, of course, and even harder to sustain consistently – but the newly released regulations aim to partner with stakeholders from all parts of the food processing supply chain to identify and deploy technology solutions that streamline these requirements.
The New Era of Smarter Food Safety and Industry 4.0
The FDA established the New Era of Smarter Food Safety Blueprint with significant input from food manufacturers and processors, watchdog groups, and many others with expertise (and a stake) in both process manufacturing and traceability management technology. This guidance ultimately reflects the real-world applications of Industry 4.0, as one of its primary focuses is facilitating better data capture and delivery, as well as discovering ways to streamline quality assurance and traceback procedures among multiple parties through automation and Big Data. This regulation signals an expectation of incorporating and adapting to the digital transformation of your value chain, and not just from regulators, but from your own partners and consumers that contributed to its development.

Supply Chain Visibility and Automation Through Software
The COVID-19 pandemic made supply chain visibility an even greater need in manufacturing and distribution across the country and around the world, with many globalized downstream operations impacted. The widespread disruption brought on by the coronavirus proved the value of Industry 4.0 in a big way, with real-time remote connectivity and process automation through hosted IT infrastructure and distributed networks enabling unprecedented business continuity. Many businesses achieved their ROI and then some on migrating to more modern application stacks that empowered employees to continue working from home with little to no interruption in productivity, with some proclaiming significant increases on the latter from digitally transforming their operations.
Bottlenecks, Recalls and Disruption in the Food & Beverage Market
The importance of having a contemporary traceability management system in place cannot be overstated for a modern food manufacturer or processor. The pandemic only exacerbated existing pain points and made the consequences of a supply or production chain bottleneck – or a recall – that much more damaging to profitability, but software automation provides critical solutions to disruption and enables better visibility in a confusing matrix of data flows.
Manufacturing Software Hosted in the Cloud
Digital transformation has been propelled at least in part by cloud technology that allows users to access web-based resources where historically they would have been limited to on-premise deployment through static hardware. For food manufacturing and processing, data and applications that control your production and distribution chains can be stored in a secure hosted environment and interacted with collaboratively with the right permissions, from any device and any location.
Food & Beverage Manufacturing Needs New Technology
One thing that has become increasingly clear with the growing adoption of Industry 4.0 during the pandemic is that food and beverage manufacturers must look into replacing their legacy technology. Aging systems in both software and hardware ecosystems bring innumerable risks from decreasing productivity over time to creating huge cybersecurity gaps that can be uncovered and exploited through shadow IT networks. Your business will see diminishing returns the longer you rely on outdated applications for mission-critical functions and may eventually experience total collapse without digital transformation.
The Dangers of Legacy ERP and Other Outdated Software Systems
"Crown jewels" software like ERP too often languishes past supported lifecycles due to the costs to invest in new technology and to migrate data – and the big market push to the cloud brought up security concerns for some. Yet there are more dangers and many more risks to your ROI in keeping your legacy enterprise systems, such as the proliferation of cloud endpoints already in your network that could expose unpatched applications and the inability to connect with newer devices. Manufacturers that avoid digital transformation will find themselves falling behind competitors, partners, regulators and even customers that have come to expect a better standard for service.
Discover What Industry 4.0 Means for the Future of Food Manufacturing
Industry 4.0 can seem like a complex and possibly overwhelming concept, but SWK Technologies is here to help you better understand how to take advantage of the next leap in technology and bring your business into the future. Download our ebook below to learn more about what this future holds in store for you and discover best practices for modernizing your manufacturing with the right tools.
Download our free ebook here and learn more about the future of manufacturing for the food and beverage industry.