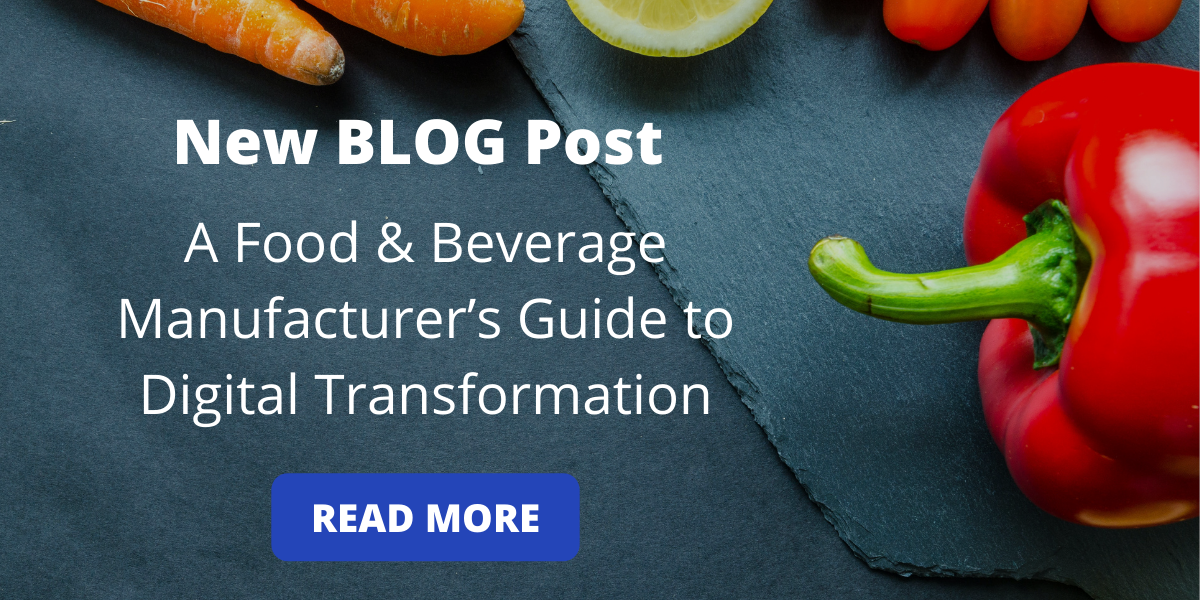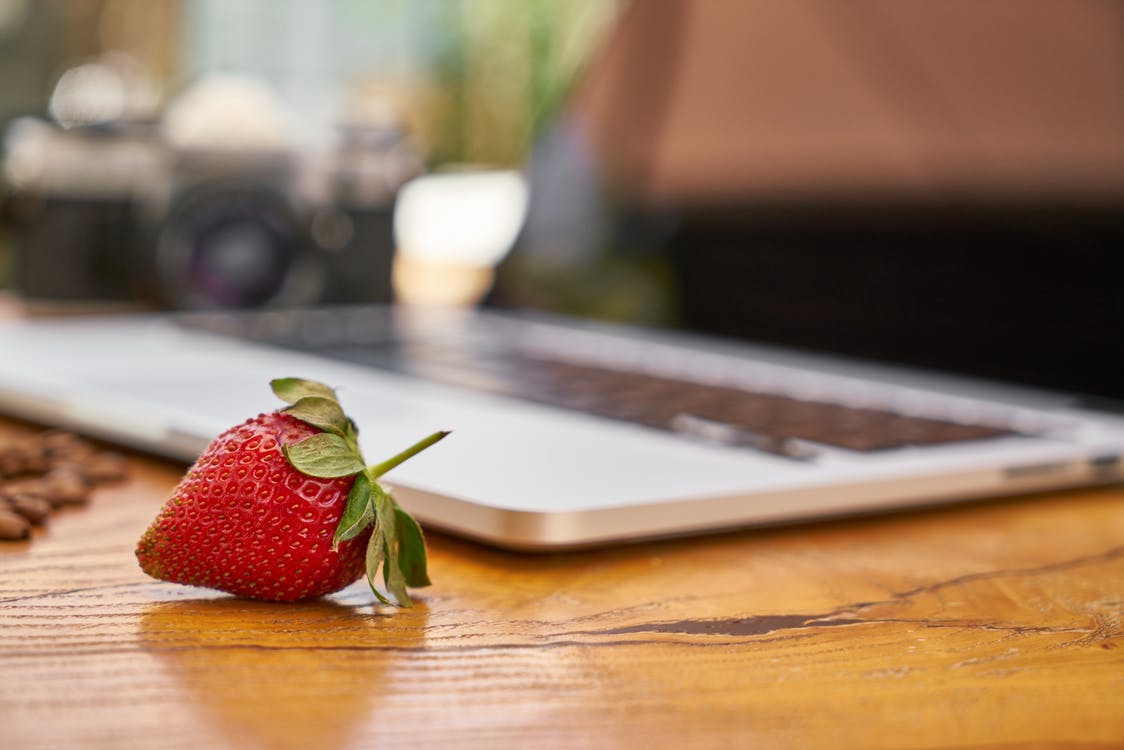 Download the Food & Beverage manufacturer's guide to digital transformation and discover how to modernize your business with cost-effective investment into the right technology. This InfoBrief by IDC (International Data Corporation) outlines the opportunities presented by emerging IT solutions for food processing and manufacturing, and how factors such as their convergence with operational technology (OT) will open new value to the industry. Most importantly, this report highlights the measurable difference in growth impact between those who have digitized processes and those that have not, and helps chart a path forward for the latter.
Critical to IDC's findings is the role of Enterprise Resource Planning (ERP) software in acting a central hub for software and IT stacks deployed by those in food and beverage manufacturing. ERP is integral to collecting and organizing relevant information from behind siloed touchpoints and ensuring access to the right KPIs (key performance indicators) for decision-making. This InfoBrief outlines how building a technology stack around the right system and integrated applications will enable businesses like yours to leverage digitization and adapt to a rapidly changing market.
Read below to discover some of the lessons included in the Food & Beverage manufacturer's guide to digital transformation by IDC:
The Role ERP Plays in Empowering Digital Transformation
ERP must be the focal point of your manufacturing solution stack in order to centralize the constant input and output of data, and control how it is delivered to decision-makers. However, it is also important to ensure that your systems communicate seamlessly to prevent silos that make you lose time and ultimately value as your processes progressively fall behind. Relying on cobbled-together desktop or even enterprise accounting applications will inevitably generate greater pain points, as the information drift brought by manual entry will lead to inaccuracies.
Implementing software designed for food and beverage industry needs will allow you to eliminate those extra steps and the disadvantages they bring, streamlining operations across your value chain. A modern ERP delivering capabilities beyond just financial management will empower users to optimize production planning and scheduling, inventory management and distribution conjointly, giving you control over your ROI.
Digitization for Food & Beverage Manufacturers
The digital transformation of the food processing and manufacturing sector has been underway for some time, and the benefits are obvious among those who have adopted it according to IDC's guide. Those who had previously made investments in these new technologies have seen 20% improvement in productivity and 18% in cost efficiency. Continued pursuit of operational excellence led to enhanced processes and increased revenue return among 49% of those surveyed.
Those manufacturers who have joined the Industry 4.0 revolution have seen the advantages of digitization firsthand, and these participants demonstrate the value of a comprehensive digital transformation strategy for food and beverage.  With access to modern tools and superior data visibility, your business will be able to mitigate traditional pain points and significantly consolidate compliance, communication and production lifecycles.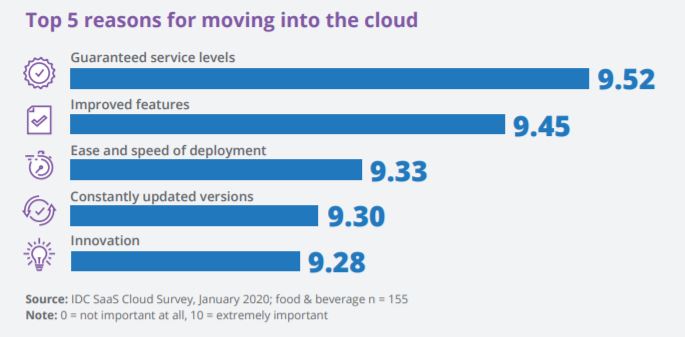 Keeping Up with Supply Chain and Demand
Your value and supply chains are inextricably linked, and in this increasingly digitally-connected world, standing out among competitors in a fast-paced market means ensuring two-way transparency with consumers. Many other channel factors will also impact your processes considerably, from raw materials and ingredient compliance to ensuring distribution of product. Leveraging digitization will enable you to capture the data you need to keep up with supply and demand signals, along with upstream and downstream developments, in real-time to be able to react to situations much more quickly and with more accurate information.
The effects of this strategy are apparent with the trends displayed among brand-oriented food processors and manufacturers over recent years. The IDC study found that while the industry at large experienced a 15% revenue drop in 2015, those leveraging digital transformation not only maintained their numbers but were able to grow margins 7% by 2017 while competitors struggled to recover.
Digital Natives in the Talent Pool and with Competitors
Millennials and Generation Z are the first generations to be called "digital natives" for having grown up with all the communication technologies of the 21st century which is significantly impacting their expectations in the workplace. User experience (UX) is an important factor for these demographic groups, which are already beginning to outnumber older employees in spaces that include the manufacturing industry. Your legacy food and beverage ERP and industrial control systems (ICS) are too outdated for these age groups, and both your incoming talent pool and your competitors are looking for more modern features.
The latter represent your biggest danger in being on the wrong side of the digital divide – lagging behind in adopting new technology will see market disruptors increasingly outpace you. Already the emerging players of yesterday have been able to leverage digital transformation to scale at a level that historically required the resources of an enterprise, and show little to no sign of slowing down.
ROI for a Manufacturing Software and IT Stack
ERP should be the central hub of your technology stack but implementing the right combination of integrated applications and infrastructure will allow you to build a true end to end solution customized solution for food and beverage manufacturing. There are several tools and IT assets you can invest in to extend your system's capabilities, however, capturing the ROI on these requires determining where your highest priorities live for the digitization of existing processes. The IDC findings indicated almost half of your competitors are looking to reduce costs, though expansion into new markets and performance improvement were close seconds.
The Internet of Things (IoT), artificial intelligence (AI), machine learning (ML), blockchain and more offer growing opportunities for manufacturers, though your business must accurately measure these benefits before making any haphazard purchases. Digital transformation provides the best return on investment when the value exceeds the cost, meaning that your new technology must provide a tangible advantage. Your manufacturing software and IT stack should deliver seamless data exchange, communication and UX across every module, enabling you to pursue your objectives without being stalled by silos and a disconnected ecosystem.
Deploying Intelligent ERP Hosted in the Cloud
IDC defines the modern iteration of enterprise systems as i-ERP ("I" for intelligent) and characterizes this new solution as one enabling strategic decision-making with real-time data, access to ML analytics, and an assistive user experience. Another key requirement for the next generation of ERP will be allowing for cloud connectivity, although the emphasis lies with featuring it as an option so that businesses will be able to determine the pace of migration. Hosting your software and IT infrastructure online comes with significant benefits and complex drawbacks that require a pivot in cybersecurity posture, and must be facilitated through the right service provider to ensure consistent endpoint protection.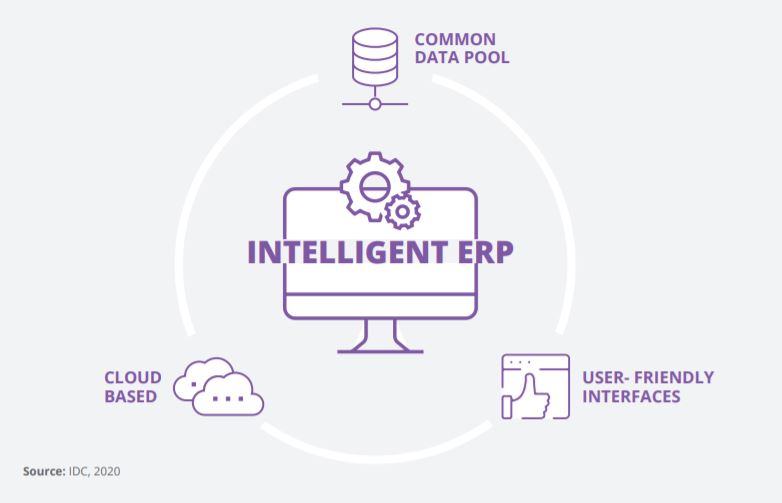 The New Horizon for Manufacturing with Scalable Technology
The IDC InfoBrief provides a few recommendations for starting your digital transformation strategizing centered around deployment of a modern i-ERP, broken up into three "horizons." The first step in these suggestions is to have a full, comprehensive understanding of your current technology landscape to determine where to begin building out your new IT infrastructure. This must start with a plan to migrate away from legacy systems and narrowing down the right enterprise software to act as the core component of your manufacturing solution stack.
Download the Food & Beverage Guide to Digital Transformation
Discover more of IDC's findings for yourself by downloading the InfoBrief and use these recommendations to help you chart your business's path to digitization. Your competitors that have pivoted to digital technologies are already benefiting from the advantages their previous investments have delivered, and you must work to bridge this divide before they continue to outpace you.
Download the Food & Beverage manufacturer's guide to digital transformation from IDC to help you determine how to start building out your migration strategy today.