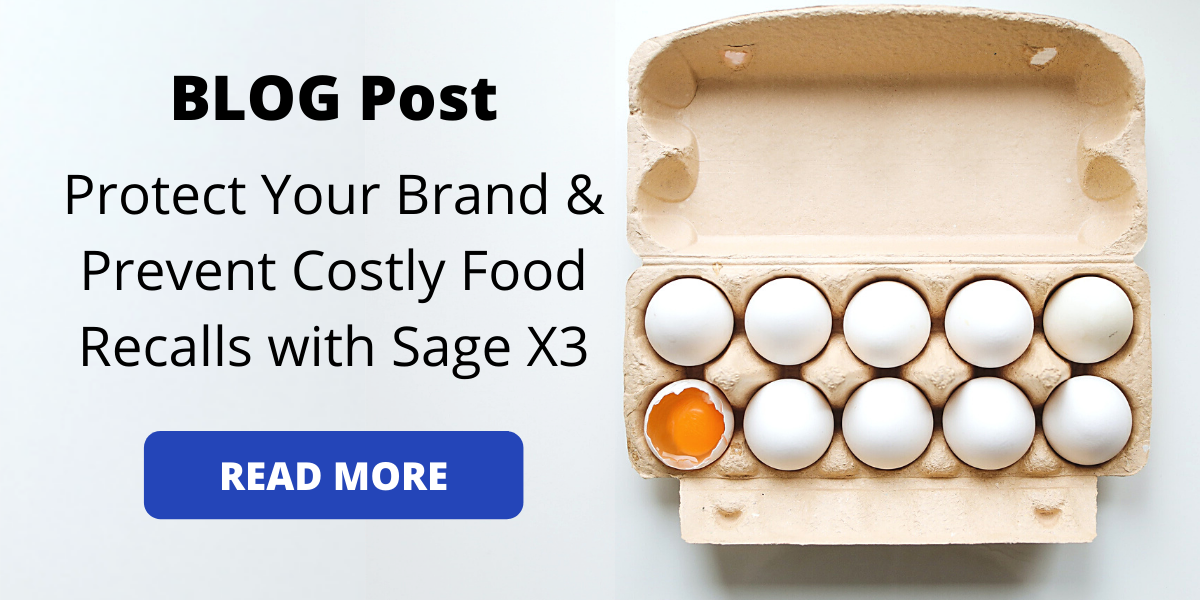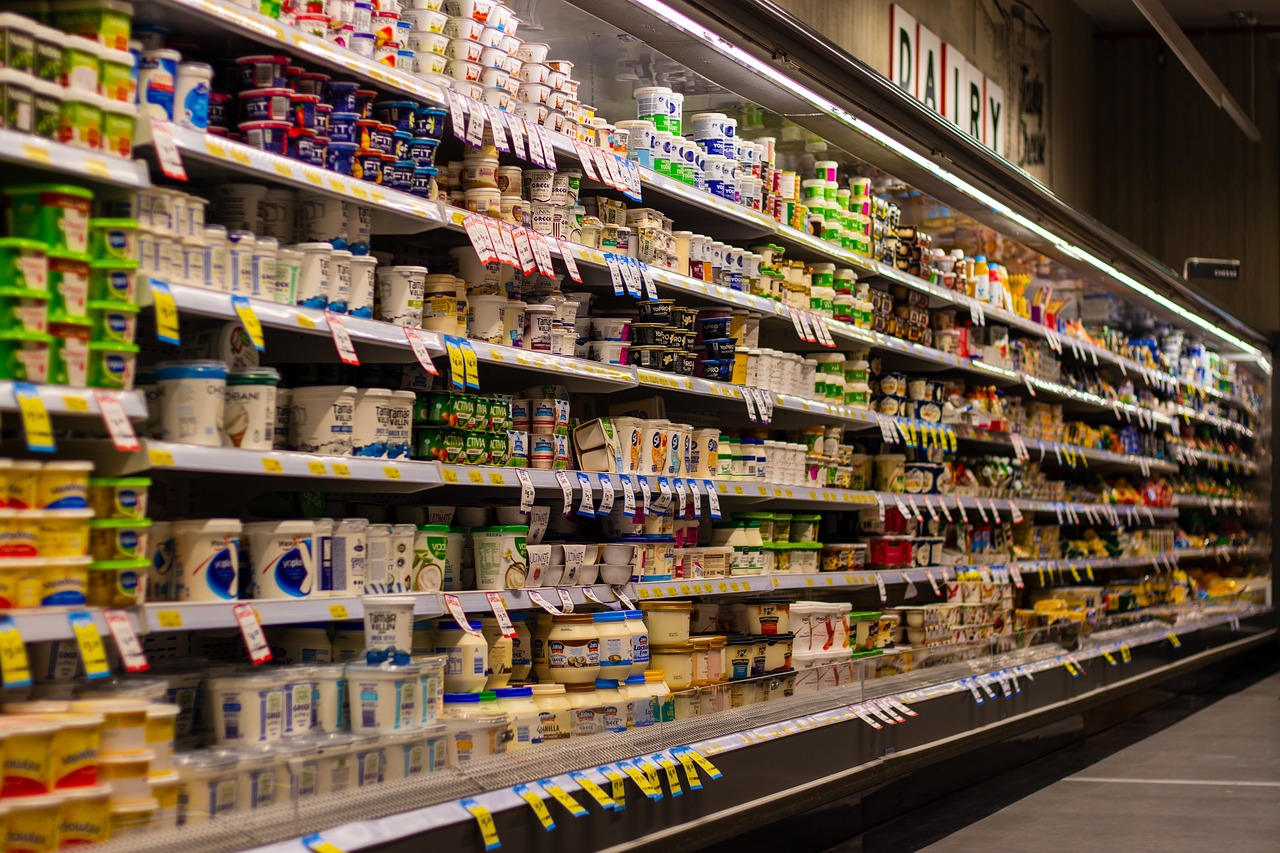 The custom Sage X3 traceability system by SWK Technologies will empower you to protect your brand and prevent costly food and beverage recalls. The FDA has introduced a New Era of Smarter Food Safety that heavily relies on digital transformation and will make new technology adoption effectively a regulatory requirement. Do not let a lack of traceback and audit trails kill your business – implementing this solution will grant you end to end supply chain visibility and allow you to fulfill evolving regulatory compliance.
The world of manufacturing and distribution has experienced fundamental change, from globalization to COVID-19, but demand for speed and transparency drive the current market. As a brand-oriented micro-vertical, food and beverage manufacturers must be adaptable to these drivers and capture visibility without disrupting supply chains more than they already have been. By implementing leveraging modern, data-driven solutions and processes, your business will be to position yourself for more consistent compliance with regulatory and customer demands.
Here are five ways Sage X3 will help you prevent costly food recalls and ultimately protect your brand:
A New Era of Food Safety, Transparency & Supply Chain Disruption
The FDA had a planned a New Era of Smarter Food Safety for some time before releasing its Blueprint midway through 2020, and the pandemic only reinforced the focus on technology. Enabling social distancing added incentive to tap into the many digital solutions available to manufacturers and channel partners for deploying traceability. The growth of food recalls throughout the 2000's had prompted the agency to take a different look at how the industry operated in order to more efficiently and successfully prevent adulterated product from reaching consumers.
The US manufacturing chain has become dispersed, and even among batch processors there exist many partnerships for end product to be introduced to a market. Simultaneously, customers have expressed greater demand for transparency in their consumables and accountability from producers and processors. Sage X3 will grant you the means to generate accurate labeling and recordkeeping, protecting your brand – and stakeholders – from adulterations that can originate from other areas within your supply chain.
Software Taps into Digital Transformation of Food & Beverage
Digital transformation is more than a nebulous, poorly defined buzzword – it reflects the reality of the growth of Internet-connected and web-based technology that has taken over our lives. The Business to Consumer space has been significantly disrupted by Google, Netflix, Airbnb and others that rely on SaaS and hybrid cloud infrastructures to engage customers. Your email, your smartphone apps and even this blog are all being provided for your consumption digitally via an offsite server somewhere likely far away.
The FDA is effectively standardizing digital transformation for food and beverage manufacturers through the Food Safety Blueprint, which obliges you to pursue traceability solutions. Software will be required in some shape or form for future recall management in order to connect to these and the systems of your partners throughout your supply chain for compliance recordkeeping. Without an application like Sage X3 for traceback, you will lack the data and electronic audit trails to fulfill emerging regulation.
Legacy ERP & Accounting Software Are Not Enough for Compliance
Technology is certainly not new to food and beverage manufacturing, with Enterprise Resource Planning (ERP) solutions, Industrial Control Systems (ICS) and other types of applications playing integral roles. However, many of these the sector has relied on have significantly aged and legacy software has proven to be vulnerable to the new realities of the times, like cybersecurity. Static, on-premise and singular function-driven ERP simply cannot handle the emerging requirements of a modern food recall, nor can disconnected, individual-use desktop software products.
SWK's Sage X3 bundle is designed for true, comprehensive supply chain visibility delivered by connecting your central financial and operational databases with every touchpoint in your channel. A real-time view is captured from every stage, from ingredient sourcing to warehouse and inventory management, and finally to shipping. This multi-layered, intelligent ERP gives you the tools you need to ensure your business works as a well-oiled machine not held back by silos that obstruct compliance.

Your Brand Must Keep Up with Big Data in Real-time
An example of a digital transformation that is easy to overlook is the evolution of data, which web-based systems have opened access to at unprecedented speeds. Just as the 2011 film Moneyball illustrated for baseball, executive decisions are not expected to be limited to intuition and analytics give food and beverage manufacturers robust insight into the market. However, this is a two-way street with multiple lanes that can overwhelm your forecasting with information from numerous touchpoints externally, internally, and for every supply chain partner.
Instead of being a new pain point, though, Big Data can and should be one of your primary tools for business resilience and surviving disruption. Sage X3 allows you to capture visibility and better accuracy for these touches up to in real-time, and then automate your repetitive but critical decisions to consolidate costs and time. With your ERP as your central software hub, you will be able to deploy proactive manufacturing and inventory management as well as scale your operations faster to meet disruptions as they develop.
Sage X3 Helps You Take Advantage of More Technology
Business technology is progressively replicating the path of consumer-facing applications in migrating to more automated and distributed solutions that streamline user activities. The cloud, AI, blockchain, Internet of Things (IoT) and much more are being introduced across enterprise supply chains around the world to reduce costs and accelerate operational speed. Sage X3 enables you to take advantage of these tools by acting as the centralized foundation for your application stack that allows you to collect, manage and feed out the data generated by every touchpoint.
Building a system around an ERP designed to provide end-to-end supply chain traceability will ensure that your workflows between modules remain connected, seamless and without constricting silos. X3 permits a controllable migration path to the cloud that grants flexibility as well as scalability for an integrated technology stack. As a top Sage partner as well as preferred hosting provider, SWK Technologies can help you discover the advantages of a remote or hybrid infrastructure strengthened by cybersecurity as a service.
Discover More Ways Sage X3 Will Help You Prevent Recalls
Leveraging digital transformation with the right ERP will empower you to protect your brand and deploy the solutions you need to streamline food recalls by taking advantage of the latest technology. Market intelligence firm International Data Corporation (IDC) found that Sage X3 would allow process manufacturers to position themselves for better resilience and fight disruption with these benefits and more – read our free InfoBrief to discover how.
Download the InfoBrief below and learn why IDC has categorized Sage X3 as an Intelligent ERP for brand-oriented manufacturers.