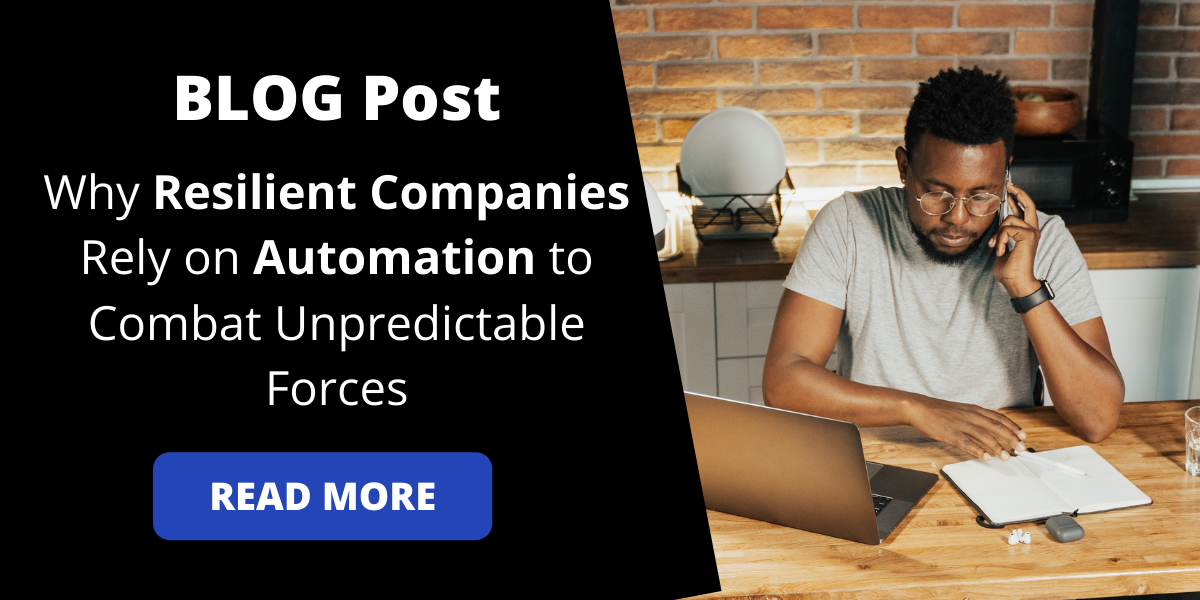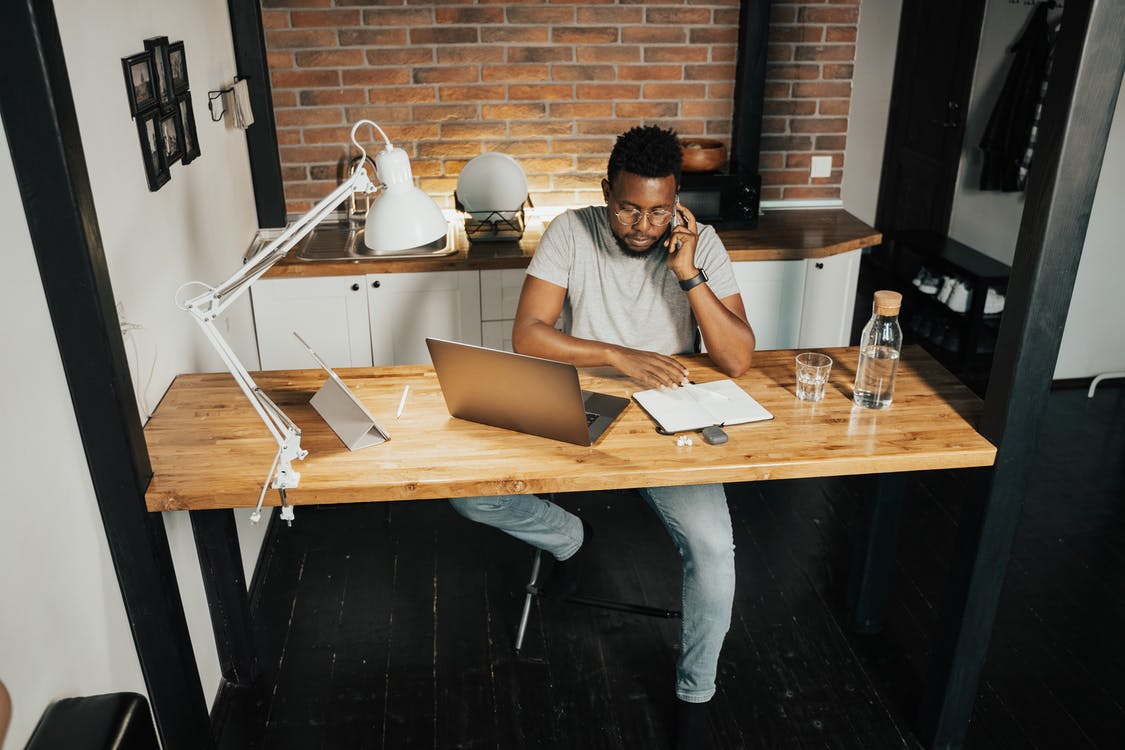 The new normal has reinforced that resilient businesses use technology automation to combat unpredictable forces that disrupt their market, learning from adversity to build effective solutions. COVID-19 forced millions across the US to shelter in place and essential workers to follow strict social distancing when onsite to limit viral exposure. This greatly impacted value chains that rely on multiple vendors and service availability, yet many companies have been able to pivot for the situation while some have even thrived in it.
Adapting with technology was a huge factor in widespread business resilience and continuity in 2020, as past investments in remote infrastructure through the cloud and ecommerce paid off tremendously for some. Automation through software helped companies cybersecure work from home access, meet compliance shifts, scale for distributed workforces and much, much more. Taking the lessons learned from these successes will empower your business to choose the right tools for automating your processes, adapt to disruption and sustain resiliency.
Here are the top five reasons why resilient companies use automation to combat unpredictable forces:
Business Continuity
Business continuity and disaster recovery have taken on whole new meaning in the 2000's, with frequent hurricanes, wildfires, one of the biggest terrorist attacks in history and a new global pandemic. The country has been repeatedly rocked by these incidents, along with many regional and national markets that have had to adapt to changes both temporary and enduring. Alongside these developments has been a surge in the technology made available for data storage and backups, replacing paper and tapes with electronic filing.
Traditional methods of backing up your data leave you vulnerable to the same dangers as keeping it on your servers, while leveraging the cloud and other digital storage strengthens survivability. SWK has seen this firsthand through our own customers, including one whose tape backups were forgotten on top of a server and lost with everything else in a fire. More resilient businesses have learned to take advantage of technology automation in ensuring neither disaster nor human error impedes business continuity.
Cost-Effective Scalability
Scalability through software ensures that your business will not be bogged down by runaway processes that cannot keep up with organizational growth. Relying on manual entry to handle individual tasks, like managing an increasing level of sales orders in both volume and size, will gradually siphon away money and working hours. As your company gets bigger, keeping to the same traditional "analog" methodologies will force you to continue delegating people to oversee repetitive tasks, rather than devoting focus to actual value generation.
Deploying automation allows you to consolidate these processes instead of letting them continue to multiply upon themselves, and replace them with smarter systems. Software like EDI and ecommerce integrations enable you to redirect labor from tedious manual entry to comprehensive reviewing, which studies show can triple employee resiliency. Change always comes with new challenges, but the right tools – and the right strategy behind them – help resilient businesses adapt and capture the best value from transformation.
Compliance
Regulatory compliance is evolving across individual industries and transforming the nature of digitally-powered global service markets. The European Union's GDPR, the California Consumer Privacy Act (CCPA) and New York's SHIELD Act have redefined data privacy just as economic nexus has for ecommerce sales taxes and even payroll tax in the new normal. This is to say nothing for the huge push for modernization of traceability regulations in food and beverage, along with other manufacturing and distribution sectors.
Many of these regulatory obligations have become increasingly complex over time, and new requirements are often introduced when unpredictable forces change the legal landscape. Are you confident enough that your entire business is staying up to date on every tax code change, safety guideline, and personal information rule across every process to bet your company on it? Software automation provides insurance that compliance activities include the right data and the right parameters for the latest regulations, without requiring manual updates that can be hampered by disruption.

Remote Accessibility
Many businesses had significant experience managing a distributed workforce even before COVID-19, while many others worked from home for the first time in their history in the pandemic. The new normal amplified existing growing pains with digital transformation, leading to a few missteps in remote work best practice. However, there have also been plenty of companies that have noticed considerable benefits in productivity and value return in the switch to electronic tools and hosted IT infrastructure.
Research has shown that one factor that increases resiliency is knowledge of adverse conditions (i.e., experience with COVID-19), and this reinforces lessons learned from remote connectivity for the past 20 years. Commercial SaaS (Software-as-a-Service) has been available in some form for the length of that time, but the journey to the cloud has been slow, with much trial and error. Meanwhile, the pace of IT reliance has also gone hand in hand with the frequency of market disruptions – all of these influences have fed into each other, and helped build the wide-ranging digital infrastructure many rely on today.
Traditional models have proven highly vulnerable to unpredictable forces, as disasters natural and human-made inevitably create network downtime and bring business to a halt. This only exacerbates the existing drawbacks in on-premise systems, like server maintenance and manual data migration, and supports the value proposition of remote IT environments and toolsets in times of disruption. One of the biggest signs of business resilience in this day and age is the ability to leverage modern technology for preparation, and the level of continuity being achieved through cloud automation underlines this point.
Time & Budget Savings
Saving costs and time has always been a narrative driver of automation across industries and new technologies, but the meat of the message can differ between them and gloss over the universal impact. The key component of digital transformation is value – digitizing any or all your processes should not be done for novelty, but because it actively improves them. In other words, deploying robots and AI is only going to save you as much money as you get back in profit from deploying either of these tools.
Automating your operations through technology should deliver on two key fronts – enhancing existing procedures and enhancing stakeholder value. The latter applies both internally and externally, as you should be striving to improve the experience for software users as well as for your customers. Resiliency increases substantially when trust, leadership and enjoyment are present, which means human factors should be an integral part of your revenue strategy.
Streamlining activities in place should also feed into this by ensuring your solutions deliver seamless user functionality, without manual entry and static reporting limitations. Your tools should provide the same browser-based experience your employees see in their personal lives – to do that, your technology stack must operate as an integrated, unified system where data flows freely but securely. Resilient companies are able to maximize time and budget savings from automation by using it to enhance value where it has the greatest return – with people.
Learn How Software Automation Can Make Your Business More Resilient
The Strategic Technology Advisory Team (STAT) at SWK Technologies can help you discover exactly where automating your processes will deliver the best value and the right solutions to do it. Engaging this group of former business owners and subject matter experts will enable you to uncover opportunities for optimizing your business operations and getting the best ROI on your software investment.
Contact STAT for a free technology strategy consult and discover how to leverage automation to make your business more resilient.
APPLY FOR YOUR FREE CONSULT HERE