Get our comprehensive guide to business survival in a crisis  like the coronavirus pandemic. Download the ebook here.

As the impact of COVID-19 persists for businesses across all industries, the path to continuity and survival for every company is through customer relationships. Businesses that cannot supply the demand of their stakeholders are struggling, maybe even closing their doors, while those that are learning how to adapt their value chain are pushing past this crisis as best they can. The widespread business shutdown has proven the advantage of digital technology and preparedness and shown how software platforms enable work to be done remotely.
Whether for telecommuting, product fulfillment, or service delivery, modern systems have helped optimized operations in the face of limited person-to-person contact to comply with social distancing. Still, even the most advanced tools are only as valuable as the people to implement and use them – working in this uncertain environment means that your company requires whole new ways of thinking. Whether following Harvard Business Review's HEART system, or another approach such as SWK's current crisis support model, the defining factor that will make or break the future of your business will be how you treat your stakeholders.
Here are five ways to manage your customer relationships during and post a crisis like the COVID-19 pandemic:
Help Your Customers by Guiding Them Through the Changes
In an atmosphere of uncertainty, education is key and knowledge is power (no matter what Game of Thrones may say…), but only when that information leads to actionable data. The first step is to guide your customers through the changes your side of the business will be going through, and the next is to outline the solutions available to help ensure business continuity. SWK has achieved this through delivering a comprehensive Business Survival Guide as well as breaking out the chapters into our Remote Taskforce webinars, covering topics from cybersecurity to HR and payroll management while working from home.
To keep your customer relationships strong during COVID-19, you must be able to provide them with the intelligence, guidance and direction that makes your value delivery a seamless interaction. Stay on top of and ahead of all shifts, and provide regular updates on closings, delays, product changes and promotions to keep your clientele informed and appeased. Learn what your audience needs and help them discover how your service will best help in these trying times.
Empathize and Communicate Like a Human
Some of you rolled your eyes at the above heading, while others wrote it down word-for-word. This is an activity easier said than done for many – just take your own company's external coronavirus communications, and compare it against the dozens to hundreds of similar messages cluttering your inbox over the past several weeks. How fast did you skim through each email, or placed it in Junk folder without a second thought?
Striking a balance between natural and professional communication in a time of crisis can seem tricky, but whatever you say to your customers right now must come from an honest place while still respecting their boundaries. Be mindful of how your service affects each of your clients, as well as how COVID-19 is affecting their lives and their own business. Also remember the old maxim of "actions speak louder than words" – in this case, actions should be followed up by words and you should communicate your key activities during this time, including any efforts you take to ease your customers' burden as well as those of your employees.

Become a Pillar of Support and Stability in Uncertain Times
Another sounds-easier-said-than-done recommendation, executing a real, impactful level of support in the age of COVID-19 requires your business to make significant choices. SWK has opted to defer some payments and help certain clients acquire low-interest loans to ease their financial burdens during this time – our service should not make our customers go broke, especially in the middle of a crisis. As Antonio Carrion, our VP of Marketing, succinctly puts it, "…it's not a time for a hard sell."
Just as important as showing support is delivering stability, but this can – and should – come in many forms. From making it clear your business will stick to your core values to continuing to provide support resources seamlessly, your customers should know that your partnership is defined by consistency and dependability. Value has to be evaluated by the long term versus short term returns to truly secure your client relationship management.
Keep What Works But Adapt Quickly (Even If It's Risky)
SWK Technologies has been forced to be flexible right alongside our customers, developing customizations and integrations at scale for quicker stopgap implementations. This is where providing stability and empathy have to meet, as rigidly keeping to the exact same sales models and marketing tactics in a crisis will not be endearing to your clientele. At best you will seem tone-deaf and forgettable, and at worst, uncaring and obviously not  trustworthy partner to ride out COVID-19 with.
Businesses sticking out in the midst of this pandemic are those that are going the extra mile to help those in need or on the frontlines of halting the coronavirus. Some manufacturers like Louis Vuitton's parent company and one of SWK's own customers have shifted whole production lines to make masks for healthcare workers or other desperately needed items. Other companies have simply scaled up their digital platforms to stay connected with both customers and employees, or deliver more affordable solutions through eCommerce of similar channels.
Your business is stronger than COVID-19. Get our detailed guide for the insight to overcome this difficult situation.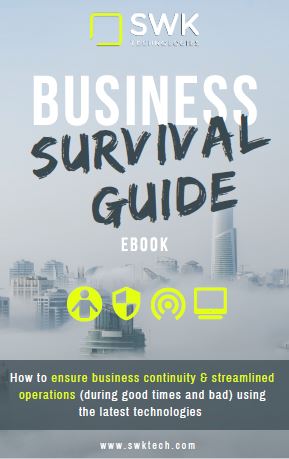 Chart the Path Your Business Will Take Beyond COVID-19
If there is one thing you must remind both your customers and yourself, is that there will be a future beyond COVID-19. While no one can say for certain when and if the virus will cease to be a serious concern, life and business will continue to go on. Even now, the ability of so many companies to adapt their operations to the new normal with limited social contact, working from home when able to and protecting those who work onsite as needed, proves that there is a way past this crisis.
It is imperative for your customer relationships that you build the roadmap for how they will look in the future. Let your clients know you are already planning ahead and charting the paths your processes and your value delivery will take as both are adapted to the evolving situation. Show that you want your partnership to last by preparing for it, being there for your customers as you journey through this crisis together.
Lastly, think to yourself: when this crisis has passed, how do you want your customers to speak about you as they reflect on the challenges they were facing? Will they say you were a true partner that looked beyond the bottom line to support them? Or will they decide your value is shallow and look elsewhere for a true partnership? Your actions today could have a deep impact on your business's success moving forward.
Leverage Technology to Generate Value for Your Customers
Above all, technology solutions are providing the most effective way to keep operations going during these uncertain times. Whether for allowing seamless telecommuting or for goods and services to be delivered remotely, software, network and mobile applications have taken on a whole new importance for businesses across the globe. Staying on top of technology is quickly becoming a game-changer for those that want to keep their doors during COVID-19, and a lifeline for those that would have no other way to stay in business.
Contact the experts at SWK Technologies today to explore how technology can help you manage your customer relationships now and beyond the coronavirus pandemic.
Talk to Us – We're Here for You