Fortune Title Agency is a title insurance firm based in Roseland, NJ with services offered nationally, which include providing title insurance policies, settlement services, and informational title reports.
Nicole Plath, who joined the agency in 2008 and was appointed CEO in 2014, says that Fortune Title's quality of service is "what sets us apart" from other title insurance providers.
Part of this service quality includes protecting a very important client asset – data.
"The two most valuable assets that hackers want are the NPPI (Non-public Personal Information) and escrow funds that we manage," says Nicole. "It's part of the nature of the work that we do."
The greatest danger title agencies and their customers generally face is from scammers who hack into their communications. After surveilling negotiations, they will swoop in and try to imitate a party in the transaction so they can redirect the wire towards their account.
"Wire fraud is super prevalent right now," says Nicole. "The two biggest issues for me are wire fraud and data theft."
Nicole recalls one specific instance where one of Fortune Title's clients unfortunately fell victim to wire fraud – and where SWK had to step in to help rectify the situation.
"I had a buyer who contacted my employee on a Sunday morning, 'Did you guys get my wire? You emailed me and told me to send the money to this account,'" says Nicole. "We had to tell him we didn't. They tricked this guy into sending $10,000. I contacted SWK and told them the situation."
SWK's Network Service engineers immediately did an examination of Fortune Title's network to track down any signs of a breach. However, they were able to determine that Fortune Title had not been compromised and the client had fallen for a spoofed email on their end.
"SWK was able to prove that they did not hack into our system, and because of that insurance covered $5,000 of the damages," says Nicole. "I was able to get the client that money back."
Besides their inclusive Network Assurance managed service plan, Fortune Title Agency leverages several other IT solutions provided or managed by SWK to defend against data exposure and loss.
Most importantly, SWK Network Services has significantly improved Fortune Title Agency's business continuity and disaster recovery capabilities by providing a cloud-based data backup solution.
"SWK's disaster recovery solution is excellent," says Nicole. "We've had issues with our terminal server going down, etc. That's a big thing for me from a compliance perspective with my vendors."
Title insurance agencies are regulated by their partners as well as by regional authorities, and firms that cannot demonstrate compliance can lose business. Business continuity is a best practice that Fortune Title must abide by to stay competitive.
"If I was to lose power, I would need to be functional in a few hours," says Nicole.
SWK Enables Success for Fortune Title
Nicole has seen a significant difference since migrating from an in-house IT model to having SWK as Fortune Title's MSP. The security solutions provided by SWK Network Services have improved the agency's ability to meet best practices for safeguarding client data.
"My relationship with SWK has drastically increased the level to which I am protecting my data and my money," says Nicole. "I now have vulnerability testing, and penetration testing, which makes my company a better company."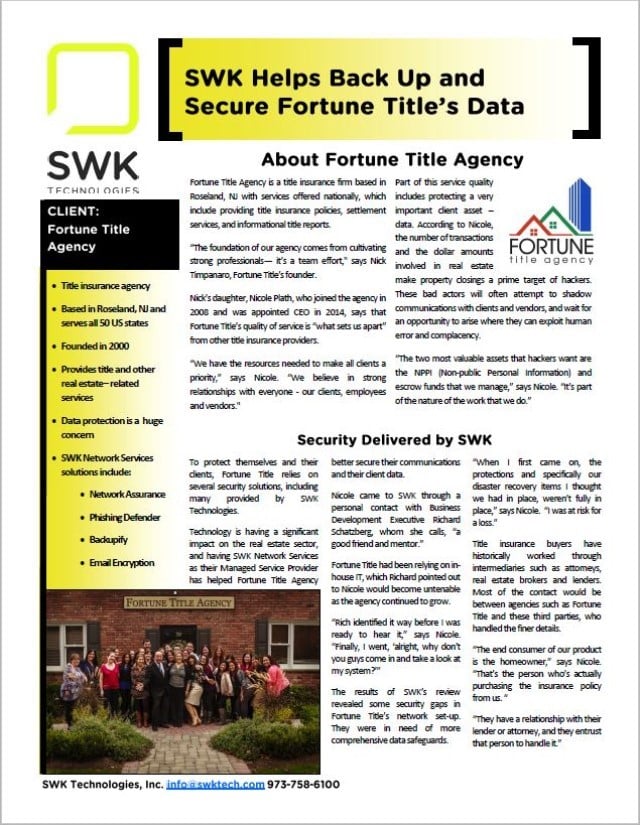 ---
Learn More About SWK's Data Backup Solutions and Other IT Services

---