Download eBook
The Future of Manufacturing
Digitally transform your business and get ready for Industry 4.0
SWK Technologies respects your privacy and we are committed to protecting it. We will NEVER sell your contact information or any related information you submit to SWK Technologies to a third party.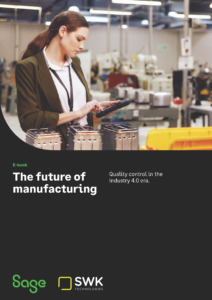 Why is Industry 4.0 important to your business?
10 tips to help you take advantage of Industry 4.0
Discover ERP Capabilities for Food & Beverage
Lab & Formulation
Dynamically adjust formulas during both product development and production to meet specified target characteristics.
Lot, Batch & Serial Tracking and Traceability
Quickly track and trace suspect materials from receiving through shipping, shipping back to receiving, or anywhere within WIP.
Regulatory Compliance Reporting & Labeling
Keep compliant with industry-specific and federal regulations, lot traceability reports, transactional audit reports, and shipping documentation.
Quality Assurance & Food Safety
Increase supply chain visibility, traceability, and food safety, and maintain product quality by identifying tainted inventory more quickly. Track ingredient and product conditions from procurement to distribution, enabling supply chains to react quickly in the event of a food recall.
Costing and Comparative Analysis
Roll up existing and theoretical product costs, as well as fixed, tiered, and scalable costs, to formulas, intermediates, and finished goods during product development.
Food & Beverage Sub-Sectors Supported by SWK
DAIRY
CONFECTIONARY
NON-ALCOHOLIC BEVERAGES
OILS, SEASONINGS AND DRESSINGS
SNACK FOODS
FRUIT & VEGETABLES
HOW CAN SWK TECHNOLOGIES HELP YOU?
SWK Technologies is a business application and consulting company providing strategies and solutions to meet our clients' information and business management needs. We make technology work for you, and provide the experience and expertise to get the job done by working with both your needs and the business management software that actually support your ways of doing business.