Mold In Graphic Systems® (MIGS) is a manufacturer and distributor of permanent labeling used for polyolefin plastic materials. Founded in 1983, MIGS operates from a manufacturing facility in Clarkdale, Arizona, and distributes their products to five continents. "About half of our business is now overseas," says current President, Matt Stevenson.
His father, Mike Stevenson, began what would become MIGS out of his garage while living in California after seeing the need for permanent labeling for plastic surfaces. "[He] was approached by a customer who was frustrated with not having permanent labels on their drink dispensers," says Matt. "That's what spurred the whole thought process in his head that there had to be something better, which is why he invented the first Mold In Graphic® in the first place. The company has gone on to serve literally thousands of customers worldwide."
MIGS distributes their products internationally through partners in Europe, Asia, Africa and both American continents for use in dozens of sectors. "Almost every industry uses plastics," says Paul Bolen, MIGS' Senior Director of Systems Administration. Mold In Graphics caters to a wide range of customers, from automotive manufacturers to nonprofits to food service businesses, and their clientele includes names such as YETI, Hobie Kayaks and General Motors. "If you see a John Deere logo embedded into the plastic on any John Deere equipment, we made that," says Paul.
A True Manufacturing Solution
Mold In Graphics had previously used Sage 500 (formerly MAS 500), but decided that it was inadequate for their needs. They had incorporated several external solutions to manage their many separate processes, but could not connect them to their Sage 500 database. MIGS was forced to rely on manual entry in several different siloes, which also cut off visibility between departments and prevented them from sharing critical data.
MIGS began reviewing alternative software solutions before migrating to SAP Business One (B1) in 2016. However, they quickly ran into obstacles with their new system and found that it did not fulfill their expectations for functionality or pricing. "SAP did not meet our business needs at all," says Paul Bolen.
The MIGS team had also viewed Acumatica when deciding between software choices and reached out to SWK Technologies to get another look at the cloud ERP. They found that the system had advanced considerably since they last saw it in 2016, and became convinced that it would continue to grow and be supported into the future. "Everybody was raving by how mature the program became," says Paul. "Acumatica had come a long way."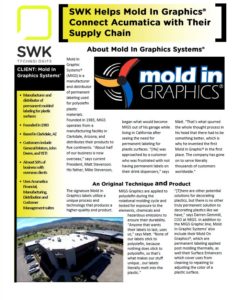 Interested in Acumatica for Manufacturing?