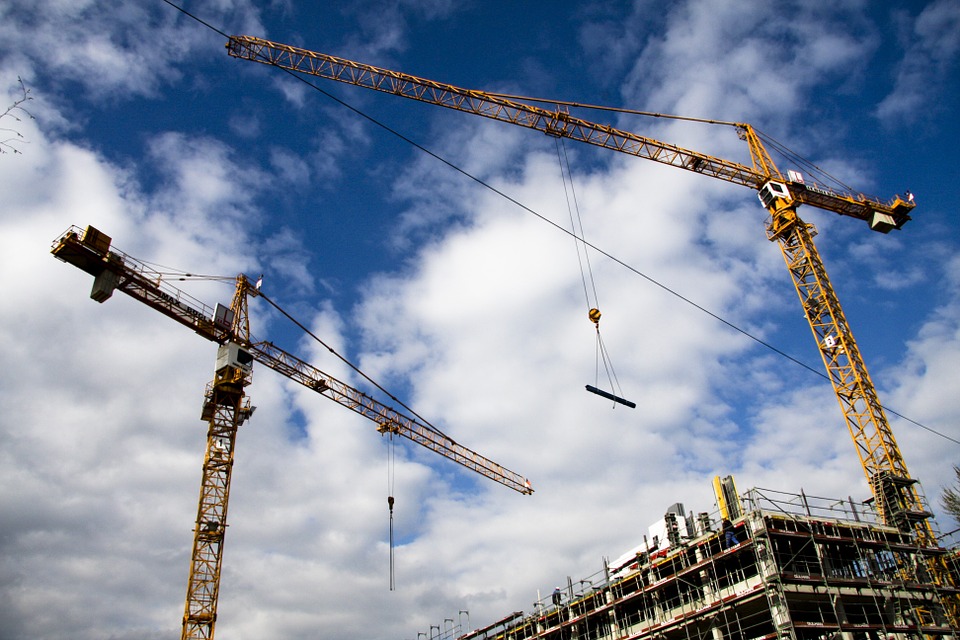 Take Construction Accounting to the Cloud with Acumatica
Cloud construction management software delivers several valuable advantages to firms and contractors, including scalability, mobility and real-time visibility from any access point. SaaS, IaaS, and PaaS grant you better resource control, improved job cost and budgeting insight, and faster communication than legacy construction solutions afford you. Traditional analog software applications force you into rigid siloes, but cloud technology, such as Acumatica, allows you to connect, review, and execute on-the-go with only your Internet link deciding your business pace.
Acumatica provides a robust project accounting and management software solution based in the cloud that lets construction SMBs gain real-time visibility into their operations. This cloud ERP enables your business to capture ROI on your contracts by streamlining your processes and giving you a comprehensive view of your finances.
Here are five benefits of using cloud-based construction software for project management and accounting:
Field and Project Management in Real-time with the Cloud
Cloud applications give you anywhere, anytime access that allow for instant connection with every touchpoint in the field. Leveraging this technology empowers you take control of your operations directly with immediate two-way communication and real-time insight on field resources. Additionally, without having the redundant entry required of static on-premise systems, field data is easier to organize and weed out for inaccurate reporting.
Field service management in the cloud also allows for easier and more consistent documentation, with electronic recordkeeping ensuring quicker data reconciliation. With SaaS project management and accounting software for construction, your managers, contractors and subcontractors are all connected to the same single version of truth that helps avoid inconsistencies.
Construction Mobile Apps Grant Reporting Flexibility
Using a SaaS solution for your construction management allows you to take advantage of mobile applications for field operations as well. Cloud software can be deployed through a desktop computer as well a tablet or smartphone mobile app with the same level of functionality. Keep track of your construction projects and subcontractors with data fed directly from the field into dashboards you can view with the device in your pocket.
Increased Scalability
Web-based construction software is inherently flexible, easy to modify, and delivers better scalability than legacy systems. Cloud ERP is not beholden to hardware hosting requirements and resources can be deployed, transferred and adjusted as your business grows and gains more users. Acumatica also features a unique cost model that enables you to grow unhampered – instead of traditional user-based pricing, you pay only for the computing power you actually require.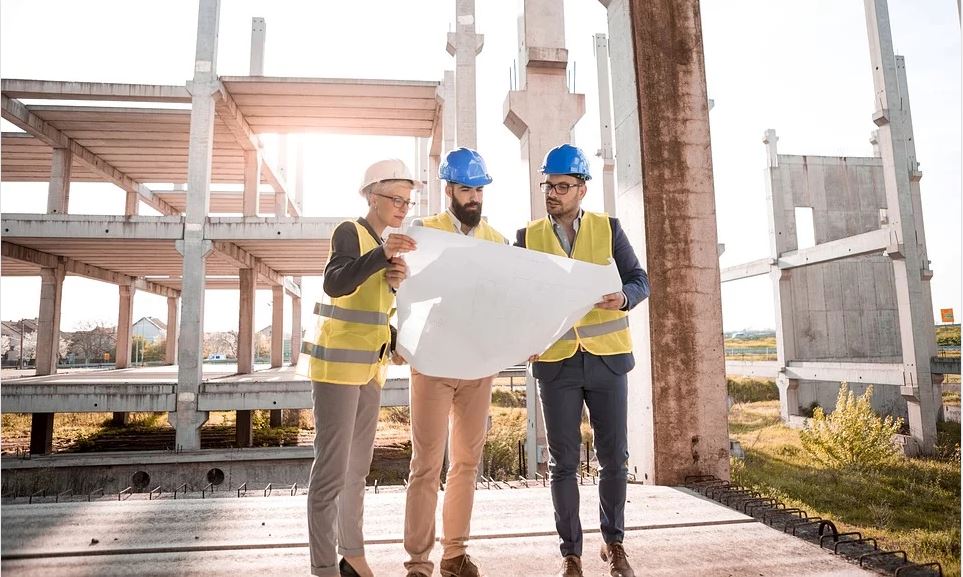 Improved Customer Service and Communication
Ensure that you stay in touch with your customers by connecting your construction management software with your CRM in the cloud. Consolidating your applications in a SaaS environment grants you access to real-time client data gathered in the field, allowing you act on opportunities and developments as they form. Address concerns, project disruptions, and potential unit improvements quickly and efficiently with your cloud ERP and customer management suite.
Real-time Accounting and Reduced Costs
Cloud-based accounting and job cost software gives your construction business a live view of your finances on-demand. Using Acumatica's project accounting functionality, you can consistently and accurately track the expenses of each contract and forecast for ROI well into the future. Ensure that your money is being spent only on what it needs to be and cut down on tedious paperwork and reconciliation tasks when you migrate to financial management in the cloud.
Cloud ERP will also save you costs on technology investments as it sheds traditional deployment charges. Without the hardware overhead from on-premise server implementation and maintenance, your construction firm will save significantly on one of the biggest historical costs of software installation.
Manage Your Construction Projects and Accounting with Cloud ERP
Acumatica provides your business with a modern cloud construction management system that offers state-of-the-art field service and accounting functionality. Consolidate your disparate data siloes and capture a single version of truth for construction project and finance management using the latest technology, including enterprise functionality delivered as mobile SaaS.
Download our white paper here to discover 5 Ways Mobile Cloud ERP Can Transform Your Construction Business.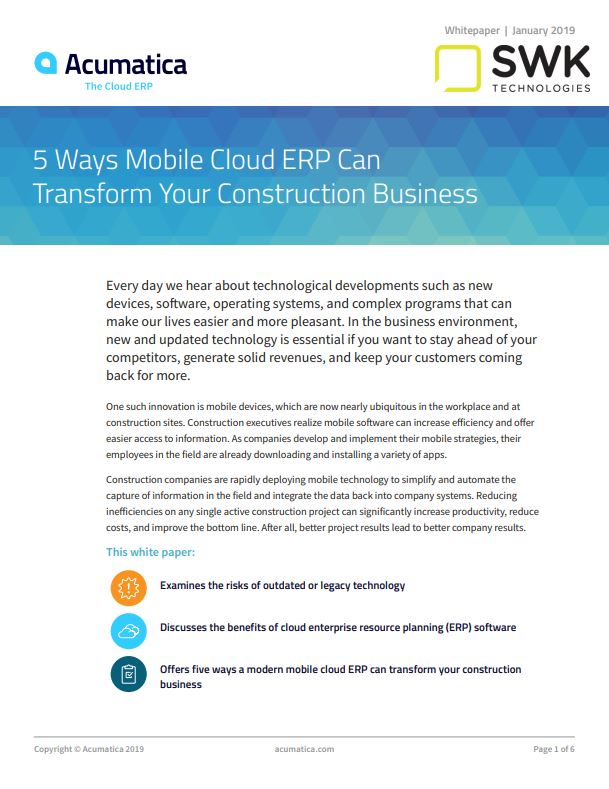 Fill Out the Form to Download the White Paper