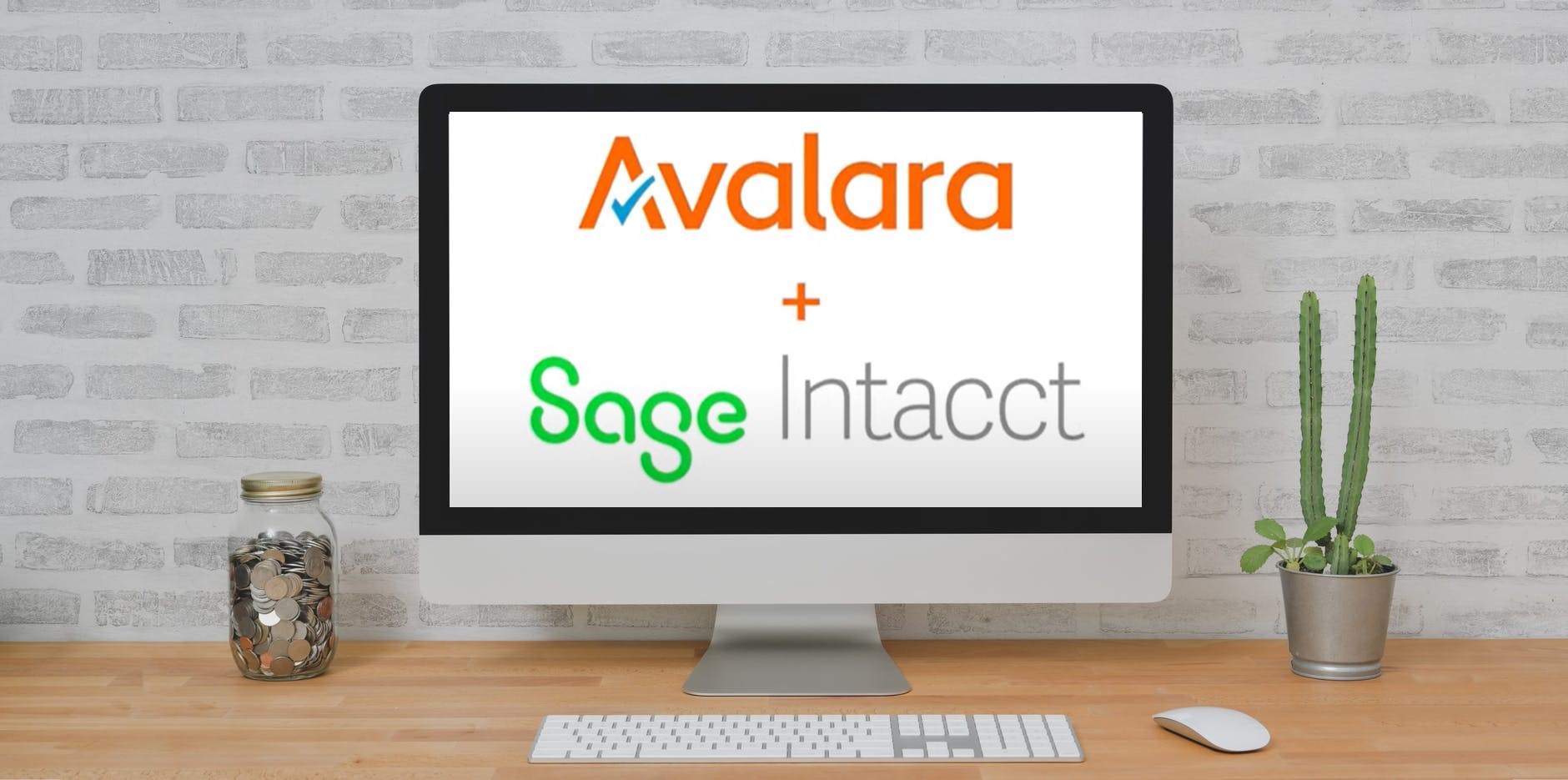 The Sage Intacct and Avalara integration significantly extends the sales tax automation capabilities of your accounting software, empowering your finance team to consolidate transaction workflows and enforce compliance with economic nexus regulations. This pre-built connector between both SaaS solutions allows users to manage complex tax calculations, exemption applications and remittances automatically from a consolidated screen.
Here are the key points to know about the Sage Intacct and Avalara integration, and how it enables you to apply end-to-end sales tax automation in your ERP:
Sage Intacct & Avalara
Sage Intacct is a best-of-breed enterprise accounting system built in the cloud and deployed in a multitenant environment. The platform offers several core modules for general financial management as well as industry-specific functionality for sectors such as nonprofit, healthcare and professional services.
Avalara is sales and use tax software leveraging SaaS connectivity to keep databases compliant with the latest regulatory changes and rates, automatically calculating tax on transactions and verifying exemptions on recorded accounts in real-time. It contains a vast library of taxability rules across thousands of jurisdictions from the federal level to local municipal tax rates.
ERP Sales Tax Integration
Out of the box, Intacct has some limited functionality for managing tax reporting on transactions being processed and recorded within the ERP, but these pale in comparison to the capabilities that Avalara delivers. No other solution provides a similar native integration that serves this need, and with this connector Sage Intacct users are able to leverage Avalara's features and services for sales and use tax automation directly from their accounting software, including:
Avalara AvaTax
AvaTax is a cloud-based, AI-powered tool that automatically calculates sales tax on a product or service at point of sale (POS). Tax tables are updated in real-time through the cloud and taxation is applied in accordance with the latest regulations (from international down to state and local levels of nexus) to ensure compliance.
Avalara CertCapture
CertCapture allows you to create, record, apply and validate exemption certificates on customer accounts at POS. Collected exemptions are stored within your ERP and can be automatically validated against the certificate on file for the account.
Avalara Returns
Avalara Returns provides solutions as well as managed services for filing and remitting sales and use tax payments. There multiple product versions available for Return based on your business size, all offering access to historical data analytics as well as filing and remittance services.
Sales Tax Automation by Industry
Sage Intacct and Avalara both offer several features out of the box that solve more esoteric financial reporting needs among different industries, including:
Manufacturing & Distribution
Manufacturers, distributors and any other business that serves consumer goods faces a wide range of tax obligations even before economic nexus appears. The majority of these companies are exposed to increasing amounts of tax risk that can trigger an audit at any time, whether from ecommerce sales or even from brick-and-mortar storefront purchases that cross state lines. Additionally, those in manufacturing will too often overlook use tax returns on their own transactions until they are already being audited for missing dues.
Integrating Avalara with Intacct allow your business to avoid this by ensuring you are able to track, apply and report on the appropriate sales and use taxes or any given transaction from one unified workflow. Tax rates are calculated and applied POS according to the nexus of obligations linked to the product type, customer location, sales channel, etc. and added to your financial reporting data.
Technology & Services
Whether delivering professional services or digital products, economic nexus and marketplace facilitator regulations have created greater incentive as well as convenient precedent for states to apply sales tax on these items. Even if delivery on some of these are not remote, tax obligations can still be applied across either side of the channel depending on esoteric jurisdictional rules. Avalara keeps track of all of these rule sets for your Sage ERP, and updates tables frequently through the cloud to prevent reports containing legacy rates and exemptions, and ensure compliance with the latest nexus laws.
Nonprofit Organizations
Not every type of nonprofit organization (NPO) is tax-exempt, and neither is every kind of transaction a not-for-profit group may be involved in for every US state. Even many of those that qualify for exemption on their own purchases must still collect and remit sales and use tax on goods or services provided to customers. Additionally, tax exemption statuses have been increasingly scrutinized post-nexus by many states which lose what is estimated as billions in revenue.
Connecting Sage Intacct with Avalara enables your organization to take advantage of the reporting capabilities of both to capture the visibility they need as well as track tax obligations and exemption certificates for compliance.
SaaS Cloud Connectivity
Born-in-the-cloud SaaS systems offer several benefits over traditional on-premise software, chief among added levels of flexibility, scalability and cost reductions on total cost of ownership (TCO). Intacct and Avalara are both native cloud solutions that can be deployed quickly without needing to invest in hardware infrastructure – but more importantly, with a continuous Internet connection they are able to be updated on the fly without needing to take your network offline. For tax updates, this means that your databases will be able to keep pace with the latest regulatory changes, empowering your team to continue managing transactions with no interruption.
The Avalara Service Value
The best solutions are those that offer more than just a standalone product, and Avalara delivers support and several services for Sage Intacct users leveraging their integration between both systems. From compliance enablement to filing and returns, Avalara's experts are there with you every step of the way.
Sage Intacct Ecosystem
Intacct was designed to deliver deep functionality for accounting teams no matter their composition, industry or unique pain points, while simultaneously providing a pathway to connect other systems and data. Sage Intacct features a robust marketplace of partners with hundreds of integrations available and cloud APIs that enable custom development of additional connectors. These include several other best-of-breed applications such as Salesforce for CRM or ADP Workforce Now for HR and payroll needs, ensuring that your business can build the IT stack you need to maximize productivity.
Learn More About Integration with Intacct from SWK
Avalara is one of many third-party solutions that can be integrated with Sage Intacct to extend your ERP's capabilities and produced a unified software stack focused on performance. As a longtime Sage ERP  partner, SWK Technologies has the expertise and resources needed to help you make the right technology investments to ensure the best value return – talk with our consultants today to learn more.
Contact SWK here to discover all of the integration options for Sage Intacct and see how you can take advantage of a software stack built on the best technology.
Learn More About Sage Intacct & Avalara