Gain Reliable Network Support with SWK Managed Cloud Services
The Network Assurance program with SWK Technologies provides your business with a different kind of IT support that identifies and protects you against your biggest risks while closely managing your costs. Our Managed Cloud Services engineers monitor and protect your infrastructure around the clock, enabling fast incident response as well as the ability to provide solutions that will continuously improve your network resources. We will leverage our deep experience with managed IT, cybersecurity and business management software, as well as that gained from serving the infrastructure needs of various industries, to ensure the health and security of your mission-critical technology.
Here is what is included with SWK Network Assurance how our services and solutions deliver a different kind of IT support:
What Network Assurance Offers
As an award-winning managed service provider (MSP), SWK is equipped to handle a wide range of mission-critical technology needs. We provide access to a large variety of solutions that are included in our Network Assurance core program, fulfilling roles from security to proactive maintenance to application management. Some of the solutions featured include:
Diagnostic software monitoring your server and workstation health
Web filtering for each workstation
Update and patch management
Antivirus and antimalware software
Remote workstation support
Predictive maintenance for each server and workstation
And more!
See the graphic below for a full list: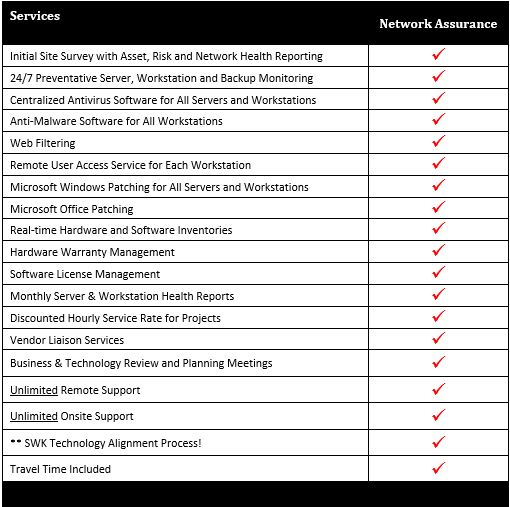 First Steps – Risk and Cost Assessment
The beginning of any introduction to our Network Assurance program will be a comprehensive assessment of your cyber risk as well as a breakdown of costs with a budgeting exercise. Instead of simply throwing pricing at you, we will meticulously review and seek to balance the resource cost against the level of risk you face for every part of your IT infrastructure officially covered under our contract. By applying a risk-based approach that measures the danger specific to your network resources, we help you optimize your business strategy for maintaining your IT health.
Transparent Pricing
SWK's Network Assurance plan comes with transparent pricing and services that allows you to gauge the true value and ROI for your IT investment. Additionally, we eschew the traditional 3-year engagement most MSPs force you to commit to and instead offer 1-year arrangements that can be renewed at the end of every contract. At SWK, our goal is to provide you with no-surprise invoicing that gives you full transparency into your technology service costs.
Business Technology Review and IT Governance
For companies that cannot afford a full enterprise-level internal IT department, SWK Technologies will act as your on-demand network service team, and we can scale our solutions to complement the in-house resources of larger organizations as required. Your Network Assurance plan will include periodically scheduled Business Technology Reviews of your infrastructure, your cyber risk and the cost of SWK's services to help you fully understand the value return on your investment. These meetings will contribute to our IT governance solutions and planning for your company, empowering you to optimize your business strategy for your technology.
"Once Network Assurance was put in place, there was an immediate change not only in the frequency of which IT problems occurred, creating more "up" time, but a significant reduction in the cost of those operations. I absolutely recommend this solution to any small company that wants to reduce IT costs and also increase their efficiency, and seriously, who does not want to do that?"

Peter W. Palmer

President, Professional Media Group
Why Network Assurance by SWK Technologies is Different
Below are the key ways in which SWK Technologies provides a different kind of IT support with Network Assurance, from our unique alignment process to our product- and industry-specific knowledge gathered from years of working with various technology solutions with thousands of customers (read what a few had to say about SWK here).
The SWK Technology Alignment Process
The SWK Technology Alignment Process is a proprietary service offered with our Network Assurance core package and which allows us to uncover opportunities to improve your network resources. One of the most consistent problems we run into when reviewing our clients' technology stacks is that neither their applications or their processes are seamlessly integrated, creating silos of data and significantly slowing down workflows. By working to align your solutions more closely, will empower your business to make better use of your IT investments and improve technology performance.
Access to Deep Industry and Product Experience
SWK Technologies provides value to thousands of customers with our software and IT solutions, delivering implementation, consulting, monitoring, maintenance and business continuity services tailored for a variety of product and vertical needs. We leverage this experience and expertise to enhance our support, enabling us to solve various pain points and customize your systems to return the best value for your circumstances. Here are some examples of the areas where we apply this knowledge.
Vertical Knowledge – Manufacturing, Service and More
From various professional service firms to manufacturers and distributors of all categories of product, SWK has gained decades worth of knowledge and familiarity with a wide range of industry-specific demands. We are able to help you optimize your systems for compliance with multiple regulations including HIPAA, SSAE, FMSA, and CCPA, and with agency standards from FINRA to the FDA. Whether your needs revolve around traceability, automation, data privacy, cybersecurity, cloud migration, digital transformation or any combination of these, SWK is able to provide a solution tailored to meet your unique pain points.
Microsoft 365 Partner – Gold Level
As a Microsoft Gold Partner, SWK Technologies is able to help you manage your Microsoft 365 subscription from top to bottom, as well as educate you on how to best optimize usage of all your entire platform. Our experts will educate you on tips and tricks you may never have known before, allowing you to unlock ways to save money with the tools already on hand, or instruct you on which apps to integrate to significantly extend the capacity of your solutions to perform additional roles.
Sage Software Consulting Experts
SWK is a top value-added reseller (VAR) for several Sage Group solutions, including Sage 100 (and Sage 100cloud), Sage 500, Sage X3, Sage HRMS, and more. We are also a certified cloud service provider (CSP) and primary choice for hosting Sage software in a secure cloud environment protected with our own cybersecurity services, which include the world's first "smart" SOC (security operations center).
Acumatica MVPs
As the consecutive Acumatica Partner of the Year 2018-2019 and with several certified Acumatica MVPs on staff, SWK is perfectly positioned to empower users of this state of the art cloud ERP to capture the best ROI on their software. Additionally, our Managed Cloud Services can directly manage your instance in a privately hosted SaaS or hybrid environment with access to Network Assurance and our cybersecurity services.
See How SWK's Managed IT Support Will Work for You
SWK Technologies provides a different kind of IT support with Network Assurance because our solutions work within your needs instead of forcing you to adapt to yet another external driver. We are here to deliver a seamless experience that keeps your technology protected against cyber threats and operating at peak capacity, while carefully managing your costs and keeping your systems aligned with your business objectives.
Contact us to today learn more about Network Assurance and discover exactly how our award-winning IT support will best serve you.