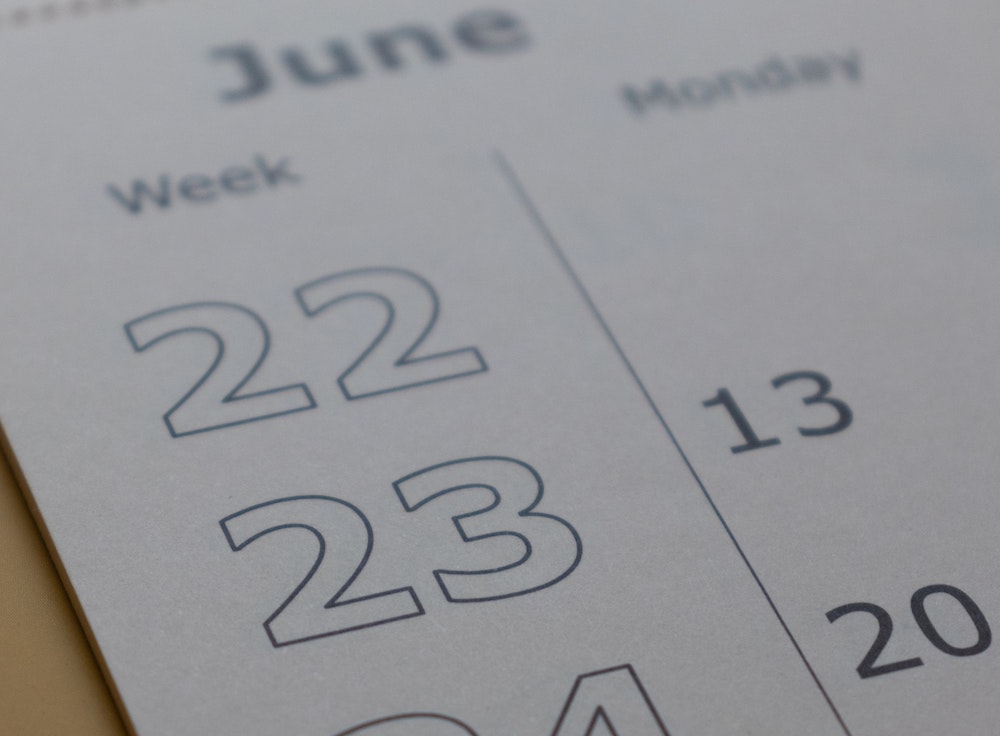 For a very long time, Sage 100cloud has provided the ability to track lots and serial numbers in its distribution and manufacturing modules. However, managing waste and spoilage of products with a shelf life has been a challenge without modifying Sage 100cloud.
That's why many of you will be glad to hear that Sage has developed new functionality for expiration date tracking in Sage 100cloud 2020.
In the newest version of Sage 100cloud, the usefulness of lot and serial tracking has become more meaningful. Version 2020 includes a new feature that tracks expiration dates and calculates use-by, sell-by, and return dates.
This is just one of many new features included in the 2020 version of Sage 100cloud. View the rest of the list here.
Getting started is easy. This guide will help you get this feature going in your Sage 100cloud system.
How to Get Started with Lot and Serial Expiration Date Tracking in Sage 100cloud 2020
The new feature is enabled in Inventory Management Setup Options. Once you find it, click the check box for Enable Lot/Serial Expiration Dates.
The remaining fields are defaults for new product lines which can be overridden in Product Line Maintenance and Item Maintenance.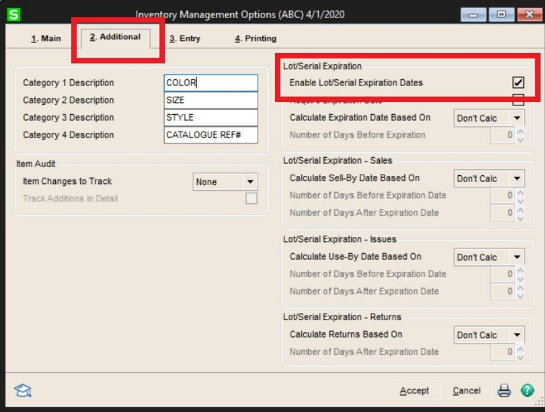 Product Line Maintenance has a new tab to set expiration date defaults for new inventory items.
Note: The default valuation method does not need to be set as lot or serial for the expiration feature to be available in Product Line maintenance.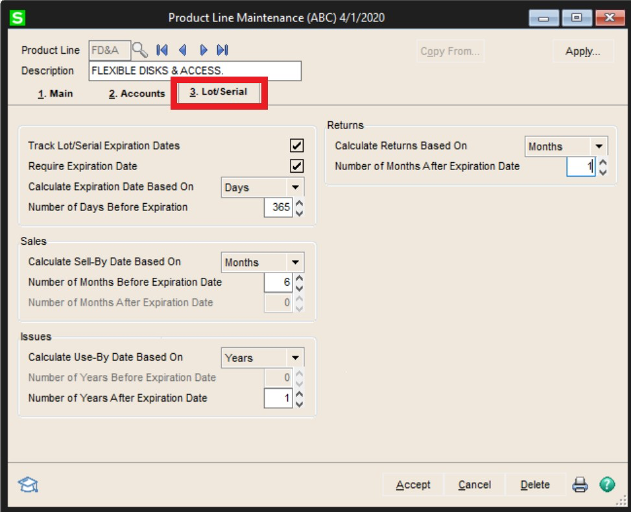 Inventory Items can be set up with unique combinations of expiration tracking and calculations. When the valuation method is set to Lot or Serial, a new menu item appears under the More Button.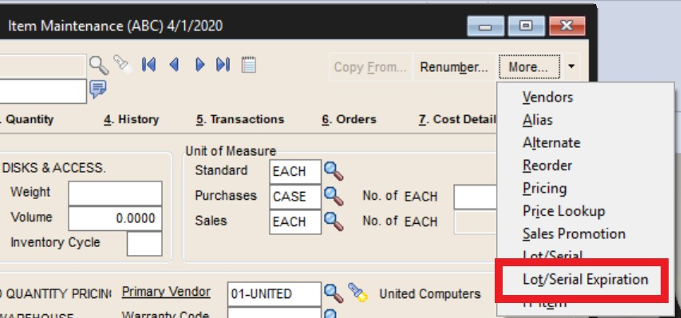 Selecting the options for each item starts with the Track Lot / Serial Expiration Dates check box. Next, consider the option to Require Expiration Dates.
(Hint: When upgrading from a prior version, if you require an expiration date, all the existing lots and serial numbers will have to be maintained to have an expiration date. Not maintaining the Cost Detail file will result in the user having to maintain the expiration date during various data entry tasks. There is a new utility that will assist with this task.)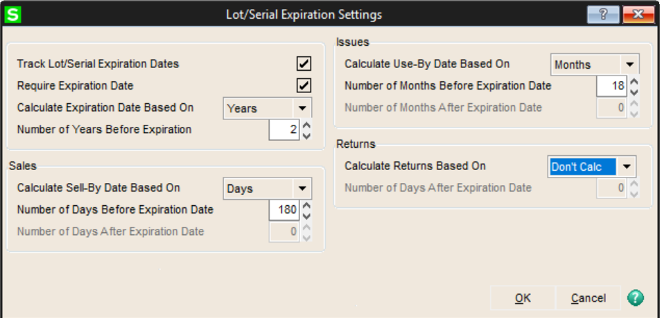 The image above demonstrates that expiration dates for receipts, sales, issues, and returns can be based on years, months, or days.
Expiration Dates in Action!
Once you have the process set up, it is exciting to watch the workings of lot and serial expiration date tracking in Sage 100cloud 2020.
During Receipt of Goods' distribution of the lots or serial numbers, a new field is displayed: Expiration Date. This field is auto-filled based on the receipt date. The example below shows a receipt date of 5/20/2025. The expiration date is calculated to be 5/20/2027, based on the setup image above where expiration is calculated based on two years from receipt. The calculated expiration date can be overridden by the user.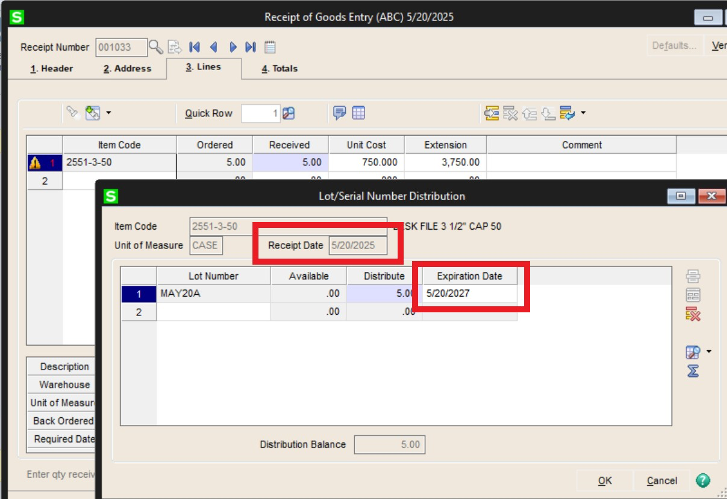 It really is that easy and convenient.
In addition, Item Maintenance will now display the expiration date along with the receipt date of the lot / serial number once the Receipt of Goods has been updated. The expiration date is saved in the item cost file with the lot / serial number and other receipt information.
Sell-by, use-by, and return-by dates are not stored.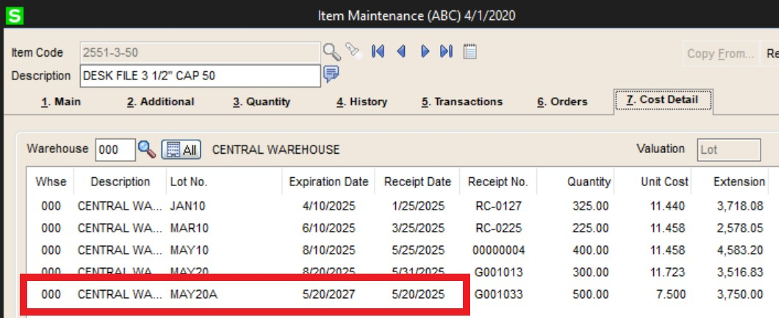 During the sales invoicing process, the expiration date will display when selecting the lot / serial numbers.
It is possible to change the expiration date at that time if the user's role allows for changing expiration dates (see security at the end of this article). This will automatically change the sell-by and use-by dates as they are calculated from the expiration date.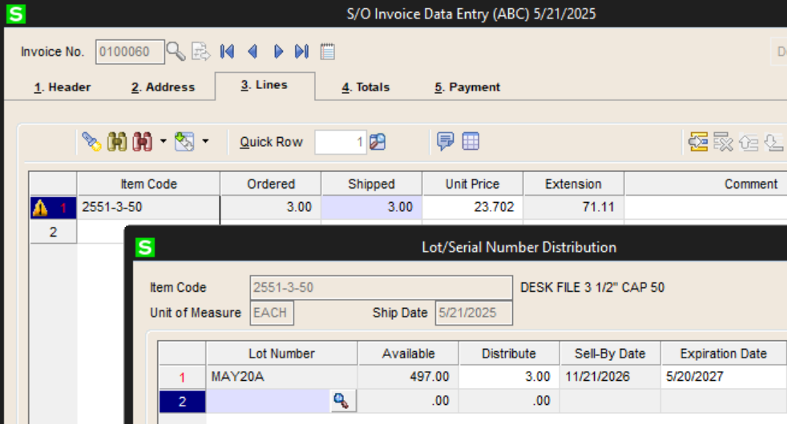 Invoice forms can be modified to include the lot / serial expiration date. The standard form has not been changed to reflect the new field but can be modified by the user. Registers, worktables, and reports have been updated to include the expiration dates.
Finally, the Inventory Management module has a new report named Lot / Serial Expiration Status Report. There are several print selection options to be considered.
Two windows have the option to exclude expired lot / serial:
Auto Reorder Selection in Purchase Order; and
Inventory Reorder Report in Inventory Management
Security for Expiration Dates
When implementing expiration dates, you should consider one of two options in Role Maintenance.
In Security Events > Inventory Management, you can limit the ability to sell, use, or return an item after the expiration date.
User role also controls the ability to modify a lot / serial number's expiration date.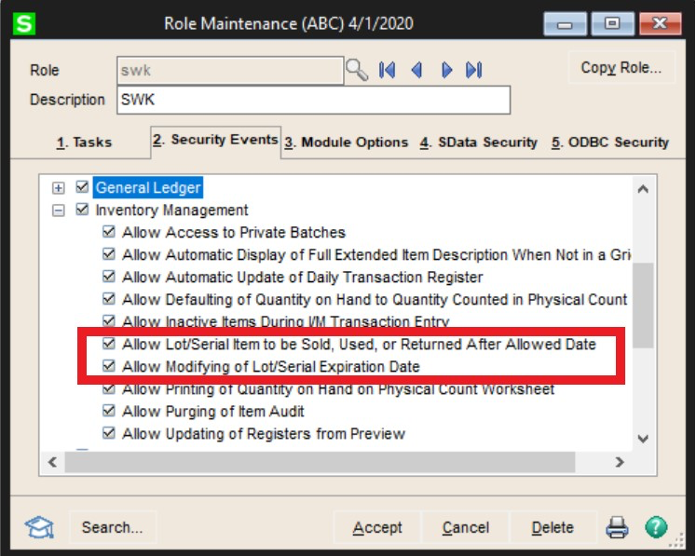 If the user does not have the permission to invoice after the sell-by calculated date has passed, the following alert will be displayed:

Conversely, if the user does have permission, an alert is displayed but the user is allowed to continue:

This second permission allows the user to maintain an expiration date while in inventory maintenance. An icon appears on the right side of the panel of the Cost Detail tab. Clicking the icon allows the user to change the expiration date.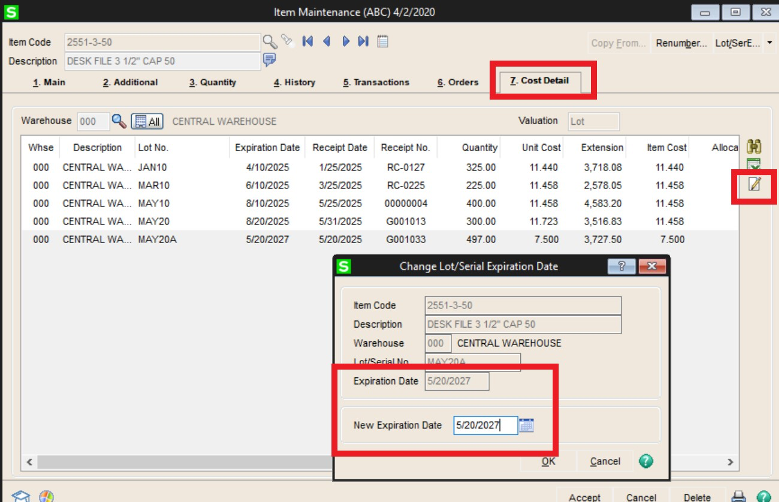 Note: Sage 100cloud 2020 has a few handy new icons that help you streamline your workflows to get work done faster and easier. Check out this great icon-based feature that helps you export to Excel faster than ever!
Ease the Burden of Expiration Date Tracking in Sage 100cloud 2020 with the New Feature Today
With this guide, we aimed to offer you a clear, step-by-step procedure for enabling and using the new lot and serial expiration date tracking in Sage 100cloud 2020.
However, we want you to know that we are here to help you set up this feature, or other time-saving features, in your new Sage 100cloud 2020 system. We want to make sure your Sage 100 system works perfectly for you and meet your needs and requirements.
To that end, we invite you to contact us at any time to request help or personalized advice about your Sage system from the highly experienced team of Sage experts at SWK Technologies.
Simply reach out to SWK Technologies when you are ready for help optimizing your Sage 100cloud solution, so you can maximize your business efficiency and improve your overall productivity.