Gorlitz Sewer & Drain, Inc. is a manufacturer of high-quality sewer and drain cleaning equipment as well as accessories and replacement parts. It was founded in 1980 by Gerd Kruger, who emigrated to the US from the town of Gorlitz within the German state of Saxony. He named his new company after his hometown at his wife's suggestion and eventually passed it onto his family, including sons James and Lutz Kruger.
James Kruger, who currently acts as General Manager at Gorlitz Sewer & Drain, has seen the industry evolve significantly over the past 30 years as technology and automation become commonplace. Additionally, much of the marketplace has increasingly moved online, which has greatly expanded Gorlitz's business with e-commerce purchases rapidly soaring. "I've seen the Internet orders growing and growing and growing over the years," says James.
Gorlitz tried to alleviate some of the burden of relying on manual processes generated by moving to a DOS-based accounting software system called Armor Systems. However, this program did not age well and soon became inadequate for Gorlitz's needs. "We just wanted something a little better," says James Kruger. James reviewed several new options for Gorlitz, including Peachtree (now Sage 50cloud), but decided to move on from smaller accounting systems to a full-fledged ERP solution.
Gorlitz currently utilizes a mostly "out-of-the-box" version of Sage 100 that enables them to manage customer data without added customization. It has become a key component of their operations that helps organize all their financial information. "The Sage accounting system definitely is a vital and crucial part of our business," says James Kruger. Gorlitz is currently using Sage 100cloud, the subscription-based version of Sage 100, after upgrading in 2017. SWK presented the advantages of upgrading to this newer solution, including new technology additions and features, and the team at Gorlitz decided to make the migration. "It seemed like the next logical step," says James, "It just made sense at the time."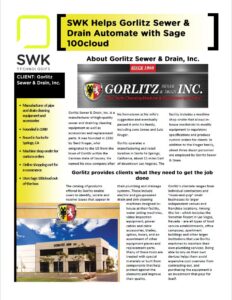 Learn more about Sage 100 for Manufacturing
---