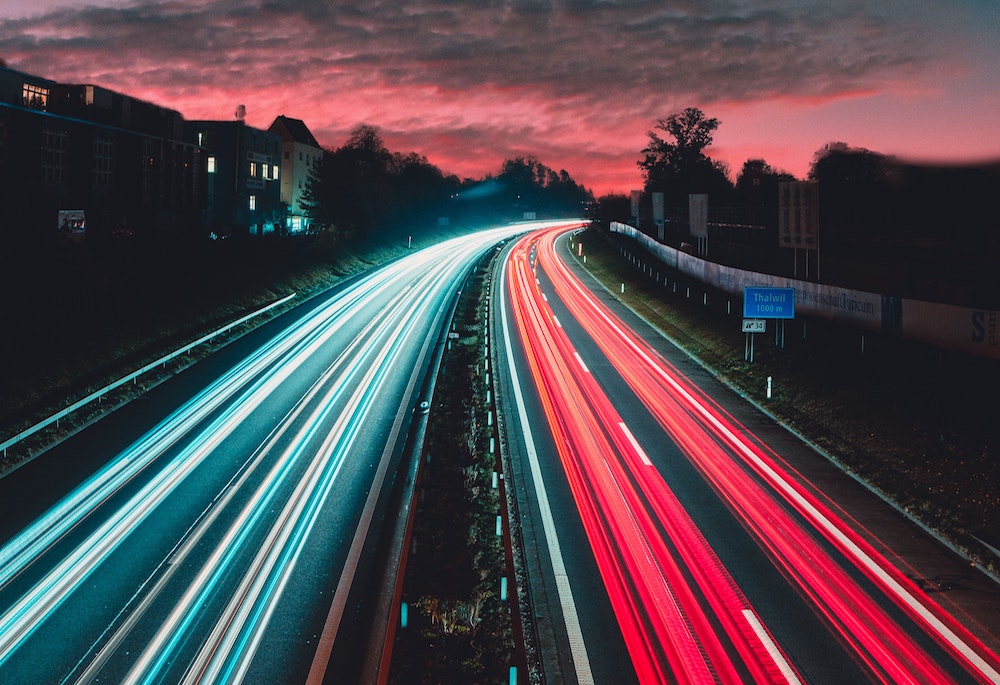 Every quarter, Sage partners wait with excitement to hear about the latest updates and changes to the Sage 100cloud roadmap.
The roadmap explains where Sage 100cloud will be moving next and introduces exciting upcoming features and integrations for Sage 100 (fka MAS90) business management solutions.
For the 20Q2 update, SWK Technologies got a sneak peek into the latest advancements, and we would like to share the news with you.
Coming This Summer for Sage 100cloud and Sage 100
The latest Sage 100cloud roadmap contains updates that stretch all the way to 2023, but let us start by talking about what is coming up this summer.
New Sage 100 Payroll 2.20.2 updates make it easier for you to track and report on COVID-related tax and payroll items, with worksheets and tax report updates to speed your administrative processes. This update is just one of the many ways that Sage is helping small business leaders handle the disruption of COVID-19.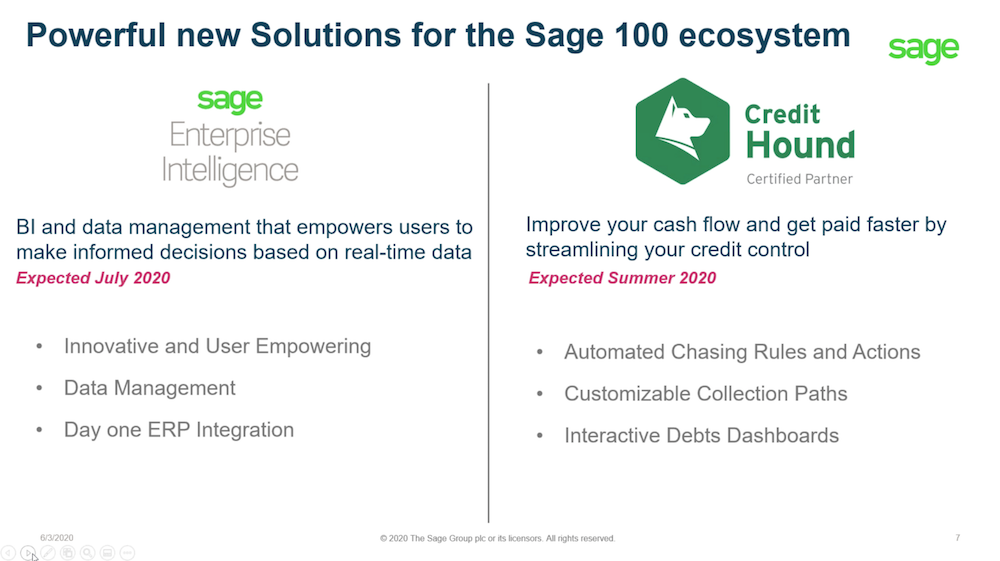 Nectari / Sage Enterprise Intelligence added to price list
Right now, every business leader's budgets have been thrown into chaos as sales methods, lead gen sources, and non-essential operations have ground to a halt across the nation. Nectari, also known as Sage Enterprise Intelligence, is a powerful business intelligence and analysis engine that can help business leaders gain insight into their best next steps.
Credit Hound added to price list
Another reason why business budgets are in chaos is due to the swift economic fallout resulting from COVID-19. In other words, your clients and customers may be late to pay you. Credit Hound helps you track down late payments with automated processes, determine custom collection paths, and keep an eye on your debt using dashboards.
Coming this Fall for Sage 100 and Sage 100cloud
Coinciding with the release of Sage 2020.1 in September, Sage will be releasing a host of new features, functions, and capabilities for Sage 100cloud and Sage 100.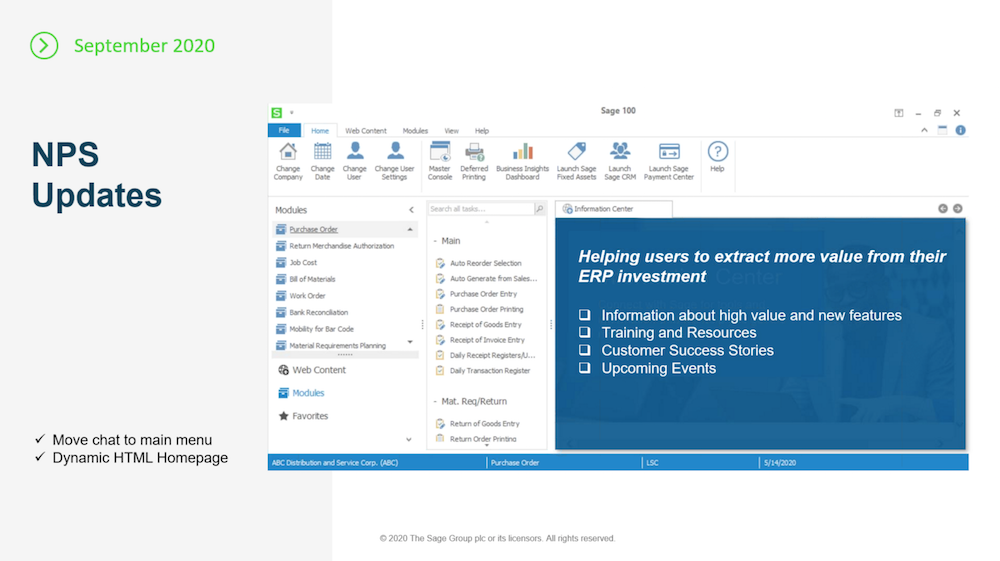 September updates include:
Streamlined usage of Sage 100:

Payments tab for Invoice History Inquiry
'Net Balance' button for A/P Invoice Data Entry
Visual Integrator enhancement

A new and improved homepage layout that helps you ID new features and capabilities in your Sage 100 solution, so you can become a power user
Faster-than-ever support options with an easy-to-find chat support area
Committed to continuous development and improvement, Sage is also releasing some pretty big updates for the 2020.1 version. These include: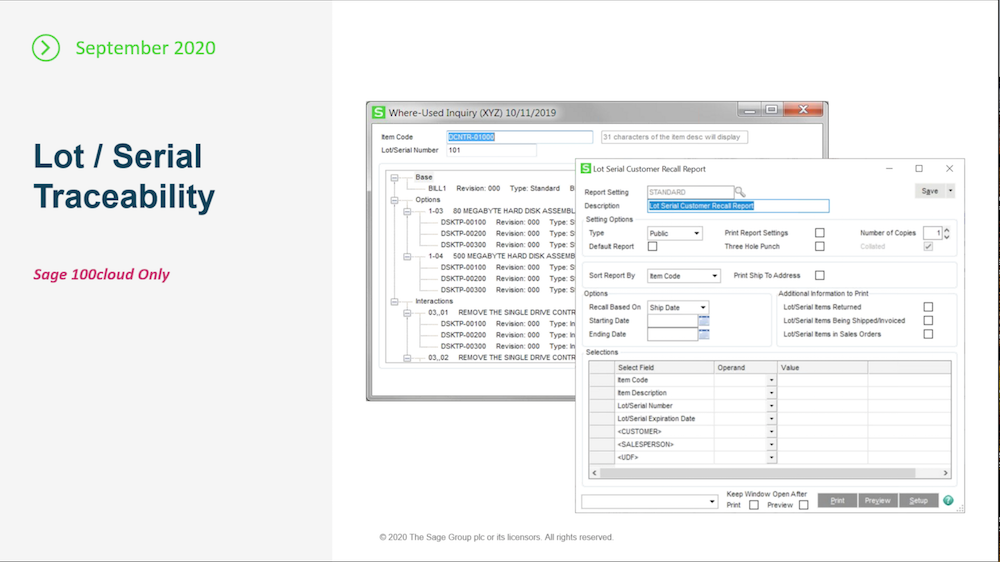 Lot and Serial Traceability
Especially useful for Food & Beverage and warrantied service operations, Lot & Serial Traceability for Sage 100cloud can help you manage your production lots with more insight and control. This helps with recall management, warranty management, and process optimization for lean manufacturing.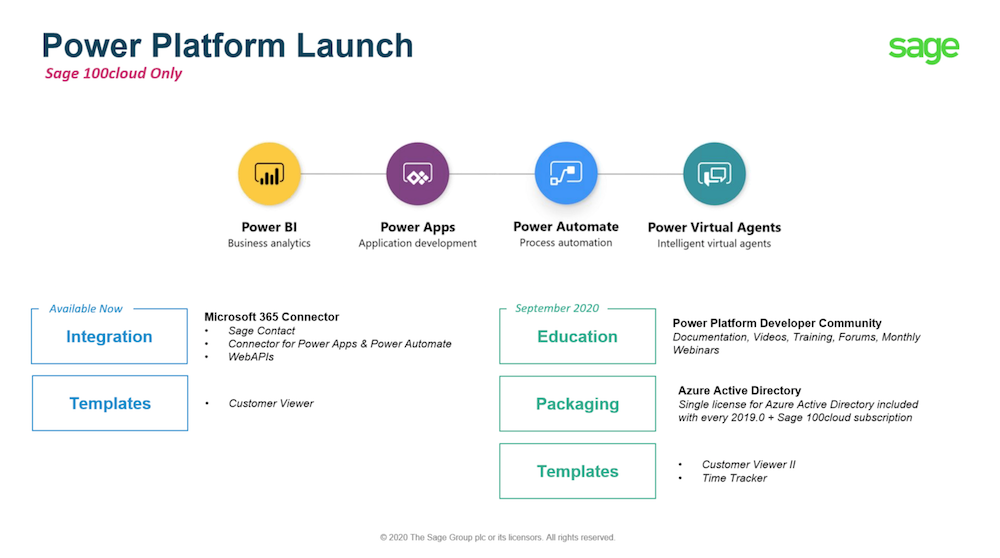 Power Platform enhancement
While not technically a new update, the Power Platform capabilities in Sage 100cloud are certainly not well known. For instance, did you know that Sage 100cloud has a connector for Power BI, Power Apps, Power Automate, and Power Virtual Agents from Microsoft's Power Platform?
These tools can help you:
Gain increased insight into your operations and processes
Develop apps faster and easier
Automate your processes to streamline your workload
Tap into intelligent virtual agents that help you get work done faster
The Sage 100cloud Power Platform is re-launching for the 2020.1 version, with much more educational material and new templates that help you get more out of Power Platform faster.
In addition, Sage will include a single license for Azure Active Directory with every Sage 100cloud subscription 2019 and higher, so you can make sure you have everything you need to get started with the Power Platform.
Future Plans for the Sage 100 and Sage 100cloud Roadmap
Of course, any good roadmap also shows where the software will be going in the next few years, and the Q2 Sage 100cloud roadmap suggests that Sage will be focusing even more on their manufacturing and distribution base.
Important announcements include: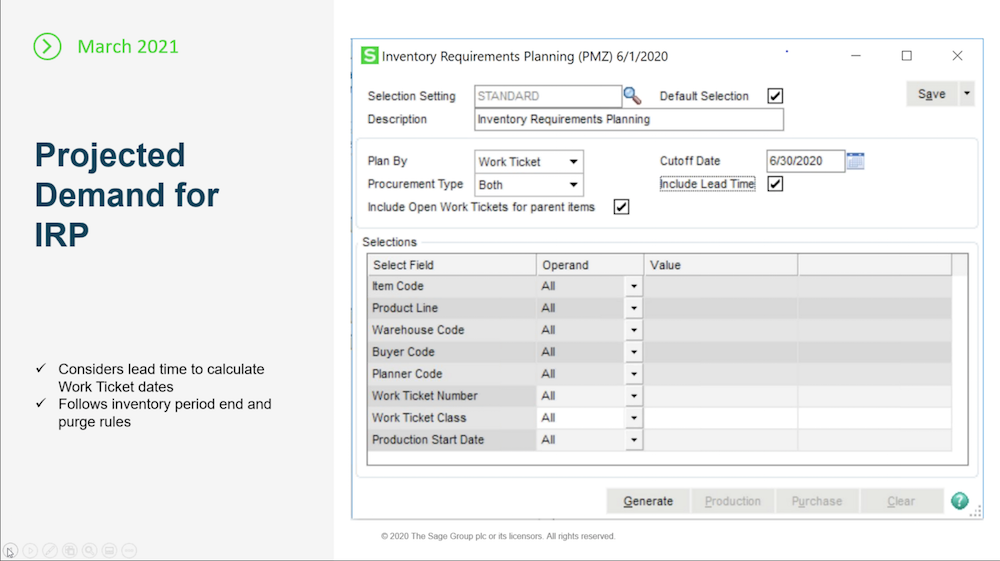 Projected Demand for IRP (Inventory Requirements Planning)
To be released in March of 2021, Projected Demand for IRP will help manufacturers and distributors plan their inventory purchasing needs further in advance. Projected Demand for IRP considers lead times to calculate Work Ticket dates and follows inventory period end and purge rules in your system. IRP is the next evolution of legacy MRP, and Projected Demand for IRP will add capabilities to IRP.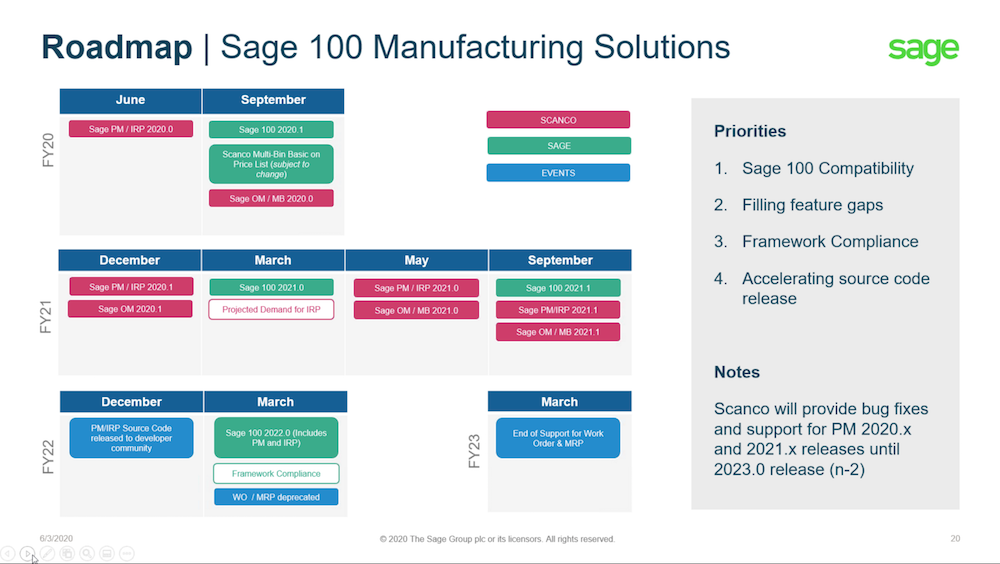 Alignment of Sage 100cloud versions with Sage Production Management, Operations Management, and MultiBin
Sage and Scanco have set a firm calendar that outlines exactly when Sage Production Management and Sage Operations Management will be aligned with the latest version of Sage 100cloud. This helps you get the most out of your mission-critical business management tools by granting you the freedom to update to the latest, cutting-edge capabilities when you want to.
End of support for Work Order and MRP coming in ~2.5 years
Start planning your replacement for Work Order and MRP now, because they will officially be unsupported (and unsafe to use) in March of 2023. The Sage 100 experts at SWK Technologies are happy to help you plan your next steps and timelines.
The Sage 100cloud Roadmap Promises Exciting Progress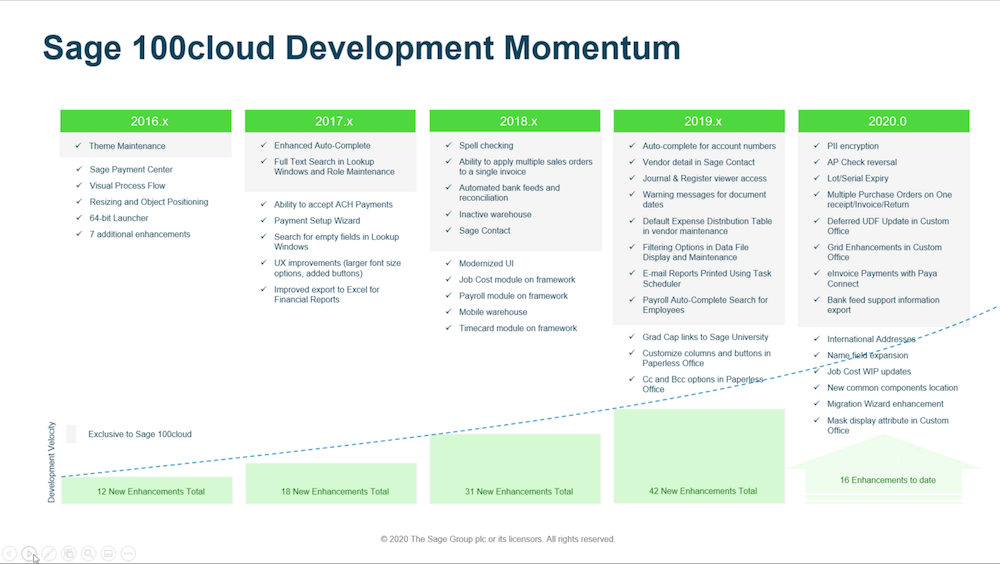 The biggest takeaway from the Sage 100cloud roadmap meeting is that Sage development for 100cloud is on the upswing. Sage's renewed focus on their product's manufacturing capabilities demonstrates that they are listening to their core manufacturing and distribution base and creating solutions that really work for those industries.
In addition, the roadmap showed that Sage is increasingly focused on developing the capabilities of their Sage 100cloud product, versus Sage 100.
If you run Sage 100 (fka MAS90), this does not mean that you have to make the leap to Sage 100cloud right now – or even that moving to Sage 100cloud would mean that you would be moving your operations to the cloud! Just like Sage 100, the cloud-connected Sage 100cloud can be installed on a server of your choice, so you can keep your operations and data on-premises.
Because Sage is increasingly focused on their cloud-connected solution and services, it makes sense for you to keep a close watch on the many benefits and enhanced capabilities offered in Sage 100cloud. That way, you will know when it is the right time for your company to make the switch.
Talk to the Sage 100 experts at SWK