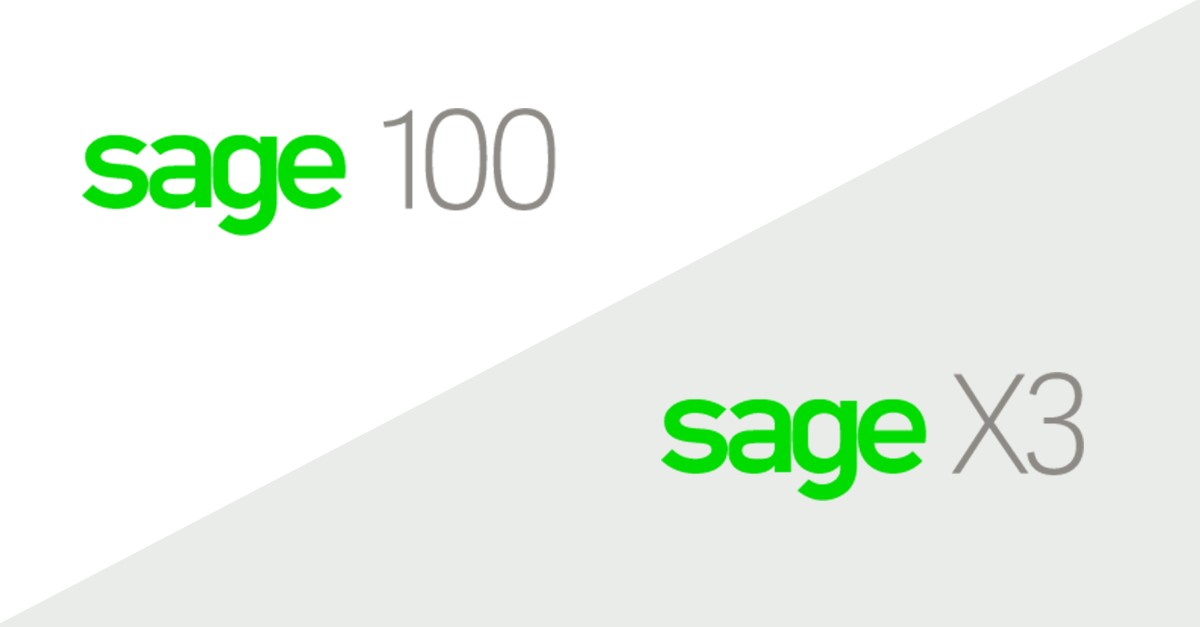 Choosing a new accounting software system that integrates across a company, handles multiple locations if needed and is scalable for future growth requires making an informed decision. Depending on the size of your company, that decision boils down to an ERP system versus a mid-market business management solution.
Some companies think they may need an ERP, but, in fact, they could get along quite well with a business management solution from the same provider that isn't less powerful, but designed to handle accounting matters on a smaller scale.
Let's look at two of the most popular choices: Sage 100cloud and Sage X3. Both provide a strong technology and accounting foundation for any business across any industry, but the key differences come in scalability and specific, vertical functionality. Here is a breakdown of both products and what type of businesses they scale to.
Mid-Market: Sage 100cloud
While you may be more familiar with Sage 100, it's successor, Sage 100cloud, is a more powerful version that takes everything to the next level. Sage 100cloud's target market is typically a smaller company with lower investment and complexity requirements. This represents, for example, small- and medium-sized businesses that have between five and 50 users with an investment ranging between $10,000-$100,000. A small company coming off QuickBooks, for example, could implement Sage 100cloud quite nicely.
With 100cloud, you will be able to automate processes and get real-time, accurate insights and data to make decisions to improve your short- and long-term business performance. This includes streamlined invoicing and bill collection, getting rid of accounting errors and reducing record keeping redundancy, strong compliance and quantified budget planning, tracking every report throughout the entire manufacturing process, and more.
For a bigger picture of the enhancements in Sage 100cloud, take a look at the feature map below.
ERP Level: Sage X3
Sage X3 is typically for larger companies. However, it also fills the small- and medium-sized enterprise space because Sage has provided some attractive pricing and packaging options.
Sage X3 targets companies with 20 to 1,000 users, and the investment is in the range of about $100,000 to $1 million. Sage X3 brings many of the same features as Sage 100cloud, but on a much larger scale. For example, if you're a bank or credit union, in oil gas and mining, or packaging services, you likely have more advanced requirements for advanced reporting and financial intelligence, both of which can be found in Sage X3.
When it comes to technology and deployment, Sage 100cloud and Sage X3 share some things, but there are also a few key differences. X3 allows for Software as a Service (SaaS) for deployment, which is a cloud application. Another key differentiator lies in language and distribution. Sage 100cloud operates exclusively in English, while Sage ERP X3 operates in 12 different languages, satisfying the bilingual needs of certain companies. Sage X3 also offers multi-site facilities, which can be important when dealing with different languages.
Sage 100cloud VS Sage X3: Decide Which is for You
Sage continues to make significant investments in Sage 100cloud and Sage X3 by adding new features and functionality, but the reality is that you're in good hands with any Sage solution. Deciding which one is for your company requires a deeper dive into your specific requirements and individual needs. There are no cookie-cutter solutions!
Contact us to speak to one of our experienced Sage consultants and find out which solution is right for you.
Fill Out to Ask About a Sage X3 Demo