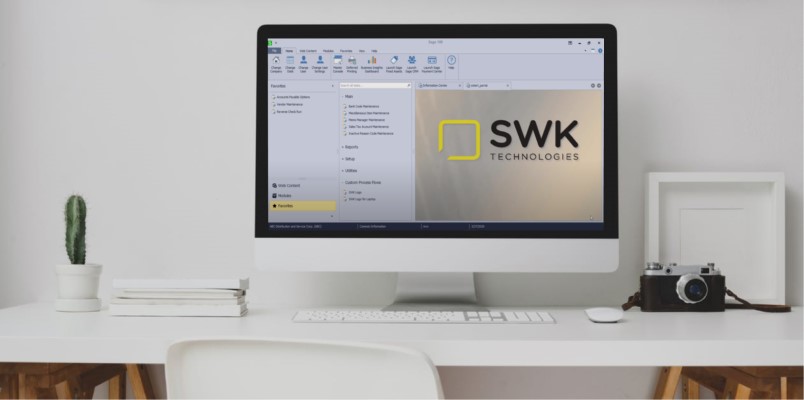 Merilyn Van Zwieten
SVP – STAT
SWK Technologies, Inc.
Update Sage 100 to Handle New IRS Changes to 1099 Reporting
Does your company issue 1099s for contractors and are you up to speed with the new 1099-NEC form introduced by the IRS?  Beginning this Year-End 2020, non-employee compensation is no longer being reported with the 1099-MISC form. 1099-NEC has replaced 1099-MISC and is now the correct form for non-employee compensation for independent contractors.
Instructions for the new 1099 form can be found at https://www.irs.gov/instructions/i1099msc.
As also outlined on the IRS website, this form is due January 31. With this accelerated deadline, you will have to move fast to ensure year-end tax filing compliance! Luckily, certain versions of Sage 100 have been updated with the new form and will help you fulfill the new requirements.
The new 1099-NEC Nonemployee Compensation form will be released in Sage 100 versions 2020.0, 2019.3, 2018.9 only. This will also include changes to 1099-Misc. To confirm your version of Sage 100 complies, check Help > About.

The Nonemployee Comp field will also be available in the following locations in Sage 100 version 2020:
Vendor Maintenance — Default Form field on Additional tab
1099 Payment History window — 1099 Form Type field
AP Invoice Data Entry — (1099 Payment) Form field on the Header tab
Manual Check and Payment Entry — 1099 Form field on the Lines tab
The Sage 100 Accounts Payable module has also been updated with the new 1099-NEC forms for version 2020 – watch a video here to see other exciting new AP features.
Keeping Compliance Up to Date with Regulations in Your ERP
Sage is always updating your ERP with current tax compliance information, but the best way to ensure you are staying up to speed is to upgrade to the latest version of Sage 100cloud. In addition to maintaining the newest regulatory data, the modern iteration of your Sage software also comes with many enhancements and new features that streamline your financial processes.
See what else is new in Sage 100 2020 in our blog post here.
Stay Up on the Latest Sage 100 News with SWK Technologies
SWK delivers the latest news, updates, and tips & tricks for Sage 100 and Sage 100cloud users to help them capture the most value from their software. View any of our Sage 100 video resources to learn more about what your Sage ERP can actually do. Contact us if you have any questions on how to best use your Sage 100 or Sage 100cloud software.
Question? Reach out to us!