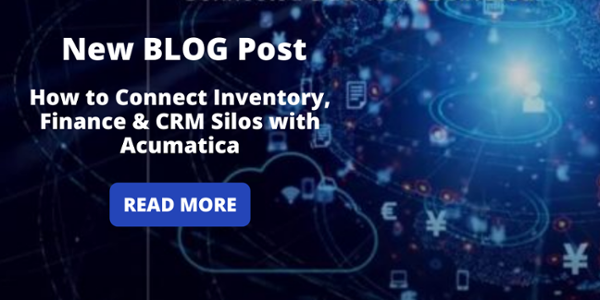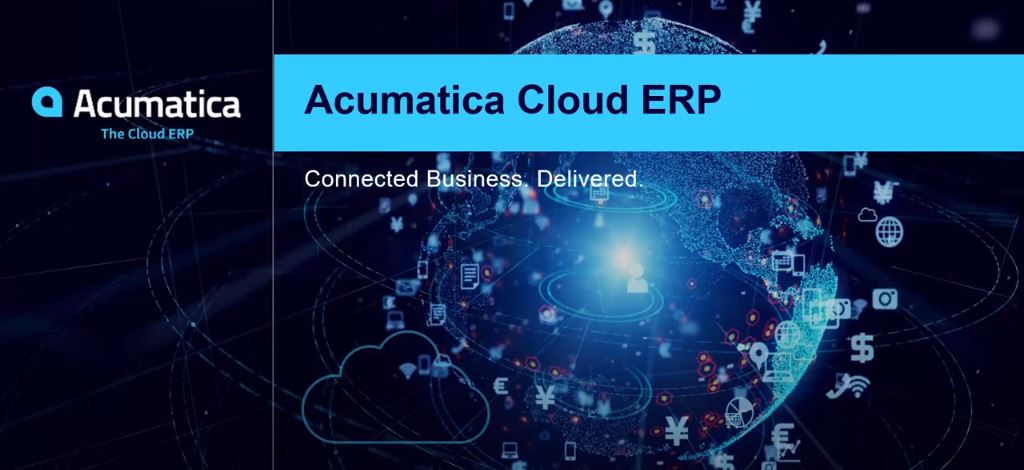 Discover how to better connect your inventory, finance and CRM systems with Acumatica and break down silos that prevent data from flowing seamlessly between each of your business units by watching the video below. Acumatica Cloud ERP is a state of the art, web-based and highly scalable solution that provides inventory-based companies like yours with the tools you need to unite your databases, streamline processes and create a unified workflow for your entire team. Learn how distributors, manufacturers, construction firms and more can capture better visibility with software that prevents you from relying on double entry with spreadsheets in Excel.
Watch the video below to see for yourself how to connect your inventory, financial and customer management systems with Acumatica:
Connecting Inventory, Financial & CRM Systems with Acumatica Transcript
Welcome to Acumatica, a connected workplace delivered to your business. Here at Acumatica, we often see that inventory-based businesses like distributors, manufacturers, retailers and construction companies are using inventory management systems that are disconnected from their financial management systems and often from their customer relationship management systems. These businesses tend to spend a significant amount of time on double entry between systems to avoid dated discrepancies. They also tend to experience frustration with the manual creation of critical reports that use input from multiple disconnected systems.
Meet Dakota Red, a family-owned construction business based out of Cedar Rapids, Iowa. Dakota Red is an example of an inventory-dependent company that was using multiple disconnected inventory and financial systems, including Sage, Microsoft Access and Excel. This method of business management became extremely time consuming and even high risk for Dakota Red as reports and financials often did not reflect the true inventory counts in their construction yards.
Dakota Red chose Acumatica to bring together their inventory, financials and operational data in one connected, digital workplace. They have been able to eliminate their discrepancies in inventory counts and financial statements, because as inventory is bought or sold, transfer or moved, Acumatica reflects this movement across Dakota Red's General Ledger and reports to provide clear visibility into real-time inventory levels.
Let's take a look at how Dakota Red achieved all of this with Acumatica Cloud ERP. When Dakota Red's employees begin each workday, they access Acumatica via an Internet browser or a mobile device, such as a smartphone or tablet. Each employee has a home dashboard based on their role in the company and each dashboard contains key performance indicators and tasks that need to be completed.
My Accounts Receivable dashboard shows me in real-time all of the customers that are exceeding their credit limit, my expected cash inflow over a certain period of time, and all of the invoices that need to be emailed or perhaps printed for our customers.
Since Dakota Red is managing projects, they can also use Project Management dashboards to keep an eye on active projects, unprofitable projects and budgets against expenses. And any inventory-based company that requires purchasing can utilize Purchasing dashboards to keep an eye on all of the items that need to be purchased, open purchase orders and both summary and detailed reports related to my inventory and financials.
Every one of my dashboard tiles allows me to drill down to the information behind it, and in this way I can very quickly and proactively make decisions about my business. To see an example of how Acumatica maintains accurate inventory and financials, let's take a look at these overdue purchase receipts, and here we have a purchase order for red paint.
I will assume that this order showed up at my facility so I'm ready to enter the purchase order receipt. Right now, I can see that I have 99 gallons of red paint available in my wholesale warehouse, specifically in my R1S1, or my Row 1 Shelf 1 location. This could also be a Bin or a specific area, such as a staging area.
I can see that I am expecting to receive 100 gallons of paint on this order, but I can enter if I perhaps received more or less than that. This allows me to maintain my inventory variances and my purchasing variances. I will enter the vendor's reference number and enter my receipt. In real-time, we will see that the inventory number jump up form 99 gallons to 199 gallons, considering that we just received a count of 100 more gallons into inventory.
There is no need for double entry in this situation, as there is no need for me to create a journal entry. I can immediately see the batch number from the journal entry that has been created, and Acumatica is instantly debiting and crediting the associated accounts for this inventory item.
Using these automated journal entries and connecting your inventory to your financial systems allows you to eliminate discrepancies between your inventory and financial statements, and empowers you to make better business decisions.
Dakota Red was using a disconnected financial report software and then massaging data within Excel, which meant that they often had to manually recreate reports every month. With Acumatica they benefit from real-time reports that can be accessed in seconds and provides a 360-degree view of the business.
Here I can see the inventory transaction details from my red paint, in which we see the receipt that we just received a moment ago. I can also take a look at summary and allocation detail reports so that I can understand how many of each item we have on hand, or available for shipping in a certain warehouse and location. Dakota Red's managers no longer need to walk across their inventory yards so that they can understand what is available to issue to their construction project. They've been able to significantly increase customer service due to this improved visibility.
One of the most significant benefits of tying your inventory systems to your financials and customer system is the ability to perform things like profitability analysis. That is, we can see which of our customers, items and orders are the most profitable so that we can focus on improving our bottom line.
In this view of my sales profitability by customer and by order, my report is broken out by each one of our customers, each one of their orders, and I can very clearly see the margin on each one of those orders.
When I run a different version of that report, my sales profitability by customer class and customer, I can also see each one my customer classes, the customers within that class, and their associated profitability. Acumatica allows you to save the time that is being spent manually preparing these types of reports, that include inputs of data from multiple disconnected systems.
We also allow you to very clearly see where you should be spending your time within your business, and which customers and items will help you to improve your bottom line. Acumatica understands that evolving from an analog, disconnected business to a digital, connected workplace has become a requirement.
BDO, a global insurance and financial advisory services provider currently serving more than 400 publicly traded clients, recently surveyed their base to ask their clients how they planned to evolve their workforce strategy in the next year. 40% of those clients cited automating manual labor tasks as a priority, 26% cited investing in technology or infrastructure and 33% cited increasing remote options for professionals through a true cloud system like Acumatica.
Dakota Red cites Acumatica as a significant factor in their continued success. They have been able to reduce manual inventory counting tasks from an entire person's headcount at each one of their locations down to one hour per month. They have also been able to significantly reduce the time being spent on creating manual reports for multiple systems.
While Dakota Red is a construction business, Acumatica works with all types of businesses that carry inventory, and even those that do not carry inventory. If you are a commerce, manufacturing, construction, distribution or service-based business, Acumatica has an industry-specific solution created just for you.
Welcome to the connected workplace, and welcome to Acumatica Cloud ERP.
Let SWK Technologies Show You Acumatica in Action with a Demo
See for yourself how Acumatica can unite all of your disparate silos by reaching out to SWK Technologies to schedule a demonstration. We will walk you through the ins and outs of this cloud ERP and help you build an implementation plan that connects your inventory management with your financials and CRM seamlessly, and provides the best ROI for your business needs.
Contact SWK Technologies today to learn more about Acumatica and see it action with a comprehensive demo.
Contact SWK Today for An Acumatica Demo