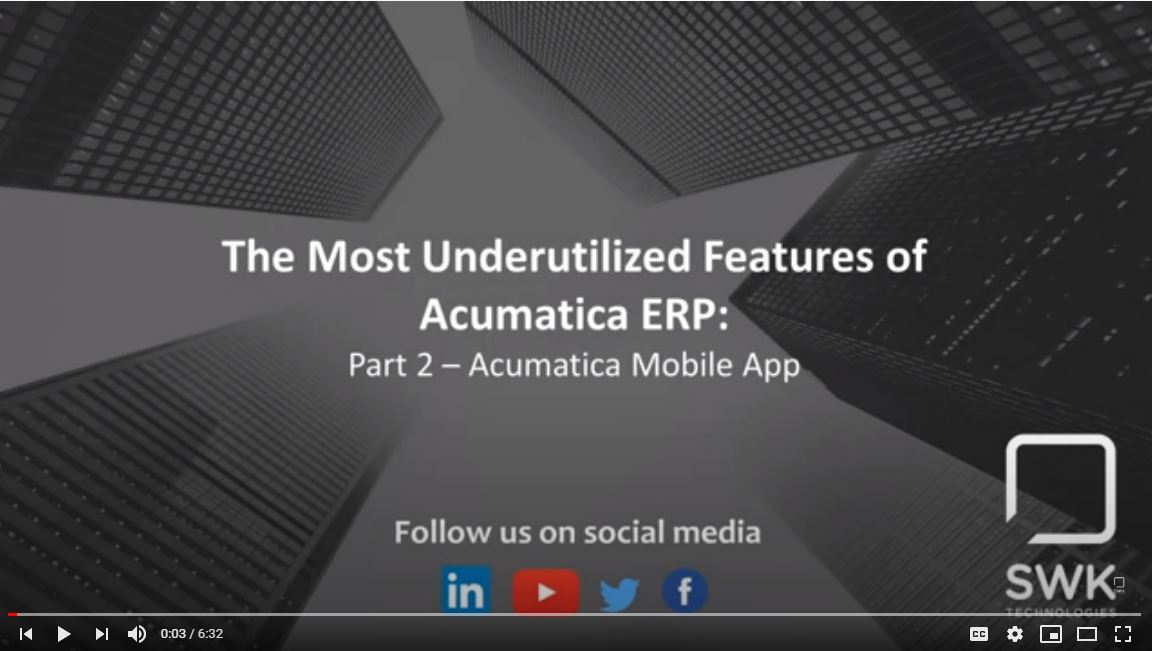 Acumatica Underutilized Features Series Part 2 of 3 – Mobile App
Acumatica includes many modern cloud ERP tools, including a free mobile app. However, as SWK's Director of Solution Architecture explains in the video below, quite a few users are unaware of how to best use the app or even that it may exist. Watch the second part of our Underutilized Features of Acumatica series as Jeremy takes you through these steps to using the Acumatica mobile app:
How to Download the Acumatica Mobile App (Free)
How to Sign-In
Key Features

Approvals
Dashboards
Expense Receipts
Lean this and more by watching the video below:
Part 2 Transcript
Hey everybody thanks for tuning back in, in this series of the most underutilized features of Acumatica ERP.
In our first video we talked about some of the user interface features that we heard about at the beginning of our project or implementation, and then when we went live maybe we forgot and never set up. If you didn't catch that that one, look in the link below and we'll put a link in the description to the other video in the series.
Today we're going to be talking about the Acumatica mobile app. I meet so many of our existing customers, and other existing customers, that are using Acumatica, they're functional and live, but they actually have not deployed the Acumatica mobile app. And if you're in that boat, this is going to be 10- or 15-minutes' worth of setup that's going to save you a lot of time in the long run.
How to Download the Acumatica Mobile App (Free)
The Acumatica mobile app is available on iOS and Android devices. So, I'm using my iPhone today to demonstrate this to you. And the first step is actually downloading the Acumatica mobile app; you just go to the normal app store, you search for Acumatica and then you download the app. It should only take a couple of seconds to do that.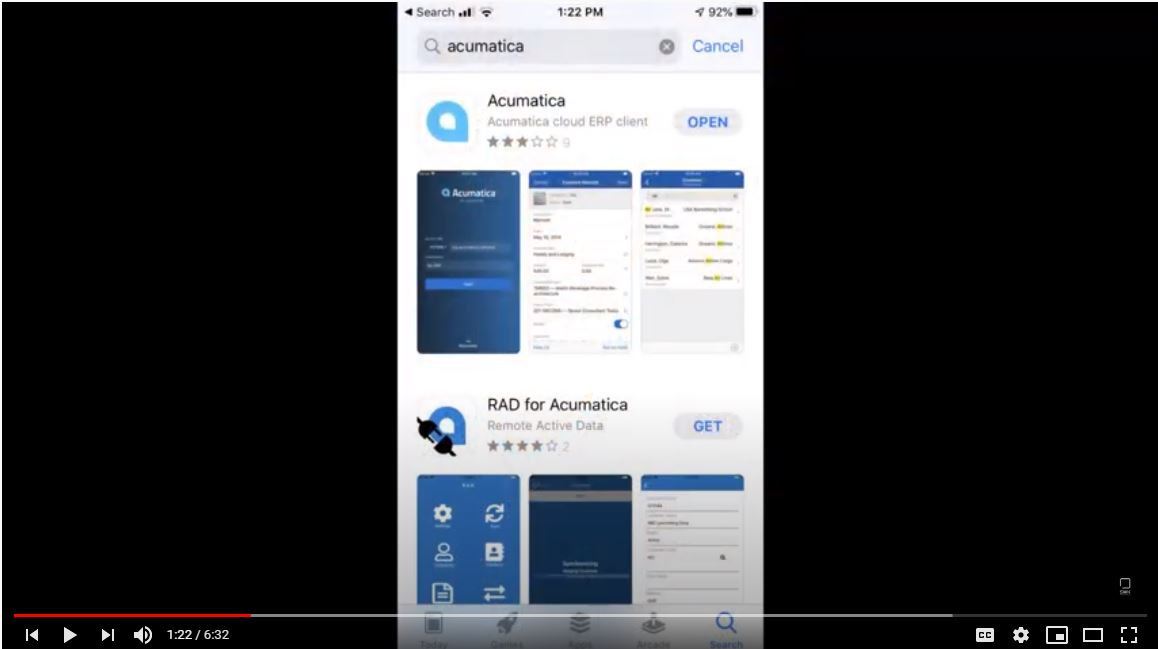 How to Sign-In
Once you have the app fully downloaded, you can launch the app from your device, and it's going to ask you to put in your URL – so, the URL to your Acumatica instance, your username and your password.
A little trick, yours is likely an HTTPS, which means it's secured with an SSL certificate – so make sure that you select the HTTPS option. If you're in a sandbox environment, select the other one, and that would be okay, but that does have to be correct.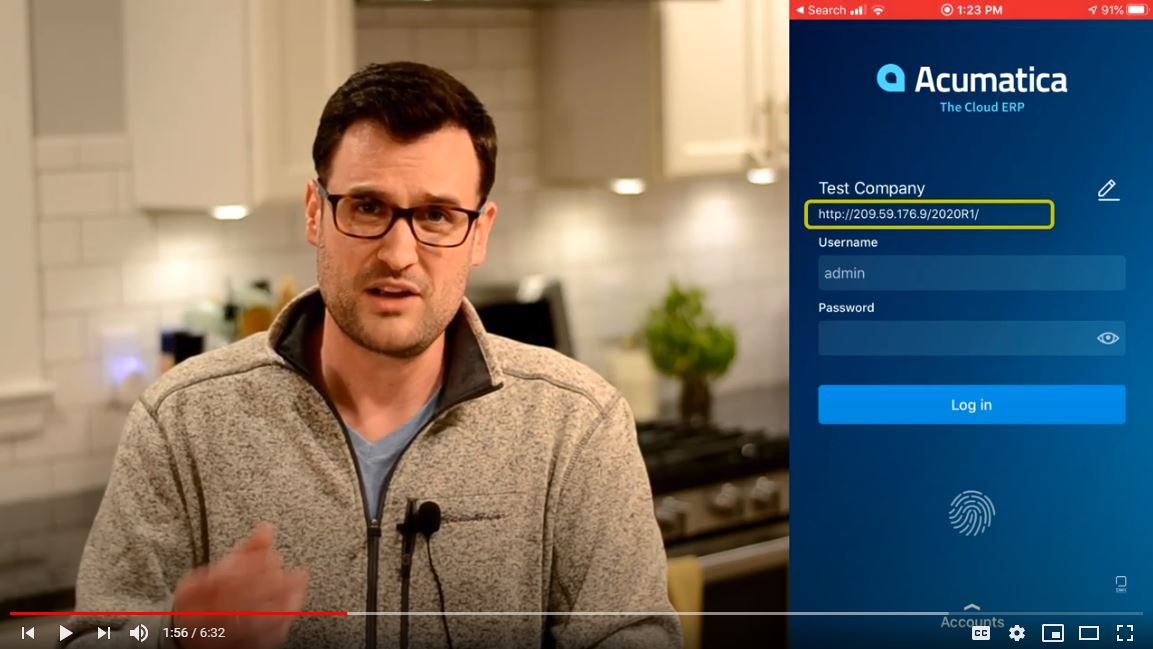 After the first time of logging in, you're actually able to use your thumbprint on your mobile device to be able to authenticate into the system.
Key Features
·       Approvals
·       Dashboards
·       Expense Receipts
So, a couple of features in here that I really want to highlight. Number one, this is not a separate database. This is a connected, user interface – the same Acumatica database you're in every day, so it's never going to be out of sync.A couple of features that you're going to want to use in here are going to be: Approvals, Dashboards, and possibly Expense Receipts, if you have that option available.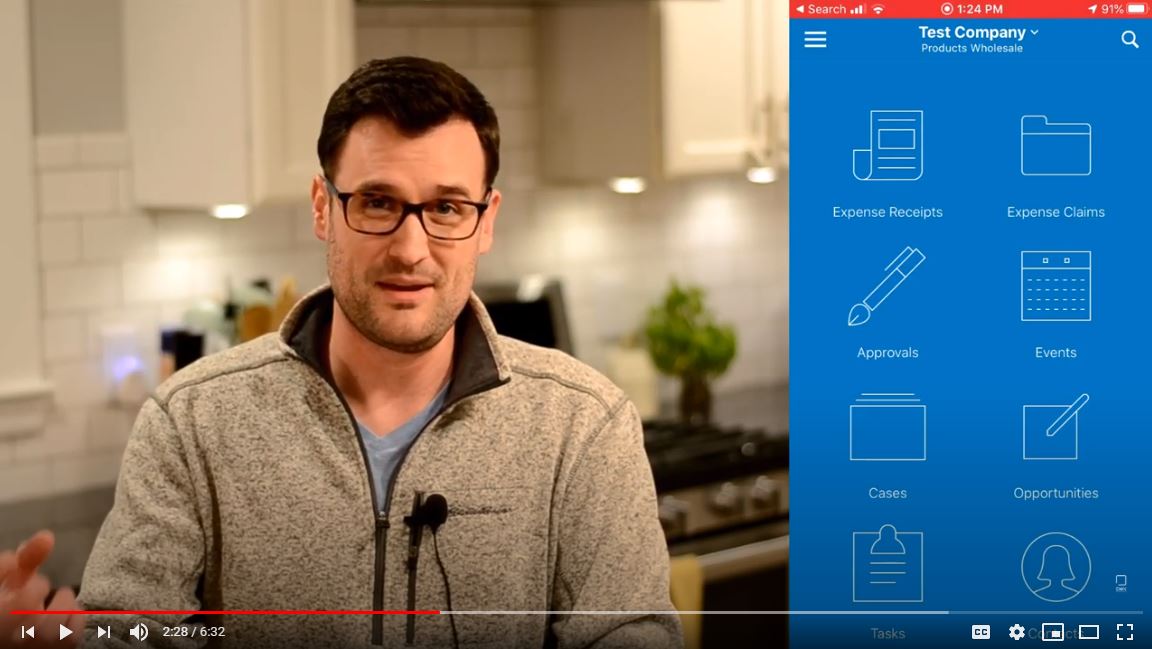 So, from the Approvals button, if I select that, what I'm going to see is a list of all the documents waiting for my Approvals. So, if you have Approvals on purchase orders, or accounts payable invoices, or project Approvals, any of the Approvals, are going to flow right through your system like the few that I'm seeing on my screen right now.
To be able to Approve the document you just select the record. You can review all the details just like you would on a browser, and then you would be able to hit Approve or Reject.
Okay, so I'm just going to Approve one of these documents here and advance this forward.
If you log back into the browser version, you'll see that that documents been Approved, it's no longer in your dashboard or your work queue and you can start it. And I did all that sitting on an airplane, I'm sitting on a train, you know, on the go, standing in line at Starbucks for coffee.
Another feature you're really going to want to check out within the mobile app are the dashboards.
So, I have a couple of dashboards set up here within my instance and when I log in this is the same dashboard that you have from the browser. It's also drillable, okay, so those dashboards that some of you live off of, that's the first thing you look at in the morning, you're able to actually use that dashboarding functionality on the go.
The KPI tiles are the same colors, everything really snaps into place in a mobile-friendly way. So, that's definitely something you want to look at using and that just becomes another button on your dashboard.
Now, there is a little bit of setup on the dashboard so make sure you talk to your system administrator or reach out to us at SWK technologies to help you make sure that feature checkbox is selected for the users on the dashboards.
The last functionality that I wanted to talk is the Expense Receipt. Now, this is a separate module so you may not have this license today, or maybe you do and it's not being used.
Okay, what you want to be able to do is, from the Expense Receipts module button on the mobile app, you can select that and you can if you already use this you can see Expense Receipts submitted in from the browser, but if not you can actually take pictures right from your mobile device.
So, I could snap a picture of a receipt that I have and I'd be able to fill in the details, add the expense code, put in any notes and then at the end of the month submit my expense claim all through  Acumatica.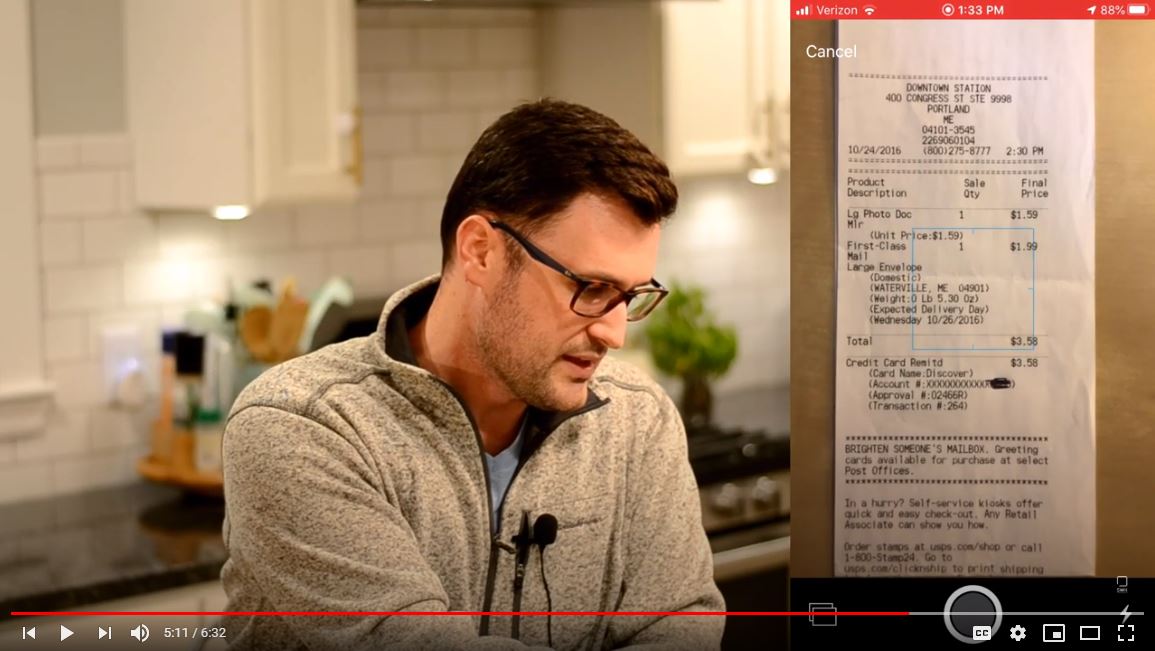 Again, this one would require a little setup if you don't have this module today but definitely something you want to consider, we all have those receipts that just add up and this helps you get out of Excel, for example, if you're doing expense reporting in Excel today.
So, just a quick review, a couple of things that we covered today:
Deploying the mobile app, so downloading it from the App Store.
Number two, setting it up and logging in.
Number three would be accessing the modules and features, the same ones you have from the browser so Approvals, dashboards and potentially setting up, Expense Receipts if that's something that you're interested in.
Thanks for listening in today, I hope it was helpful and we look forward to seeing you on the next video in this series about the most underutilized features of Acumatica.
Ready to learn more about Acumatica?