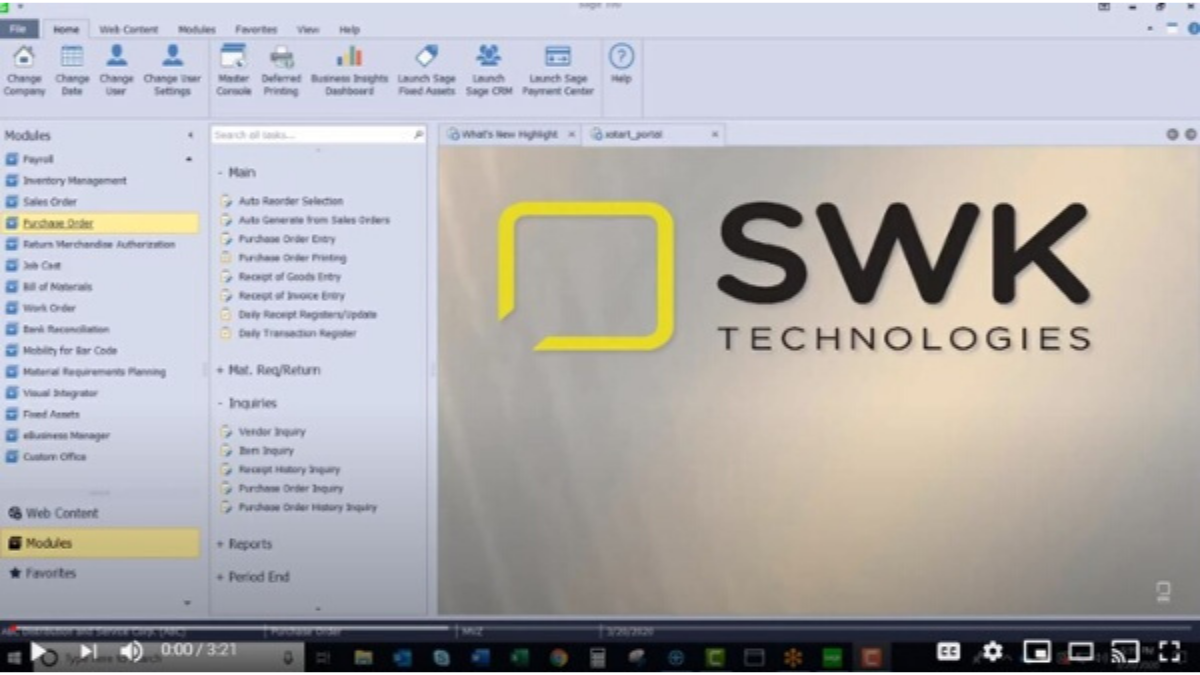 Your Sage 100 Accounts Receivable module's intuitive format quickly and easily presents the information you need for effective cash management. Powerful, yet simple to use, Accounts Receivable has flexible cash management capabilities  and provides multiple key reports. Utilize the module's powerful National Accounts features to streamline how you manage your customers who have corporate and branch accounts.  Easily generate personalized customer communications using built-in Paperless Office capabilities, save copies of generated reports, and effortlessly access them anytime. Learn how to use the Explore functionality of Accounts Receivable in this helpful Sage 100cloud tutorial by SWK SVP of STAT, Merilyn Van Zwieten:
Sage 100 – Accounts Receivable Explore transcript:
Welcome to SWK's video series on Sage 100. This video is going to look at the Explore menu in Accounts Receivable.
There are six Explore views setup and we're going to examine three of them. I have them set up in my favorites menu and we're going to start out with the Customer View.
This is a handy summary of all of your customers and in this particular view, we're seeing Customer Number, Name, Current Balances, Aging Balances etc. and other selected information. You are able to modify the columns that are part of this report simply by coming up to any column header, doing a right click, coming to column settings. Let's say we want to take away Credit Limit, Terms etc. I'm going to take away a lot this, because what I wanted to use this for is an alert for my customers that are past due. And if there is a field that I would like to have that's not there, I can come to the ADD button and you'll see that there are many more fields that I can add to my report, simply by selecting it. I'm going to add the comment, just to show you that I can add columns that are not already there. There's my comment and here are my different aging categories. If I only want to see my customers that have a Balance of Aging 1, 2, 3 and 4, I'm going to simply create a calculated field. Let's just click on our button over here and I'm going to a name this "Past Due Balance".
And I'm going to create a little Expression. Coming to my tables, remember this was part of my customer, so I'm going to select Aging Category 1, plus Aging Category 2, and then 3 and 4. What happens… I have now added another field here at the far end of my report and I'm going to use my Filter Builder to say I only want the records where the past due balance is not equal to zero.
Now, what we will see is just a list of the customers that have past due amounts. If I'm looking over at the far left of my pane here… you can see that I have a number of previews and this is controlling what is in the secondary grid. You see that right now we have Customer Sales History by Period. If I click on some of these other ones… I'm going to see Customer Contacts, Memos (If there are any), Open Invoices. This is a nice thing. If I'm looking at Past Due, I have an option of looking at the past due invoices in detail. Let's go ahead and drill into that secondary grid. And I'm going to do that just by clicking on the customer's account. It's asking me if I want to save the setting and I'll say "yes". And I'll just call it "Past Due". And I'm going to save it as a public setting, because I want all users to be able to have access to it.
And now I am in the secondary grid. It has come up as the primary grid. And if we look down at the view below the secondary grid, now it is looking at the Invoice Transactions. If I click on History Invoice Items, it's actually going to show me that detail of each of those invoices.
Let's come back over to the primary record and look to see what else we can do from here. If I change this to Tasks… I actually can take this (whatever line I have highlighted). I can come over to Customer Maintenance (provided this is part of my role). And now I am in the Customer Record. I can maintain it, review it, whatever it is that I need to do and come back. If I've changed something that is in this grid, I'm going to have to click on my refresh button, before I'm going to see the changes.
Now with the other ones, I can enter Create Cash Receipts, Enter Sales Order, Sales Order Invoices. But if I select one of those tasks, it's just slightly different because I'm starting out with my Customer Number. I am going to have to put in my Customer Number itself before I can continue.
Let's look at some of the other views that are available. I'm going to look at Customer Open Invoice View.
This is where I'm seeing all the open invoices and you'll notice over here the current setting is not the standard view. I've created a view here where I have the filter where it says that the balance is not equal to zero and I've saved it. If I come to the standard view, you're going to see that there are many invoices with the balance of zero and that's because then zero invoices have not yet been purged from the Open Invoice file. So let's come back to our invoices with open balances and we can see that we can look at the secondary grid that shows us what the transactions are.
Something I like about this view is: (if I look click on the Due Date), I can see from the oldest to the newest. Perhaps this is a way that I can concentrate on simply my oldest due dates.
Something else I could do is: I can just bring up this Customer Number and now I have a Sort by Customer Number, where I actually have a break. And if I'd like (by clicking on this little icon here), I can add subtotals.
Something else I could do that isn't particularly apparent is: (if I come over to this Summary), I can do a min, a max or a count. Perhaps it's handy for you to know how many invoices are in this subtotal.
Something that is handy with anything that is in the primary grid: I have options for exporting. I can export it to Microsoft products. I can send it to text files and it all comes out really quite nicely. I'm just going to show you what happens when I send it to Excel. The fields are all beautifully lined up, but what I do have to do is just to that little Excel function that opens up the entire field to see all of the data. But you can see here that the data comes over very nicely.
So that's our Open Invoice View and the last thing that I'm going to show you is the Customer Repetitive Invoice View.
This is showing me all of my customers that have a repetitive invoice setup. And it is showing me, in the secondary grid, what all of the line items are for each repetitive invoice. So if I come down here (you can see how it changes) and if I drill in, I can now see (if I remove the filters), I am able to see each line item for all repetitive invoices. Now, the problem here is that I don't know what customer this refers to. So, I'm just going to come up in here (into my header), come to column settings… I'm going to look at here is my AR Division and my Customer Number and if I say "OK" you'll see that that information is now here at the right side of my screen.
Now, I could certainly move this over, make it a little bit more convenient for having my Customer Number at the beginning of my report and sometimes, depending on your screen, its going to take you a couple of moves to get it exactly in the right spot. And let's get that Customer Number over one. And now here's a report that will show you all of your repetitive invoices. I could sort it by my Customer Numbers to make it more convenient. And I've already shown you how to export this and also to create subtotals.
You'll find that these Explore views are throughout the system. Not every module has them, but most of them do. It's really a handy tool that has been added to Sage 100 for quite a number of versions. We're looking at version 2020, but you can go back and there have been these Explore views, I think starting with version 2013. I think you'll find this a handy tool.
Give it a try. Remember as you mix and match the data, you can't break anything. Some clients are afraid that "oh, my goodness I'm going to ruin something", but you won't. It's strictly a view and once you exit out, you could choose not to save it or you can save multiple settings.
Give it a try. I think you'll like it. Thanks for watching our video!
Stay Up on the Latest Sage 100 News with SWK Technologies
SWK delivers the latest news, updates, and tips & tricks for Sage 100 and Sage 100cloud users to help them capture the most value from their software. View any of our Sage 100 video resources to learn more about what your Sage ERP can actually do.Contact us if you have any questions on how to best use your Sage 100 or Sage 100cloud software.
Talk to the Sage 100 Support Experts