The Sage 100cloud Sales Order module provides you with the ability to optimize your entire sales and distribution workflow, empowering your team so that when a customer calls to place an order, you can close more sales by answering all their questions with the powerful information at your fingertips.
The Sage 100cloud Accounts Receivable quickly and easily accumulates and presents the information you need for effective cash management in an intuitive format. The straightforward implementation streamlines daily accounts receivable activities for optimum efficiency, and the flexible design allows you to turn views and options on or off to suit your requirements.
Processing orders and invoices through Sales Order or just invoices through Accounts Receivable is typical for Sage 100 customers. However, you might occasionally need to the ability to handle an over-the-counter, or "cash sale," where there is no pre-existing order or invoice.
Learn how to record cash sales in both Sales Order and Accounts Receivable in this helpful Sage 100cloud tutorial by SWK SVP of STAT, Merilyn Van Zwieten:
AR Cash Sales in Sage 100 2020 – Transcript
Welcome to SWK's video series on Sage 100.  This video will demonstrate how to record a cash sale in both Sales Order and Accounts Receivable. Using the cash sale feature is handy when you have counter sales and the customer pays for product with currency while in your facility. This can apply to existing customers as well as one-time customers.
If you are selling something from your inventory you will need to use Sales Order Invoice Data Entry.   Select the next invoice number and change the invoice type to Cash Sale
I have setup a customer number "COUNTER," but you can use the reserved customer number "CASH".  If you use CASH for your customer number, the sales tax schedule and salesperson number will have to be selected. In either case, the invoice will not display on the invoice tab in Customer Maintenance, but it will show under Invoice History. The cash sale invoice will be included in sales reports even though it does not appear in the open invoice file.
Complete the Sales Order invoice in the usual fashion. Note that on Tab 4 you cannot enter a deposit amount. Use Quick Print to provide the customer with a receipt.

Before we update the invoice, let's take a look at A/R Division Maintenance. One of the setup accounts is where to post "cash sales".  In my demo data 111-00-00 has been selected, "Other Receivables".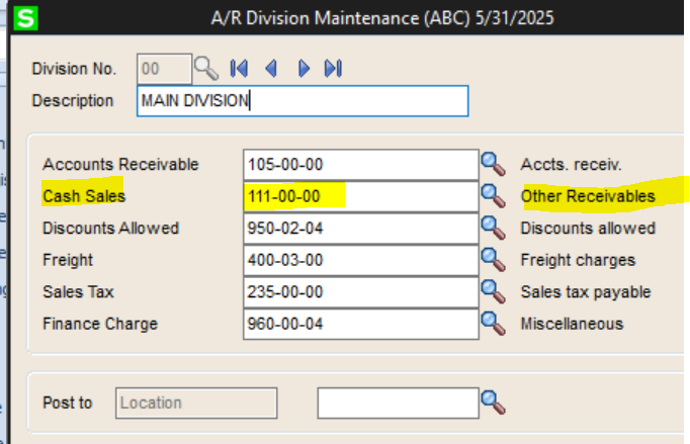 Updating the invoice will result in a slightly different posting to general ledger. Rather than a debit to Accounts Receivable, the debit side of the entry will go to the account designated as Cash Sale. The cash received will be recorded when the cash is deposited to the bank and miscellaneous cash receipt credits the Other Receivable account. Then the Other Receivable account will be cleared. (By the way, we do have another video that demonstrates how to record a miscellaneous cash receipt, if you are unfamiliar with that process.)
Let's update the invoice and check out the journal entry.
Accounts Receivable invoice data entry has a similar feature with one small twist. Before clicking the Next icon for a new invoice number, type "CA". This will designate the invoice as a Cash Sale. Complete the invoice normally and update. The posting to general ledger will be the same as in sales order. The debit for the sale will go to the designated cash sale account. When printing the invoice, the standard forms will display "CASH SALE" at the top.  f course, this can be changed in Crystal Reports if desired.
At SWK, we are committed to helping our customers get the most out of their software investment.  Please contact us at [email protected] to start a conversation on your solution. I hope you have enjoyed this video.  Thanks for watching.
Stay Up on the Latest Sage 100 News with SWK Technologies
SWK delivers the latest news, updates, and tips & tricks for Sage 100 and Sage 100cloud users to help them capture the most value from their software. View any of our Sage 100 video resources to learn more about what your Sage ERP can actually do. Contact us if you have any questions on how to best use your Sage 100 or Sage 100cloud software.
Talk to the Sage 100 Support Experts