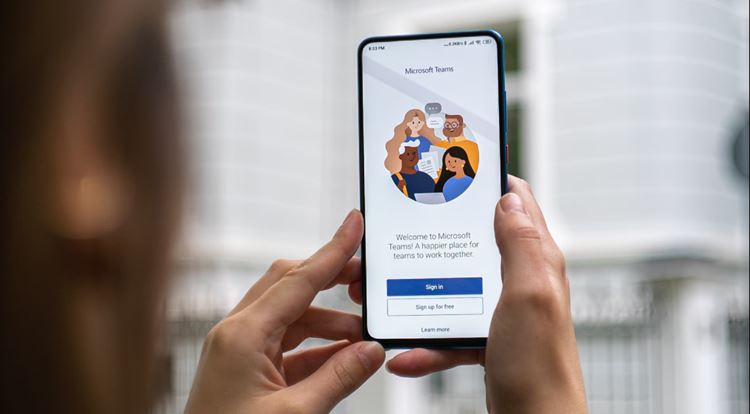 SWK Technologies has put together this compilation of our Microsoft 365 video webinars to give you a consolidated look at the wealth of educational resources, tips & tricks, updates and more we have made available for Microsoft software users. These videos will help you better understand mission-critical factors impacting your M365 solutions, including the difference between plans, cloud security needs and how to integrate your apps with Sage 100.
Here is our list of current Microsoft 365 videos from SWK:
1. Security, Simplicity, and Value: Discovering the Microsoft 365 Plan for You
The global pandemic saw one of the biggest impacts for the Microsoft 365 suite since the big transition from desktop Microsoft Office to the Office 365 subscription service. The SaaS capabilities of M365 apps enabled users around the world to work from home at a then unprecedented scale, with many businesses using Teams, SharePoint and more as their go-to collaboration tools. This has prompted Microsoft to continue making improvements, both universally and for different user-count tiers, strengthening the ROI for the intended customer base of each plan.
While Enterprise licenses received a whole host of security updates, some of the smaller (under 300 users) For Business plans also received extensive cybersecurity enhancements, such as Microsoft 365 Business Premium. Not all plans were updated equally, however – discover which plan will provide the best balance between security posture and ROI for you by watching the webinar, Security, Simplicity, and Value: Discovering the Microsoft 365 Plan for You.
2. Getting the Most Value Out of Office 365
The Office 365 (now Microsoft 365) suite has come a long way since its full launch in 2010, with a growing number of solutions and features made available to users to continue enhancing productivity. It can be hard to keep track of all of these updates and releases, though, including the major rebranding that saw the name change as well as the many rollouts for existing and new plans. This is where a Microsoft Partner like SWK Technologies comes in, helping you to better understand the difference between the per-user tiers and discovering how to maximize the value return of your plan.
You are not alone if you suspect you may not be using your Microsoft 365 or Office 365 package to capacity – or if you do not fully understand the differences in naming and per-user tiers. Get started on learning everything you need to know about what is available through your M365 instance by watching the webinar, Getting the Most Value out of Office 365.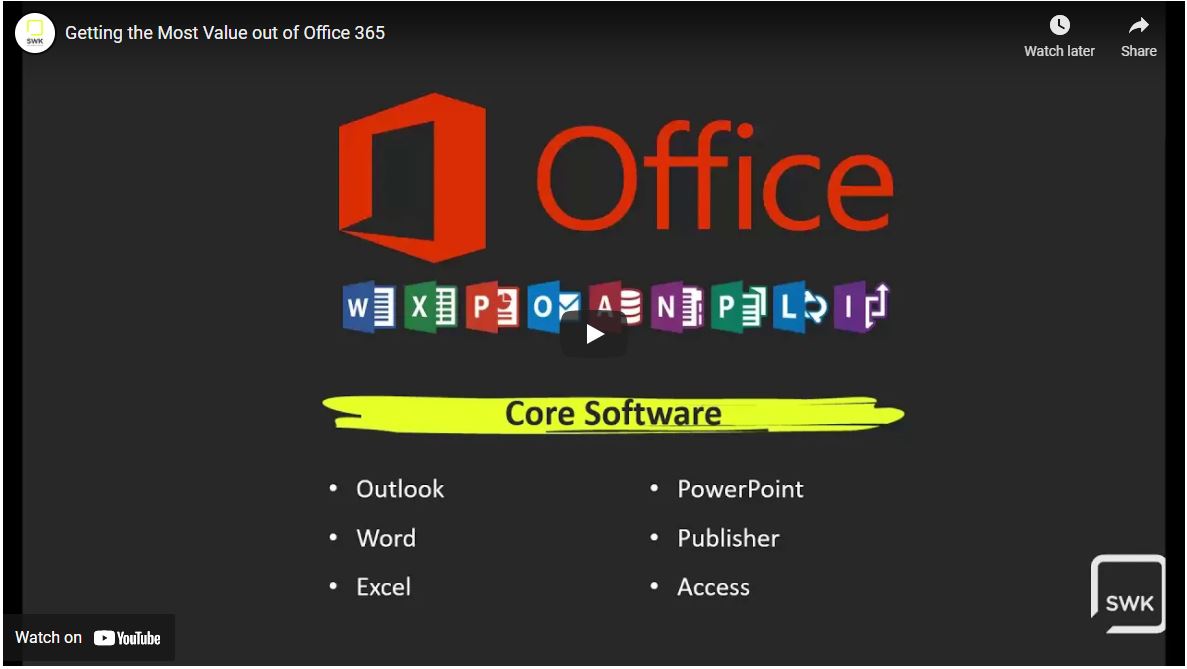 3. Securing Your Cloud Identity in Microsoft 365
Microsoft 365 is one of many web-based platforms that has enabled the mass digital transformation of the 2020's, yet all of these cloud apps introduce a wealth of new connections into business networks that many users (including decision-makers) are unaware of. Cloud-based environments require a more dynamic cybersecurity posture that proactively monitors access while plugging potential gaps in your security perimeter. All of this has to be achieved, however, without taking away from the accelerated productivity your employees have gained from working with a seamlessly distributed SaaS platform.
The key to basic cloud security is controlling access to data and networks, from preventing exposed passwords to enforcing identify management across all devices. Your Microsoft environment has several built-in features to contain these threats, and when used in combination with certain external solutions (MFA, EDR, etc.) you can plug in the gaps in your cloud-connected apps. To learn more, watch the webinar, Securing Your Cloud Identity in Microsoft 365.
4. Utilizing Microsoft 365 for Security in the New Hybrid Workplace
The remote work shift is increasingly being transitioned to a hybrid work model by organizations that are able to – or need to – divide resources between employees onsite and working form home. However, with many businesses still playing catch up with the cybersecurity needs of their initial telecommuting pivots, this new paradigm presents some additional challenges on top of the old ones. In the midst of this transformation, Microsoft launched several updates, tools and integrations for Microsoft 365 that would better empower businesses to develop their hybrid workplace securely.
See some of these updates for yourself by watching the webinar, Utilizing Microsoft 365 for security in the new hybrid workplace.
5. Your Microsoft 365 Environment Is Under Attack
The outstanding performance of Microsoft 365 has contributed greatly to its popularity and ubiquity, which in turn has expanded the attention from hackers, scammers and extortion gangs. Malicious actors in the cybercriminal ecosystem as well as in the nation-state/cyber espionage space know that the chances are typically high that victims will have a M365 account with connected access to shared cloud storage. Add the additional threats (including internal) and the limited disaster recovery capabilities provided natively by Microsoft, and it is easy to see why ransomware groups are always on the look out for weak links in your Office 365 network.
While M365 has plenty of tools (with Microsoft always adding more) that address cybersecurity at the user level, the reality is that you need a comprehensive business continuity plan armed with a modern backup solution for if and when the worst happens. Discover how to better protect your Microsoft 365 instance from data loss, watch our joint webinar with our partner Acronis, Your Microsoft 365 Environment Is Under Attack.
6. Taking Advantage of Collaboration Through Microsoft 365
The Office 365 platform powers a connected suite of apps that allow the users in your Microsoft 365 instance to seamlessly collaborate with each other at a real-time pace. A unified cloud database through OneDrive enables secure file sharing, SharePoint creates a layered intranet facilitating easy document hosting and exchange, and Teams leverages both for consistent interconnectivity along with video conferencing tools. All of these features represent only a fraction of the capabilities M365 provides your team that empower you to significantly improve productivity through enhanced collaboration.
Often the biggest challenge to capturing ROI from your Office 365 apps is user-level knowledge – discover a few ways to start overcoming this obstacle when you watch our webinar, Taking Advantage of Collaboration Through Microsoft 365.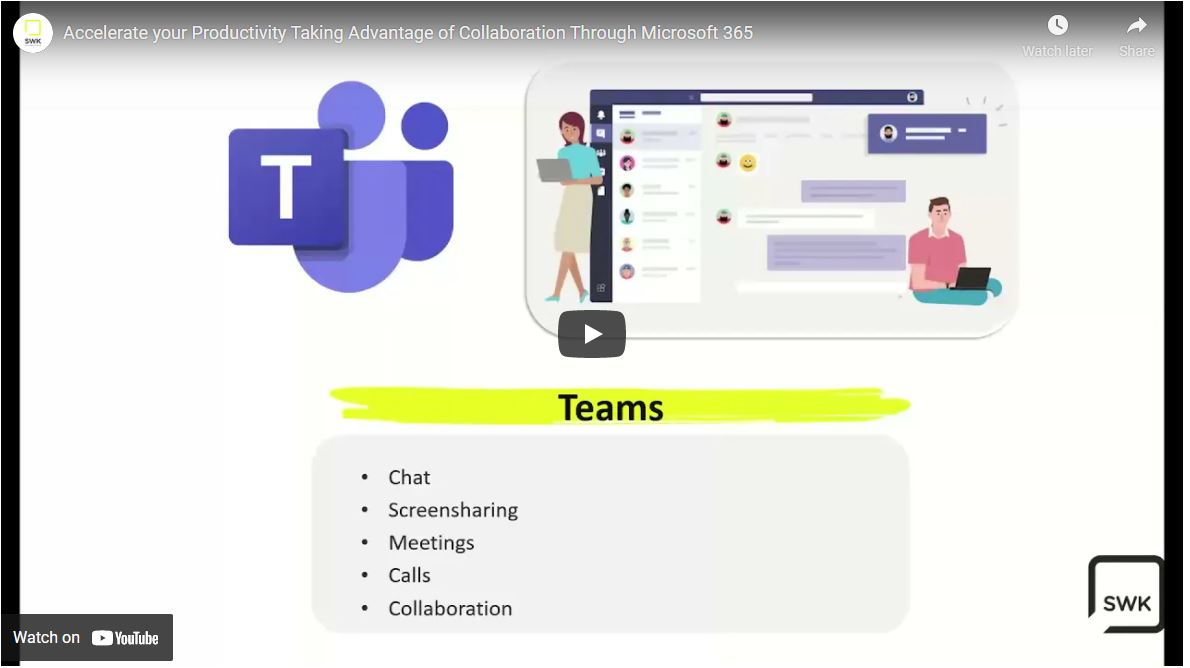 7. Microsoft 365 Apps Connected to Sage 100
Did you that Sage has developed a Sage 100 API and Customer Connector for your Microsoft 365 apps? A customized integration for Microsoft Power Platform enables you to bridge the gap between your ERP accounting software and business management suite to create a more unified application stack without needing extensive coding experience. This integration provides a secure cloud connection between your Sage and Microsoft platforms, enabling you to bridge together workflows even on mobile devices supporting Android and iOS.
See a detailed breakdown of this Customer Connector by watching our video presentation with Sage Enterprise Architect Steve Malmgren, Microsoft 365 Apps Connected to Sage 100.
Visit SWK's Microsoft 365 Video Resource Library
As a Microsoft Gold Partner, SWK will help you dive deeper into what every Microsoft 365 plan and solution offers, delivering our guidance and support to maximize your ROI on your business management software. Uncover more by visiting our Microsoft 365 Resource Library, with more videos, guides, ebooks, tips and more available to ensure a true understanding of what you can achieve with M365.
View more Microsoft 365 videos here and check out what other M365 resources SWK Technologies has available.